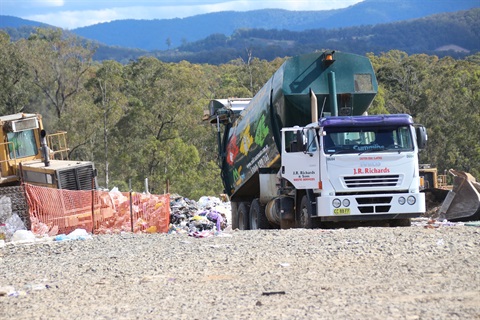 MidCoast Council is working with a range of agencies, including the NSW Police, Public Works Advisory, Fire and Rescue NSW, the NSW Rural Fire Service and the Australian Defence Force as part of a multi-agency recovery taskforce to deliver a planned recovery that includes the efficient and effective disposal of flood waste.
While waste from flood impacted properties will be collected from kerbsides across the MidCoast free of charge, there is still some confusion around charges for taking flood waste to waste management facilities.
"We understand the frustration from our community over the disposal of flood waste at our waste management facilities, particularly, in relation to the charges that continue to apply," Council's Director of Liveable Communities Paul De Szell explained.
"We have large areas of the MidCoast that have been severely impacted, and this has created significant volumes of waste.
"We simply don't have the room in our landfills to accommodate the volume of waste that is expected from the flood clean-up."
Mr De Szell said Council is in the process of building a new landfill cell as the current cell is near capacity and fees that are paid over the weighbridge go towards creating these new landfill cells.
"It is important for the long term management of our landfills that we reserve space for our normal weekly red bin collection service.
"While we understand it will not suit all circumstances the most efficient and effective way to remove flood waste on such a large scale is to place it on the footpath."
Council will then work in conjunction with Public Works Advisory to take the waste to a sorting point so that it can be disposed of through contractors engaged by Public Works Advisory without impacting on our landfill capacity.
"We understand the community want to know when the waste will be collected. We are working closely with Public Works Advisory on timelines for collection and will let our community know as soon as we are able to do so.
"We are fortunate to have the support of State Government Agencies and the Australian Defence Force to assist us in managing the cleanup in a way that ensures our day-to-day services can continue to run concurrently with the recovery."
For the free kerbside collection, the waste is required to be sorted into piles on the kerb into the following categories –
• food waste (use your red lid bin first. If the bin is full put food waste in a container on the curb side. Food can also be taken to MidCoast waste management centres free of charge)
• hard bulk waste (furniture, carpets, mattresses)
• green waste (vegetation)
• scrap metal (whitegoods and e-waste)
• hazardous materials (gas bottles, paint, pool chemicals, unlabelled drums)
Residents and business owners who choose to go to a waste management facility will still need to pay $97.49 per tonne, a reduction from the usual $190 per tonne fee.
"We do really encourage people to use the kerbside collection."
/Public Release. This material comes from the originating organization and may be of a point-in-time nature, edited for clarity, style and length. View in full
here
.