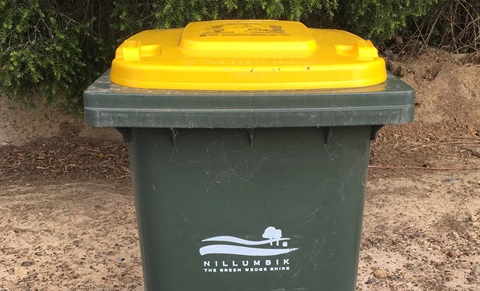 In good news for Nillumbik, recycling is expected to resume shortly as contractor SKM starts to reopen processing facilities.
Nillumbik usually delivers its recyclable materials to an SKM facility in Coolaroo, which is expected to be operational within weeks.
But Council is trying to negotiate to deliver to another facility until Coolaroo reopens.
SKM's Laverton North facility opened on Monday, 23 September and is now accepting recyclable materials from councils including Moonee Valley, Melbourne and Port Phillip. These councils formerly delivered to the Laverton facility.
Council chief executive officer Carl Cowie said Coolaroo was expected to be operational in coming weeks as a condition of a $10 million State Government loan to SKM receivers KordaMentha.
"Nillumbik is attempting to negotiate with KordaMentha to accept Nillumbik's material at the Laverton site until the Coolaroo site opens," Mr Cowie said.
"We will continue to keep residents updated on the situation as more news becomes available."
In the meantime, Nillumbik's recycling is unfortunately still going to landfill with alternative recycling processors at capacity.
Nillumbik Mayor Karen Egan thanked residents for their patience as Council worked to find a way through what is a national crisis.
"Nillumbik residents are among the best recyclers in Victoria and I encourage you to continue your efforts through our kerbside collection," Cr Egan said.
Council's Recycling and Recovery Centre at 190 Yan Yean Rd, Plenty, is also open to the public to drop off paper, cardboard and metals for recycling.
The cardboard and paper is collected by Veolia and taken to the VISY paper plant in Coolaroo, where it is made into new recycled packaging. The metals are taken to Ecocycle where they are sorted and then recycled locally and overseas.
30 August 2019
The Victorian Government has announced that SKM's Laverton facility is expected to re-commence processing recycling within five weeks, however, timeframes are still unknown for the Coolaroo, Geelong and Hallam facilities.
As one of 33 councils directly impacted by SKM's closure, we are following up to find out when we can expect to return to recycling. We normally deliver to Coolaroo and sometimes Laverton, and will push to get the earliest possible return date.
In the meantime, our only viable option is regrettably still landfill. A reminder that residents may choose to:
separate paper and cardboard, and metals (cans, foil, pots, pans) and recycle them free of charge at Council's Recycling & Recovery Centre
recycle soft plastics through REDcycle collection points at Coles/Woolworths
As well as continuing to work with the Metropolitan Waste and Resource Recovery Group (MWRRG) on alternatives, we are applying for some of the $6.6 million recycling rebate on offer from the Victorian Government to help cover the cost of the landfill levy. We are also exploring options to accept a broader range of separated materials such as glass and plastics at our Recycling & Recovery Centre.
Last week, Cleanaway acquired SKM's debt and appointed receivers for the entire SKM group excluding its Glass Recovery Services business. The SKM group includes SKM Industries Pty Ltd – the company we have a contract with through MWRRG. The Supreme Court of Victoria had previously appointed liquidators to another company in the SKM group, SKM Corporate Pty Ltd, on 2 August.
Earlier this week, the Victorian Government announced a $10 million loan to SKM's receivers KordaMentha to get the recycling facilities back up and running. The loan will help clear waste stockpiles and fund essential maintenance work, to ensure the sites meet strict environmental and safety standards.
/Public Release. View in full
here
.