Dr Kiri Dell has been awarded a Marsden Fast-Start grant to analyse Māori well-being in relation to efforts to normalise te reo.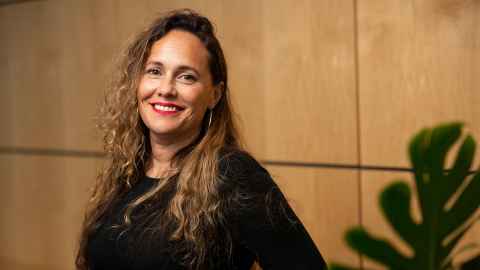 How are Māori interacting with te reo revitalisation policies and negotiating their experiences?
Waipapa Taumata Rau University of Auckland academic Dr Kiri Dell is embarking on a three-year research project to investigate the effects of te reo revitalisation strategies on Māori well-being with the support of a $360,000 Marsden Fast-Start grant awarded this week.
In recent years, says Dr Dell, millions of dollars have been poured into language revitalisation, yet fewer than 20 percent of Māori speak te reo confidently. Meanwhile, Pākeha engagement with te reo Māori has exploded. However, while positive for the revitalisation of the language, perceived unequal resource allocation favouring Pākehā, and continuing barriers for Māori to access te reo seem to be emerging, says Dr Dell.
Maintaining Māori well-being amidst the transition to a te reo speaking country is critical for this nation's positive social transformation and smooth bicultural evolution.
Dr Kiri Dell
Business School
Acknowledging the complexity of the Pākehā consumption of te reo Māori on bicultural relationships, Dell's research project will investigate the many facets and implications for Aotearoa New Zealand to become a te reo speaking nation.
"The elevation of the Māori language as our nation's priority towards an empowered Treaty partnership has intensified Pākeha consumption of te reo Māori. On the one hand, its growth, increased distribution, and usage are viewed as positive when it comes to language revitalisation efforts. Yet, on the other hand, issues seem to be emerging, with some Māori feeling marginalised by current revitalisation efforts, perceiving them as focusing on Pākehā accessing, speaking, and using te reo Māori."
Dr Dell says the research does not intend to critique revitalisation efforts, but to observe and assess Māori well-being in relation to revitalisation strategies.
"Maintaining Māori well-being amidst the transition to a te reo speaking country is critical for this nation's positive social transformation and smooth bicultural evolution."
Dell, a Senior Lecturer in Management and International Business, will analyse media, including social media, and will look at both affirming and opposing content that reacts to public reporting of high-profile Pākehā and non-Māori consumption of te reo.
The analysis will help Dr Dell and her team understand how Māori identities are constructed and maintained in relation to te reo and the ways people's thoughts, feelings, experiences, and general well-being are affected.
Interviews will also be undertaken to inform understanding of the many facets of te reo identities, enabling the researchers to centre Māori voices.
In a society dominated by Pākeha culture, Dr Dell says hearing and prioritising the well-being of those whose language is being celebrated is an important step in the journey to becoming a truly bicultural, bilingual Aotearoa.
Fast-start grants are distributed over three years and are designed to encourage independent research development and build momentum for exceptional careers in Aotearoa. Forty other fast-start grants were awarded to researchers across the country this year to support projects covering a broad range of topics, including quantifying the impact of climate change on glaciers, uncovering the cultural history of the taniwha, countering resistance to antibiotics, and exploring writing in vagahau Niue; the language of Niue.
/University of Auckland Public Release. This material from the originating organization/author(s) may be of a point-in-time nature, edited for clarity, style and length. The views and opinions expressed are those of the author(s).View in full
here
.