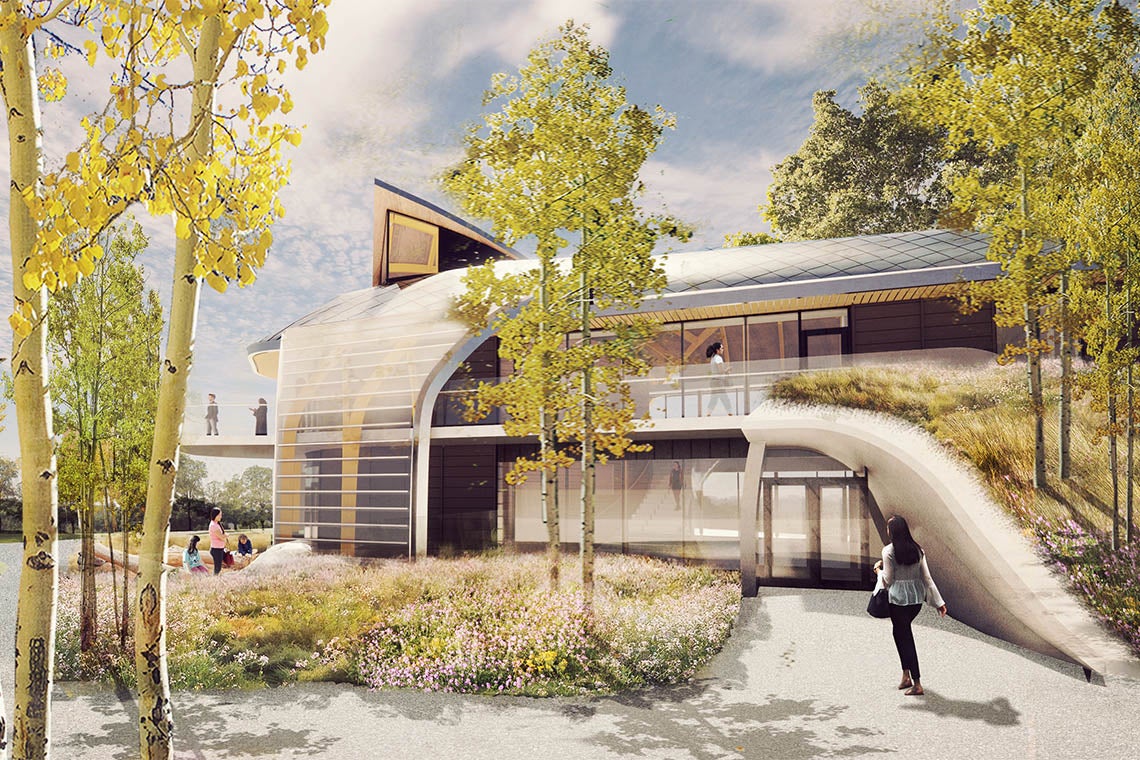 Indigenous elders and community members are helping the University of Toronto Scarborough design a new Indigenous House and envision the activities and programming that takes place within its walls.
"Indigenous House will honour the lands, cultures, traditions and knowledge systems of the peoples on whose traditional territory our campus is located," says Wisdom Tettey, vice-president and principal of U of T Scarborough.
"It will be an expression of our overarching value of inclusive excellence by creating a gathering place that supports intercultural dialogue and learning. It will also help foster partnership and reconciliation with Indigenous communities based on equity, reciprocity, mutual trust, understanding and respect."
Due to COVID-19, Kelly Crawford, assistant director, Indigenous initiatives at U of T Scarborough, created opportunities to host virtual conversations with local Indigenous communities, as well as the university and local Scarborough community, on the type of activities and programming that could be hosted in the space. Indigenous communities also helped advise the architects on different aspects of the building's design.
"It's important to view this building as being alive – it's not just a physical structure with a roof, walls and rooms," says Crawford.
"It's alive in the sense that it embodies Indigenous knowledge and ways of knowing and doing. We are respectful of honouring this not only during its creation, but in the programs and activities that will take place there."
Designed by Formline Architecture in association with Toronto-based LGA Architectural Partners, the proposed building will be an icon to local Indigenous culture, says Alfred Waugh, Formline Architecture's principal architect.
The surrounding landscape will include birch trees and native plants that have cultural significance to local Indigenous communities (image courtesy of Formline Architecture in association with LGA Architectural Partners)
"We drew inspiration from the wigwam, which has different permutations depending on the tribe – but most were circular and sometimes they were elongated for larger families or for communal events."
Waugh, who is a member of the Fond Du Lac Denesuline Nation of Saskatchewan, has designed several award-winning buildings including the Indian Residential School History and Dialogue Centre at the University of British Columbia.
Formline Architecture specializes in custom cultural and innovative wood buildings, and a key part of their design process involves consultation with Indigenous community members, developing sustainable strategies inspired by traditional Indigenous architecture and using materials with cultural relevance.
"Indigenous ways of knowing place nature at the centre of its value system, so this building will flow directly into the surrounding environment through its viewing platforms, gathering spaces and the landscaping," Waugh says.
The design draws on a traditional winter wigwam. The structures use thickly insulated roofs and central campfires built within foundations of rock to retain heat, while a birchbark air shaft allows for fresh air to circulate throughout. Indigenous House, similarly, combines a heavily insulated outer shell with the geothermal benefits of earth tubes. The building's fresh air will pass through a concrete totem intake and flow through a series of air tubes running underground to help moderate temperatures.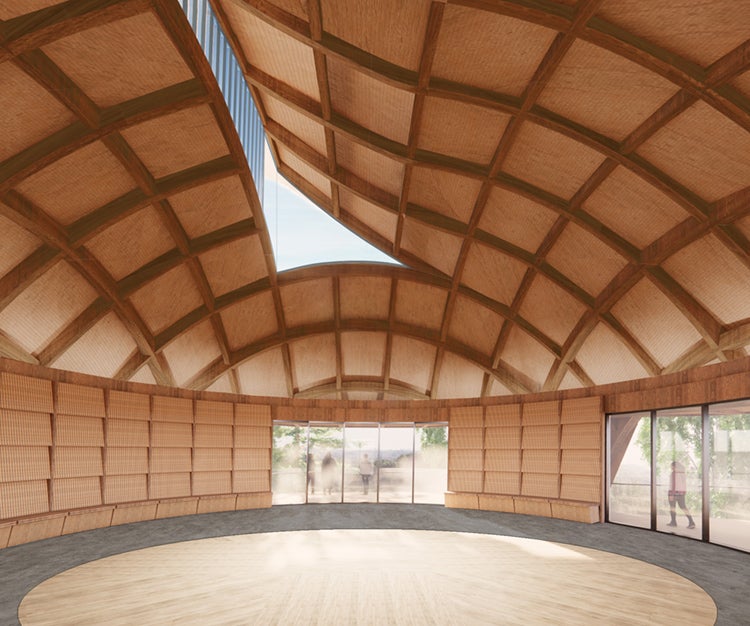 The roof will resemble the interior of a wigwam and will be supported by a curved diagrid made of glulam, a type of laminated timber (image courtesy of Formline Architecture in association with LGA Architectural Partners)
Indigenous House will include a curved diagrid made of glulam, a type of laminated timber, that supports the roof and resembles the interior of a wigwam. A large gathering room will open into a garden that will include birch trees and native plants that have cultural significance to local Indigenous communities. Instead of conventional smoke detectors, there will be sensors that detect heat to enable the cultural practice of smudging throughout the building.
The 10,700 square foot (994 square metre) space, to be located south of the Instructional Centre, will be visible from Ellesmere Road. Placed on a gradually sloping piece of land, it will offer a view of the surrounding Highland Creek ravine.
"We wanted an iconic building, but one that is welcoming, inclusive and respectful of striking a balance with nature, meaning it has to connect to the surrounding landscape and environment," says Andrew Arifuzzaman, U of T Scarborough's chief administrative officer.
Arifuzzaman says there are few places in the eastern GTA that offer a space for people to gather and learn about Indigenous culture and ways of knowing. Creating such spaces was one of the Truth and Reconciliation Commission's important calls to action.
Crawford says the building, which will house a mix of academic and social spaces, will provide a place for Indigenous students, staff and faculty to come together.
"Traditionally, spaces like this didn't exist within universities, where Indigenous people, particularly Indigenous students, could gather and feel like they belong. This is an important element in creating inclusive spaces for all in our community."
/Public Release. This material comes from the originating organization and may be of a point-in-time nature, edited for clarity, style and length. View in full
here
.