Tokyo Tech's Innovator and Inventor Development Platform (IIDP) and the Student Support Center's Student Success Support Section recently collaborated to host a Japan-focused job hunting and mock interview event for international students enrolled in the Institute's doctoral programs. The two-session event was held online on February 3 and 15.
According to a survey by the Japan Student Services Organization, less than 30 percent of international students find employment in Japan after completing their doctoral programs in the country. This percentage is roughly the same for graduates of Tokyo Tech's doctoral programs. Despite a desire to remain in Japan, some international students fail to secure a job due to a lack of knowledge about Japan's job-hunting approaches or insufficient Japanese language abilities. This event was held to raise awareness about some of the unique characteristics of employment in Japan, and to inform students of the necessary skills and preparation for finding a job in the country.
Day One: Talk on Japanese-language job interviews
On Day One of the event, members of the Japan Association for Promotion of Internationalization (JAPI) and a professional specializing in job hunting for international students spoke in English to the participants about seeking employment in Japan. During the session, the speakers highlighted the importance of Japanese language abilities and communication during the job search process and at the actual workplace, and touched on the use of job-hunting tools.
The participants also learned about resources available at Tokyo Tech, such as the job-hunting guide for Tokyo Tech international students and career support seminars for international students.
Nearly 100 doctoral students participated in the event, asking the JAPI speakers and Tokyo Tech career advisors questions such as the following:
When should doctoral students begin their job-hunting activities?
How can I search for companies in my desired industry?
Where can I find the business activities and other information about companies?
What kind of visa do I need to work and continue living in Japan?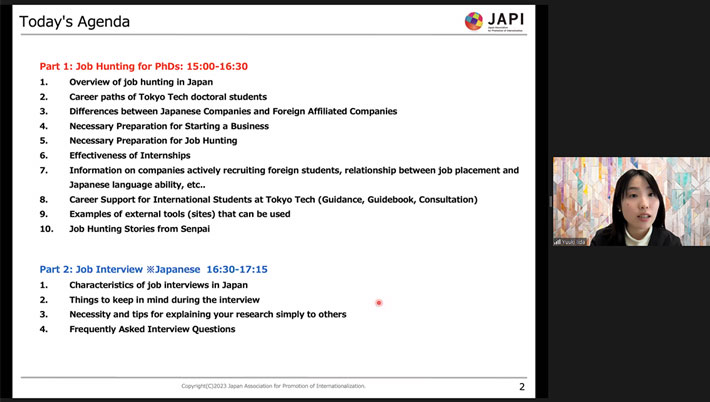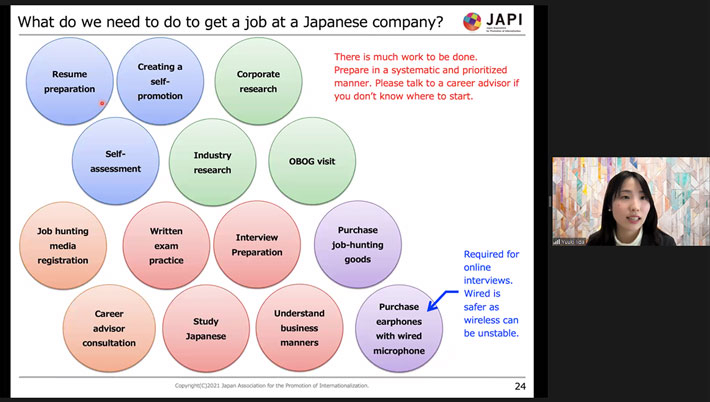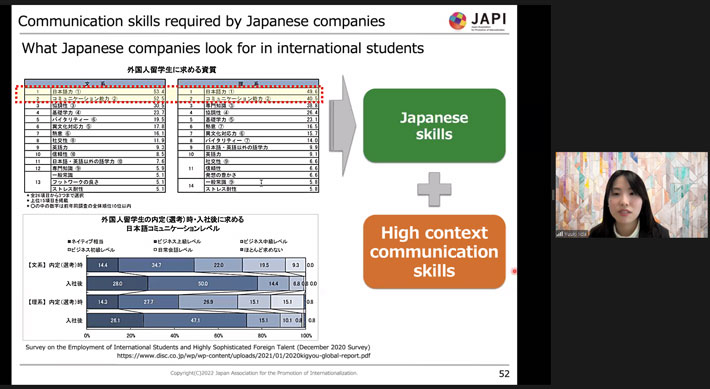 Day One also included talks by Tokyo Tech alumni who now work in Japan and doctoral program students who have already secured jobs. These speakers shared their job-hunting experiences, explained their reasons for deciding to work in Japan, and reiterated the need for Japanese language skills during job searches and actual work in the country. These encouraging talks by fellow Tokyo Tech community members offered the event participants additional encouragement.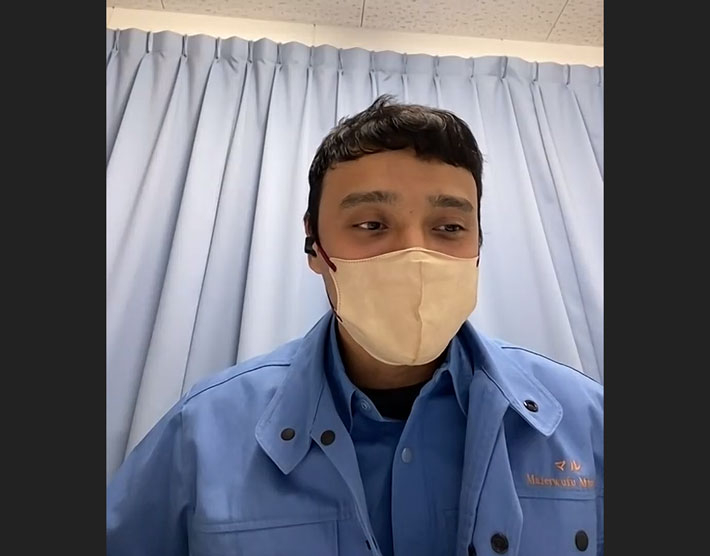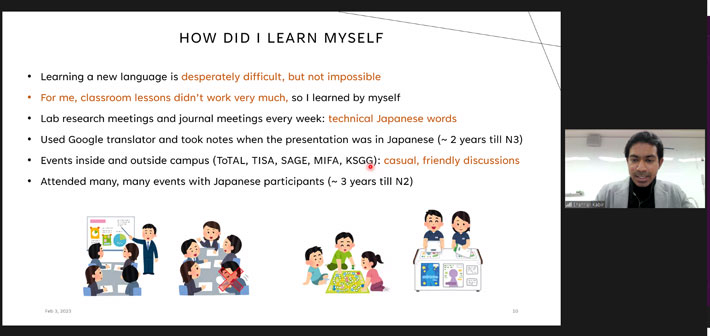 In the latter half of Day One, a JAPI speaker also gave a detailed explanation in Japanese about job interviews in Japan, including the difference between individual and group interviews, things to watch out for during interviews, common interview questions, and sample answers. During interviews in Japan, doctoral students are often asked about their research in job interviews, and they should be able to explain this research in an easy-to-understand manner to others.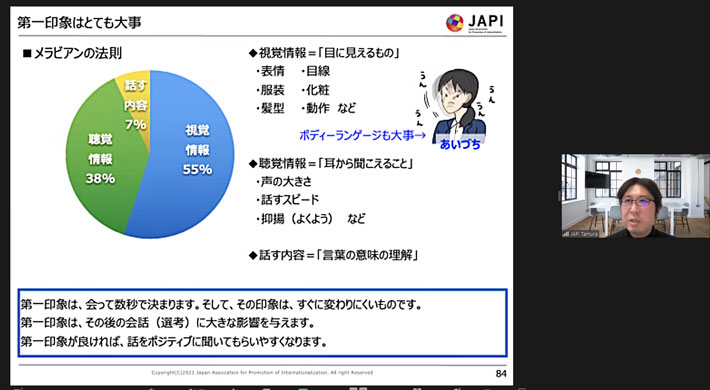 Day Two: Mock job interviews
On Day Two, 19 doctoral students volunteered to participate in mock interviews facilitated by six interviewers which included Tokyo Tech faculty members, career advisors, and international student career support specialists.
Before the interviews, the students used what they had learned on the first day of the event to prepare a topic sheet in Japanese. On this sheet, they wrote down the content of their research, specific focal points and any breakthroughs in their research, and the achievements and abilities gained through their research activities.
Based on this topic sheet, two interviewers then interviewed two students at a time. First, the students were given six minutes to explain the contents of their topic sheet. They then practiced answering common interview questions. In addition to feedback from the interviewers, students offered feedback to each other, providing participants with fresh insights and an opportunity to view themselves objectively.
Comments from participating students
This was very useful as I learned what I was lacking, and was able to see other students' interviews.
I learned how important it is to be able to communicate my research to others in a way that is easy to understand.
I understood how important facial expressions can be during an interview.
Thanks to this session, I decided I need to do more interview practice on my own.
While providing students with general employment information through guidance and other channels, Tokyo Tech strives to respond accordingly to the diversifying career plans of students, and to help them to realize the careers that they have envisioned. In particular, the Institute is expanding career support offered to doctoral program students and international students.
/Public Release. This material from the originating organization/author(s) might be of the point-in-time nature, and edited for clarity, style and length. Mirage.News does not take institutional positions or sides, and all views, positions, and conclusions expressed herein are solely those of the author(s).View in full
here
.