During last month's London Fashion Week, woolgrower Anthea Sutherland of 'Pooginook' presented this year's International Woolmark Prize, the illustrious fashion competition that generates long-term demand for Australian Merino wool by connecting emerging designers and consumers with our premium fibre.
On an exciting February evening in central London, more than 16,000km from the sheep paddocks of 'Pooginook' in the southern Riverina of NSW, woolgrower Anthea Sutherland had the distinction of announcing the winner of the 2020 International Wool Prize in front of an audience comprising global fashion celebrities, influencers and media.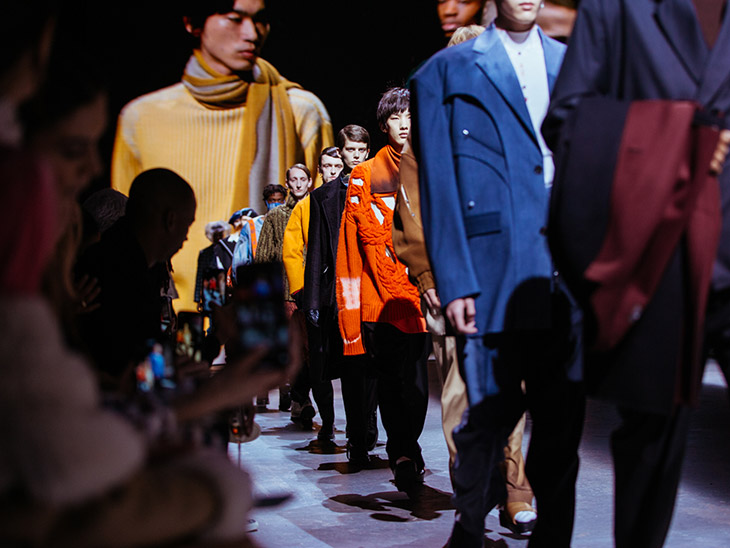 Models displaying the Merino wool garments by the 10 finalists in front of the crowds at the International Woolmark prize event in London.
"I am part of a fifth-generation wool-growing family, currently from Jerilderie in Australia, standing here in front of you at the International Woolmark Prize at London Fashion Week; what a privilege to represent Australian woolgrowers here tonight," Anthea told the audience.
"Many woolgrowers rarely have the opportunity to see the end products created by our precious fibre – especially at the stunning level we see here tonight. Each and every designer here tonight has done Australia's wool industry proud. I am so looking forward to going home and sharing this unforgettable experience with other growers.
"I would like to congratulate AWI on the initiative of the International Woolmark Prize. The encouragement and opportunity they provide to young designers and countless people across the fashion industry to empower the use of our amazing, low impact, and traceable fibre is simply outstanding."
"Each and every designer here tonight has done Australia's wool industry proud."

– Woolgrower Anthea Sutherland
Anthea reinforced to the audience the natural eco credentials of Australian Merino wool.
"From our unique and diverse landscape is produced this exquisite and sustainable fibre. Our passion and dedication to our sheep and to our land means we continue to work with Mother Nature, not against her, to ensure our industry thrives in the most sustainable way possible."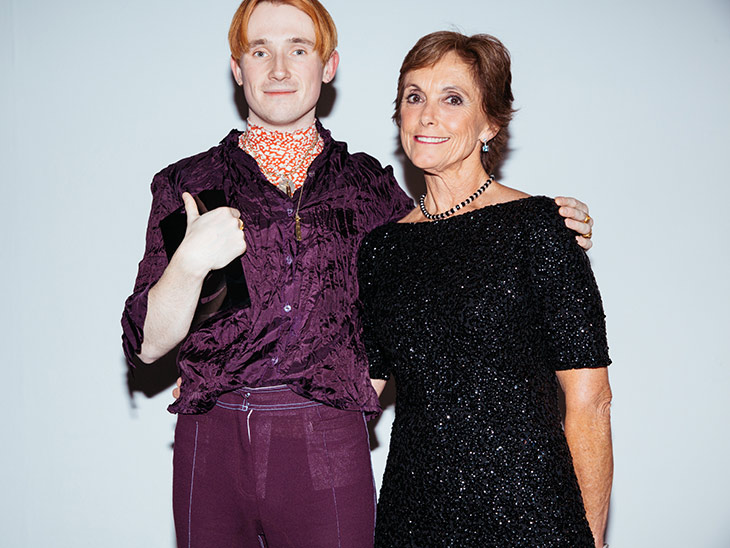 Woolgrower Anthea Sutherland of 'Pooginook' with winning designer Richard Malone, to whom she presented this year's International Woolmark Prize.
It was very fitting for an Aussie woolgrower to present the award, given that the International Woolmark Prize celebrates the beauty and versatility of Australian Merino wool, showcased in garments by outstanding emerging fashion designers.
Relaunched in 2012 by AWI's marketing arm, The Woolmark Company, the International Woolmark Prize generates long-term demand for Australian Merino wool by increasing the knowledge of and lifetime loyalty to the fibre amongst the competition's designers and alumni around the globe.
Furthermore, the phenomenal interest in these awards from fashion communities and media globally has helped put wool back on the agendas of a broader range of fashion designers, manufacturers, brands and retailers, and consequently into retail stores for consumers to purchase.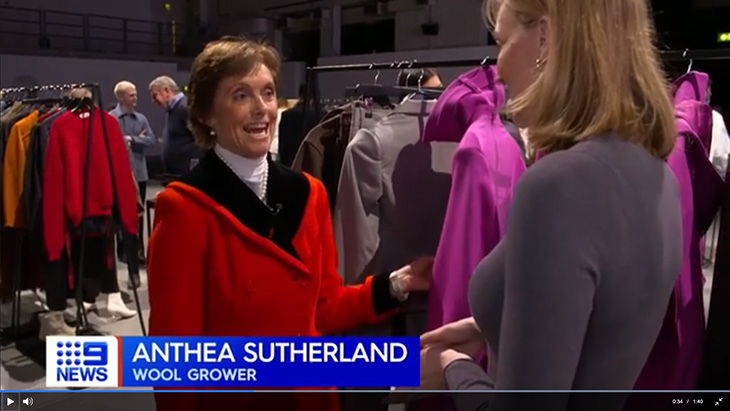 Woolgrower Anthea Sutherland interviewed by Nine News' Europe Correspondent Sophie Walsh at the International Woolmark Prize finals in London.
THE 2019/20 COMPETITION
To reinforce the origin of the fibre and the integrity of the supply chain used in the creation of the collections, each finalist was this year required to present 'traceable' collections, using technology from platform partner Provenance. By focusing on transparency and sharing key product information, each designer brings the supply chain to the shopper in a way that's accessible and trustworthy.
Also, for the first time this year, the 10 designers were supported by The Woolmark Company's Innovation Academy – a fast- track mentoring and education program helping brands implement best practices to address environmental and social issues along with sustainable business growth.
The 2020 International Woolmark Prize also saw the introduction of the inaugural Karl Lagerfeld Award for Innovation, in honour of the late icon and International Woolmark Prize alumnus who won the coat category in 1954.
The Merino wool designs from the 10 finalists in this year's competition – selected from more than 300 applicants from 47 countries across the world – were judged at the finals event in London by some of the most respected fashion industry experts.
"What I'm loving this year is the use of wool mixed with sustainability," explained judge Edward Enninful OBE. "The Woolmark Prize for me is a sign of excellence; it puts designers on an international level."
The competition also, once again, connected with leading industry taste-makers, such as actor Colin Firth and Vogue Australia's fashion director Christine Centenera, as ambassadors for the award.
Finalist collections will be available for commercialisation in September 2020 via the International Woolmark Prize retail network which includes David Jones, Mytheresa.com, Matchesfashion.com, Takashimaya and Lane Crawford.
WINNER OF THE INTERNATIONAL WOOLMARK PRIZE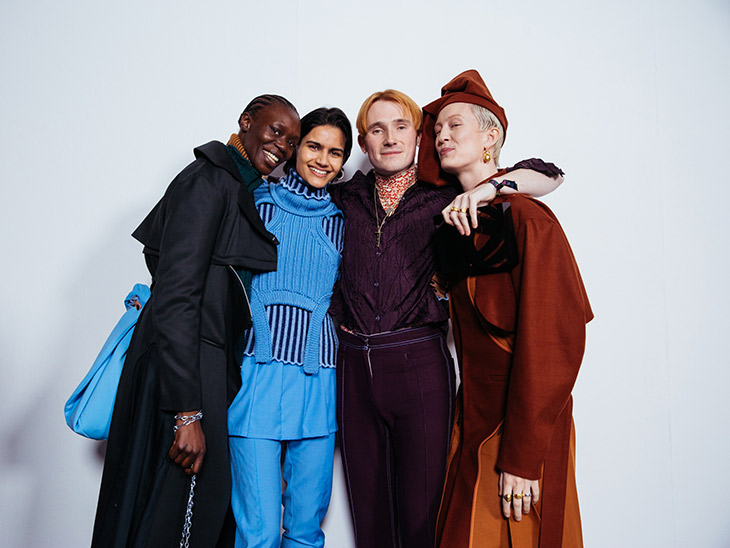 Designer Richard Malone (second from right) with models wearing three looks from his award-winning Merino wool collection.
The winner of this year's International Woolmark Prize is Ireland's Richard Malone who created a collection inspired by his upbringing in Wexford to create considered, functional and beautifully made garments that minimise harm to the environment and works towards creating a circular, sustainable fashion system.
Eliminating traditional chemicals to provide a natural, less intensive method of dyeing, the Irish designer worked with a society of incredibly skilled weavers in Tamil Nadu, India, using completely organic and plant-based dyes as well as more recent innovations using Merino wool.
"Winning the Woolmark Prize is completely unexpected," the designer said after the show. "It means we can continue working with this supply chain and share our learning with other brands and designers. It also opens up the dialogue of fashion so more people can be part of it."
"Thank you to Australia's woolgrowers for growing this incredible fibre."

– Richard Malone
WINNER OF THE KARL LAGERFELD AWARD FOR INNOVATION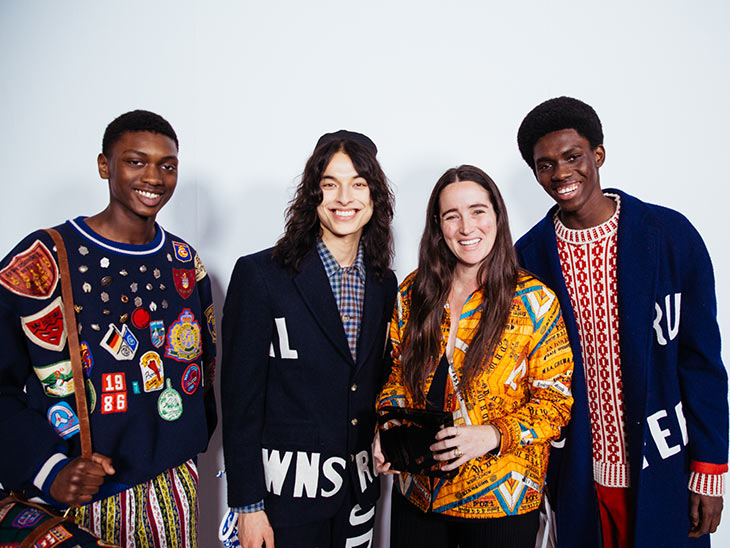 Designer Emily Adams Bode (second from right) with models wearing three looks from her award-winning Merino wool collection.
The USA's Emily Adams Bode of BODE was crowned the first winner of The Karl Lagerfeld Award for Innovation and was praised for outstanding creativity and innovation, the same characteristics which led to Lagerfeld's history-making success back in the 1954 awards.
Mixing left over fabrics found in abandoned factories, BODE beautifully marries the old with new to bring modern interpretations to traditions of the past. For the International Woolmark Prize, BODE featured overcoats and suits composed of reclaimed and remade equine show blankets, traceable and certified Merino wool jacquard knits inspired by stitch samples from a retired 1930s knitting factory, and housecoats built from hundreds of individually crocheted Merino wool fleurettes.
"I'm really excited that this is the first Karl Lagerfeld Innovation Award," the designer said. "He's been such an idol and inspiration for me. I'm also really excited to build on all the relationships I have made during my Woolmark Prize journey."
/Public Release. View in full
here
.