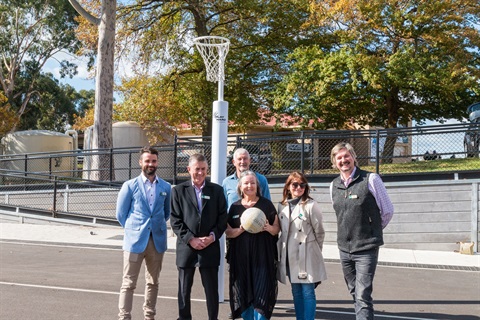 Baw Baw Shire Council joined Member for Eastern Victoria Harriet Shing MP and members of the community to celebrate the completion of two major recreation projects on Saturday.
Significant upgrades to the Drouin Netball Courts and the Neerim South Oval were undertaken over the past year in consultation with local sporting clubs.
Drouin Netball Court Upgrade
The project focussed on courts three to six at the Drouin Recreation Reserve, home to the Drouin and District Netball Association and Drouin Hawks Netball Club, who run competitions all year round.
The project solved safety and compliance issues concerning the court sizes and layout, provided an upgraded drainage system, pedestrian access ramps, player shelters, height adjustable goal posts as well as a suite of peripheral items such as upgrades to boundary fences, retaining walls and footpaths.
Council was able to future proof the site by including court lighting into the design phase of the four-court upgrade. Delivery of the project included structurally engineered footings and electrical supply conduits to the positions designated for future lighting towers.
The $652,000 project was made possible after a successful application to Sport and Recreation Victoria's 2018/19 Community Sports Infrastructure Fund, with the remaining $52,000 coming from Council's 2019/20 capital works program.
Neerim South Oval Upgrade
The project included the installation of sub-surface and oval perimeter drainage, an automatic irrigation system, reshaping of the oval surface, a new playing surface profile with an appropriate grass species to better suit the regions weather conditions.
The existing synthetic cricket pitch, oval perimeter fence, AFL goalposts and oval embankment has also been upgraded.
Thanks to the upgrades, Neerim South's football netball club, junior football club and cricket club have a more reliable ground capable of handling weather extremes and greater numbers on the oval.
The project was made possible through a $250,000 contribution from Sport and Recreation Victoria 2018/19 Community Sports Infrastructure Fund and a further $70,000 from the Australian Football League to deliver the project, with the $865,000 balance funded by Council.
Quotes attributable to Mayor Councillor Danny Goss:
"It is fantastic to see these projects come to completion and recognise the significance they will have for their local communities, ensuring that people of all ages have a quality sporting facility to use all year round."
"A lot of planning and consultation went into both projects, and the result is a great example of what can be achieved when sporting clubs and Council work together. Council is grateful for the significant funding provided by the Victorian Government for both projects, and further funding from the AFL for the Neerim South upgrade, allowing us to deliver upgrades sooner than planned. The upgrades were also delivered by local contractors, creating local jobs and supporting our economy."
Quotes attributable to Member for Eastern Victoria Harriet Shing:
"The Drouin and District Netball Association, the Neerim-Neerim South Cats, and the Neerim District Cricket Club are all fantastic clubs with deep roots in their communities – they deserve appropriate facilities they can be proud of."
"These upgrades have made a massive difference to the quality and safety of both venues and will provide ongoing benefits to players and umpires for years to come."
"Investments like these also encourage more people to get involved with their local netball and football clubs. That's great for competition, great for local sports, and it's a brilliant result for a community who've spent years advocating to secure this funding."
"I'm sure local netball and football will embrace the new facilities, so they can welcome more players, train harder and win more flags."
Quotes attributable to Jaime Awty, President of the Drouin and District Netball Association (DDNA):
"For many years we have talked, applied, been knocked back, all the while still daring to keep the dream alive. The driving force behind the project was two of our life members Karen Thompson and Donna Davidson. Their commitment and passion have seen the dream finally become reality. Our biggest thanks go to the State Government and the Shire for delivering this project. Our combined committees of the Drouin Hawks and the DDNA are dedicated to the inclusion of everyone on the court, to learning, to sharing the love of sport within the community and of course the most important part having fun."
Quotes attributable to John Rochford, President of the Neerim Neerim South Recreation Reserve Committee of Management:
"We would like to thank the State Government, AFL, Cricket Victoria and the Baw Baw Shire for funding this outstanding upgrade we now have at Neerim South. The oval is first class and I believe we now have a viewing area equal to any in Gippsland if not Victoria."
Image: Mayor Danny Goss, Neerim South Football Club Life Member Tom Goodwin and Member for Eastern Victoria Harriet Shing MP officially open the redeveloped Neerim South oval.
Image: Drouin Netball Courts.
Image: The redeveloped Neerim South oval.
/Public Release. This material comes from the originating organization and may be of a point-in-time nature, edited for clarity, style and length. View in full
here
.