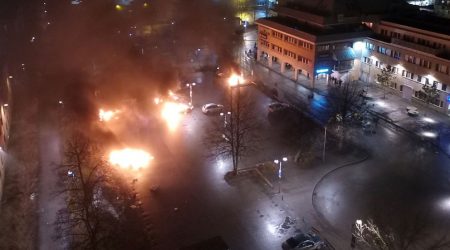 A day after Swedish politicians who were outraged by US President Donald Trump's statement boasted Sweden had no issues with migrants, a large group of unidentified persons ran riots in Rinkeby district of Stockholm, Sweden, setting cars on fire and looting the local stores, the city's police said in a statement.
The unrest reportedly started after police arrested a wanted person at the subway station in Rinkeby, one of the districts with the highest number of immigrants in Stockholm, at around 8pm on Monday. Officers faced stoning outside by a group of men as they were taking the arrestee into custody.
"The unrest began at 22:20 local time [21.20 GMT], 7-8 vehicles were set on fire in the district during the evening… Unfortunately, several cases of shops looting took place in the district," the police said on Monday.
According to the statement, the rioters were throwing stones at the police, injuring one of the officers, while two more people suffered from beatings. Local media reported multiple warning shots and tear gas were used.
It is unclear how many people were involved in the riot.
According to the local television, there were between 50 and 100 rioters who were immigrants, but Stockholm police spokesperson Lars Bystrom said they were only 30-50 people.
Emergency services said over a dozen cars were burned, although initial police statement said "7-8 vehicles".
The police managed to restore the order in a couple of hours.
A few shops in the area were looted during the riots and one of the shop owners, who received the alarm alert on his phone went to the site and was beaten, SVT reported.
An investigation has been launched into the violent riots and an assault against officers.
JUST NU: Upplopp i Rinkeby – polisen sköt varningsskott https://t.co/EMvoM73J75 pic.twitter.com/zATZKV8s9m

— SVT Stockholm (@svtstockholm) February 20, 2017
Give the public a break – The FAKE NEWS media is trying to say that large scale immigration in Sweden is working out just beautifully. NOT!

— Donald J. Trump (@realDonaldTrump) February 20, 2017
My statement as to what's happening in Sweden was in reference to a story that was broadcast on @FoxNews concerning immigrants & Sweden.

— Donald J. Trump (@realDonaldTrump) February 19, 2017