MUA + ITF join with United Nations Global Compact to publish Guidance on modern slavery risks in global shipping.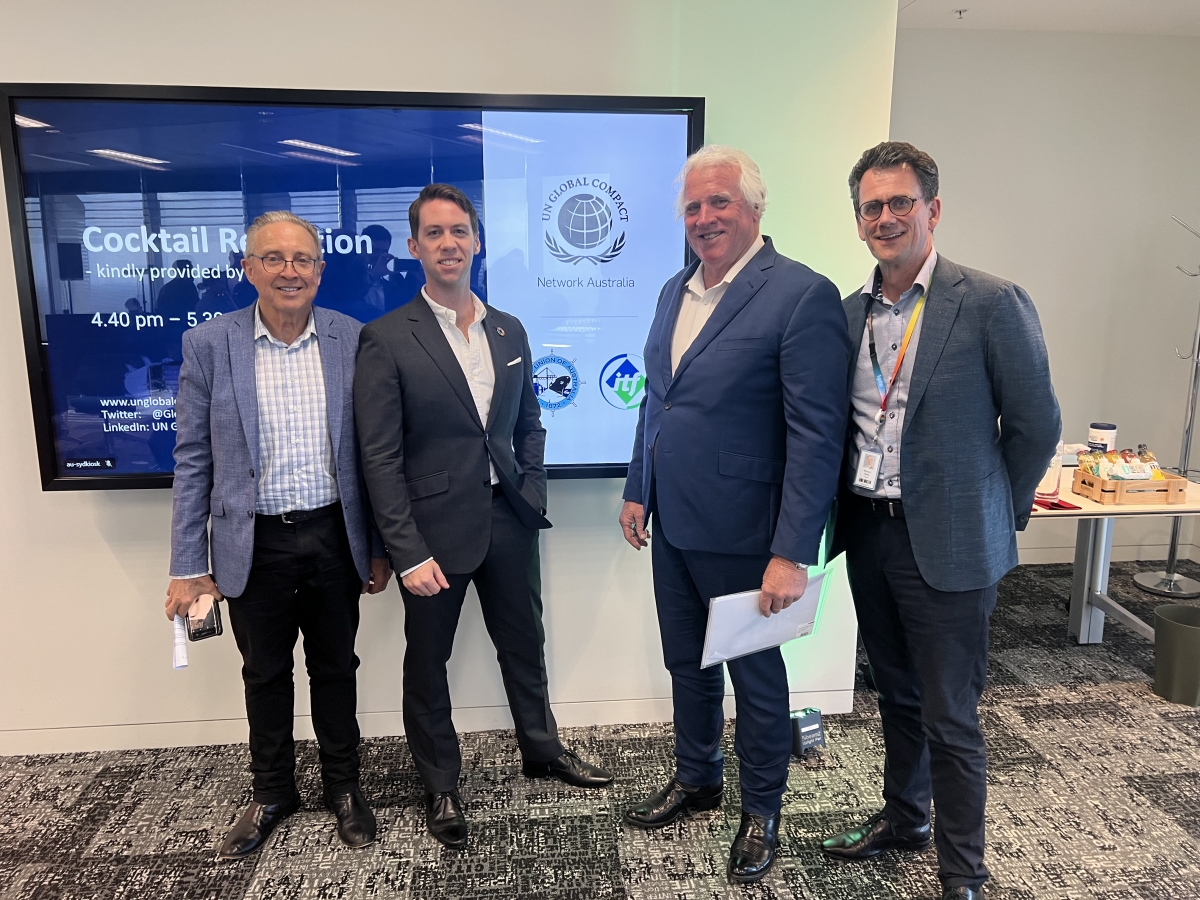 L-R: Rod Pickette, MUA Policy Advisor; Chris Caskey, UN Global Compact Network Human Rights Manager; Paddy Crumlin, MUA National Secretary and ITF President; Richard Boele, KPMG Global Leader Business and Human Rights Services.
The Maritime Union of Australia (MUA) and the International Transport Workers' Federation (ITF) are proud to have partnered with the UN Global Compact Network Australia (UNGCNA) in production of new Guidance for companies and investors on identifying and eliminating modern slavery from maritime supply chains. Developed in Australia using local data gathering and case studies, the Guidance has international implications.
The Guidance, co-authored by MUA Policy Advisor Rod Pickette and United Nations Global Compact Network Australia's Human Rights Manager, Chris Caskey, was launched this week at an event in Sydney hosted by KPMG.
Virtually every sector of the economy is in some way connected to shipping and seaports. Yet this vital national infrastructure, dominated by massive capital investment and operated by a highly skilled workforce working around the clock, is – due to the location of its operations (predominantly on the high seas or tucked away on city fringes and remote regional areas) – largely invisible to the Australian community.
These workforces are aboard the more than 6,000 individual ships visiting Australia each year, making over 26,000 port calls between them, yet are often out of sight, and do not receive the attention they deserve in terms of the suffering or exploitation which is endemic to international shipping sector.
"I congratulate the great work of the UN Global Compact Network Australia and acknowledge the work of the many people who have contributed to and participated in this project. The ITF is looking forward to rolling out similar initiatives internationally and highlighting the ways in which business and industry can work with trade unions to eliminate the exploitation and mistreatment that is endemic in international shipping," MUA National Secretary and ITF President Paddy Crumlin said.
At the launch, ITF Australia Inspectorate coordinator Ian Bray outlined how the body of wage theft data uncovered by random inspections of visiting ships could be used as a proxy indicator of other abuses including modern slavery conditions aboard international cargo ships. He estimated that wage theft within Australian waters could be as high as $120 million per annum.
The Guidance's co-author, Rod Pickette, explained that while concrete Environmental and Governance metrics were easier to set and achieve, that Social outcomes were often hardest for even the most well-meaning businesses to achieve throughout their supply chains.
"Australian companies reliant on international shipping, as well as investors in entities across all asset classes with an exposure to shipping, need to be paying far closer attention to the living and employment conditions aboard these ships, while regulators and governments must also take notice of the Guidance and fulfil their compliance and enforcement obligations," said Mr Pickette.
The Guidance was well received at its launch by a broad spectrum of industry representatives and builds on the cooperative partnership between global trade unions including the MUA and the ITF with the United Nations Global Compact. It also builds on the UN Agencies Maritime Transport and the COVID-19 Crew Change Crisis: A tool to support Human Rights Due Diligence, that was prepared with the assistance of ITF representatives in London amidst shocking human rights abuses aboard international cargo vessels at the height of the COVID-19 pandemic.
"The MUA and the ITF have the industrial and regulatory expertise to complement the United Nations Global Compact Network's international human rights advocacy, and in producing this Guidance, I hope that both companies and investors can use it to deliver materially better outcomes for seafarers, better Environmental, Social and Governance (ESG) outcomes for business and mitigate the risk for investors that their profits might be tainted by the scourge of international modern slavery," Mr Crumlin said.
/Public Release. This material from the originating organization/author(s) might be of the point-in-time nature, and edited for clarity, style and length. Mirage.News does not take institutional positions or sides, and all views, positions, and conclusions expressed herein are solely those of the author(s).View in full
here
.