An EV charger was recently installed at The Boulevarde residential complex at 632 St Kilda Road.
We spoke to former building manager Angelo Xerri and tenant Steve Clifford (a proud EV owner) about the charger's installation.
Mr Xerri first looked into EV Chargers two and half years ago, after a resident decided to leave the complex because they had nowhere to charge their EV. The installation of the charger has encourged a number of property owners to switch to an EV.
Angelo, what inspired you to get the EV charger installed at The Boulevarde?
I've always been very passionate about environmental conservation and my approach to the EV's installation was 'provide people with a service, and they will come.' The actual process started 2½ years ago when a tenant decided to leave the property after a couple of months of living here because there was nowhere to charge her electric car, which made me realise that there was a need not being met and led me to put this plan into action.
What can you tell us about the EV charger, and is it used by many tenants?
The charging platform itself was installed by the open charging network Chargefox, and only requires one standard electrical check a year to ensure safety and serviceability. As for usage, I believe more tenants will start to use this service, given that the automotive industry is moving in this direction.
How many EV chargers are there and how have residents reacted to them?
There's only one at the moment. But electric vehicles are the future, and there is space at the property for 5 more EV chargers. Since the EV charger's installation, there are now 3 other property owners in the building who are in the process of getting electric vehicles. All tenants, as well as real-estate agents, have been notified of the EV charger via our internal communications platform.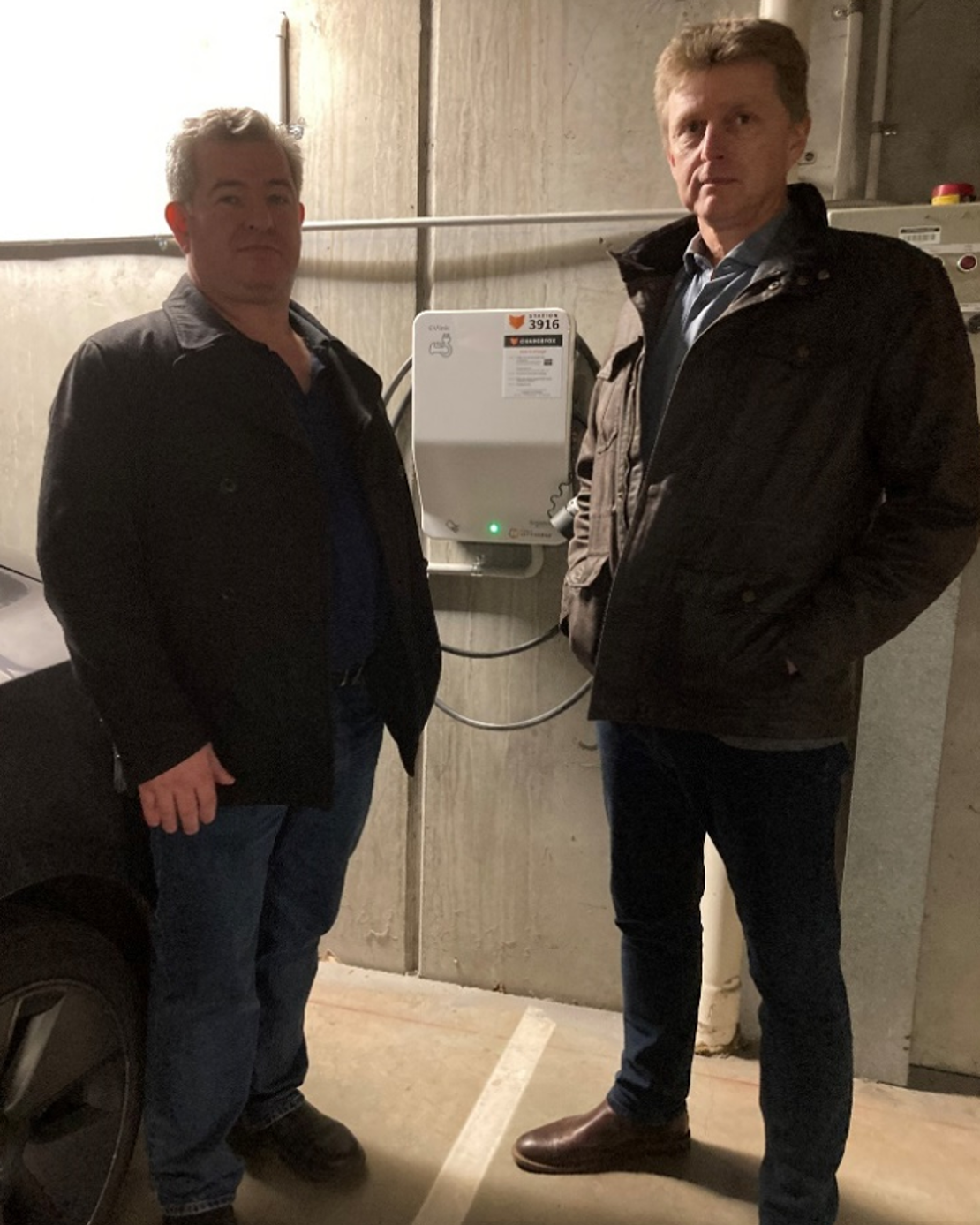 Steve, how long have you owned an EV, and what motivated you to get one?
I've owned an EV for almost a year and was motivated by the need to make more environmentally conscious choices. I work in sustainability and am the co-founder of EcoResults (an ESD consulting agency), so I'm aware of the damage caused to the environment by regular combustion engines.
A year on, how do you feel about your decision to own an EV?
Very good, although charging has been an issue. We depend on local facilities so to have an onsite facility here at The Boulevarde is just so convenient. I plug it in and leave it to charge while I go upstairs to have a bite to eat and come down to find it charged up and ready to go.
How long does it take to charge your car?
It all depends on your battery level but when I'm at about 20%, it takes about 2 hours for a full charge. It isn't recommended that the car be left at below 20% charge due to battery upkeep.
Are there any challenges to owning an electric vehicle?
The downside to it is when you're on the open road driving a long way and there aren't enough EV chargers yet. It's not a problem in Melbourne and not locally, but when you do the big trips and go cross-state then there aren't enough chargers on the highways.
What would you say to Melbournians who are thinking of owning an EV?
They are still pricey upfront, there's no question about that. But once you've got one, it's a great investment for keeping your costs low. It's just easy driving. It costs me $14 to fill up my EV as opposed to $100 to fill up a car with petrol. There is practically zero cost as the car has so few moving parts and needs no servicing. The main things are just making sure you have air in your tyres and water in your windscreen tank!
/Public Release. This material from the originating organization/author(s) might be of the point-in-time nature, and edited for clarity, style and length. Mirage.News does not take institutional positions or sides, and all views, positions, and conclusions expressed herein are solely those of the author(s).View in full
here
.