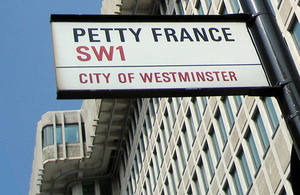 Sunderland Probation officer fought for diagnosis of rare condition at root of offending
first ever team award for London BAME officers tackling gangs
Jo Brown, a Sunderland Probation Officer was named the Probation Champion of the year for her life-changing work with young offenders. Jo went beyond the requirements of her role for a young person in her care – fighting to get a diagnosis of a rare condition that had been overlooked from birth but was the root cause of his offending.
For the first time, a team of officers won this year's Prison Officer of the Year award, which was handed out by Prisons and Probation Minister Robert Buckland on Thursday (4 July 2019) evening. The group of predominantly BAME officers at HMP Isis were recognised for their innovative work to develop a support group for young black offenders with a history of violence and childhood trauma.
Many officers used their personal experience as BAME men growing up in London, to inspire and help offenders to take paths away from gangs and violence.
Following a raft of inspiring nominations by HMPPS colleagues, 8 awards were given out on each evening, with the overall Probation Champion and Prison Officer awards chosen by HMPPS Chief Executive Jo Farrar.
Jo Farrar, Chief Executive of HMPPS said:
These awards highlight the dedication and commitment of staff across our service and it has been a real pleasure to choose this year's winners from a huge number of worthy nominations.

Our people are central to the Prison and Probation Service and the work they do every day helps offenders to turn their lives around, preventing future victims of crime.
Prison officers including Pete Bryan at HMP Huntercombe were honoured for their commitment to turning around the lives of offenders. Pete's impressive work with an offender with a County Lines conviction has continued following the offender's release. The pair now tour schools, teaching students, teachers and parents about the perils of County Lines drug dealing.
Prisons and Probation Minister Robert Buckland said:
Our hardworking Prison and Probation staff provide tremendous support in some of the most challenging environments.

I'm delighted to hear so many inspiring stories of staff going above and beyond their duty to make a real difference to offenders' lives.

I congratulate all of this years' winners and nominees for their outstanding work.
List of winners
The Probation Champion of the Year and Prison Officer of the Year awards took place near Bristol on Wednesday and Thursday evening.
The annuals awards celebrate the vast talent among HMPPS staff, recognising achievements in areas such as diversity, reducing reoffending and public safety.
The full list of winners is below:
Probation awards:
Change Innovation award – Simon Bland
Changing Lives award – Josephine Brown
Fairness, Decency and Respect Award – Carol Le
Lifetime Achievement – Barbara Tudor
Partnership Working award – Sonja Harrison
Public Safety award – Lee Cartner
Staff Support award – Beth Phillips, Celina Booth and Alice Pennicott
Supporting Victims award – Alan Clarke
Team of the Year – Case Support Workers
Prison awards:
Change Innovation award – Rob Littlewood (HMP/YOI New Hall)
Changing Lives award – Rebecca Hounslow (HMP Holme House)
Fairness, Decency and Respect Award – Benita Connolly (HMP Oakwood)
Lifetime Achievement – Paul Fawcett (HMP Preston)
Partnership Working award – Peter Bryan (HMP Huntercombe)
Public Safety award – Game Changers Team at HMP Isis – Mo Tholley, Dwayne Walker, Noel Dalton, and Nathan Carbey
Safety, Security and Care award – Emma Marthews (HMP Hewell)
Staff Support award – Wendy Burt (HMP The Verne), Gary Milsom-James (HMP Send) and Karen Cribbin (HMP Kirkham)
Team of the Year – Q Branch at HMP Leeds
/Public Release. View in full
here
.