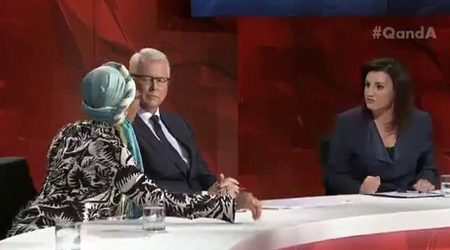 A campaign against youth activist Yassmin Abdel-Magied after her appearance on Q&A last week has intensified – with a Change.org petition calling for the ABC to fire the presenter, and several News Corp columnists taking aim at the 25-year-old.
More than 16,000 people have signed the petition calling for the ABC to "condemn and fire" the Sudanese-born Australian over comments she made in Q&A last week.
In a heated debate with Tasmanian Senator Jackie Lambie during the Q&A episode, Ms Abdel-Magied said Sharia law was a personal code and should not be considered as a legal system.
Ms Abdel-Magied, who also chairs a youth group, runs a blog, and makes media appearances as a commentator, said she thought of Islam as a feminist religion, pinning blame for misogynist, homophobic policies in Islamic countries on culture and politics, rather than religion.
In a video produced for Junkee that's been viewed almost five million times, Abdel-Magied sought to further dispel the myths associated with Sharia following her Q&A appearance.
"Sharia is not a system of laws like Australia's legal system… Sharia is about a Muslim's personal relationship with their God… In fact, I'm religiously obligated to follow Australian law," she said.
Since her appearance on the ABC last week, News Corp columnists Miranda Devine and Andrew Bolt branded Ms Abdel-Magied an "apologist" for Islam – slamming a government-funded tour of the Middle East last year.
The trip, sponsored by Australian embassies in the region, was intended to showcase Australia as an open, democratic and diverse society in which Muslim's are free to practice their faith.
Writer and TV personality Waleed Aly undertook a similar tour of the region in 2013.
Criticism of Ms Abdel-Magied's Q&A appearance continued throughout last week.
Former Prime Minister Tony Abbott said Ms Abdel-Magied must have been "blindfolded" during her tour of the Middle East to maintain that Islam was feminist.
Controversial Australian Cartoonist Bill Leak portrayed Ms Abdel-Magied as posing for a selfie with a woman about to be stoned – her fingers pushed into the woman's mouth, forcing her to smile.
Andrew Bolt described Ms Abdel-Magied as a "pet Muslim" of Prime Minister Malcolm Turnbull, noting the pair were seated next to each other during an Iftar dinner for Muslim leaders at Kirribilli House last year.
A petition by the far-right media organisation ALTCON News describes Ms Abdel-Magied as "blatantly lying" and spewing "pro-Sharia propaganda". /SBS/ABC/smh