We are grateful for and inspired by our volunteers who are fighting for a better world and encouraging others to tackle the issues that our planet is facing. From organising peaceful protests and fighting forest fires, to painting banners and working on digital content to spread awareness, Greenpeace volunteers come from all ages and backgrounds but are united in their passion for climate justice.
Meet a few of our volunteers as they share their inspiring stories about volunteering with Greenpeace and how they are fighting to protect our planet.
Fighting fire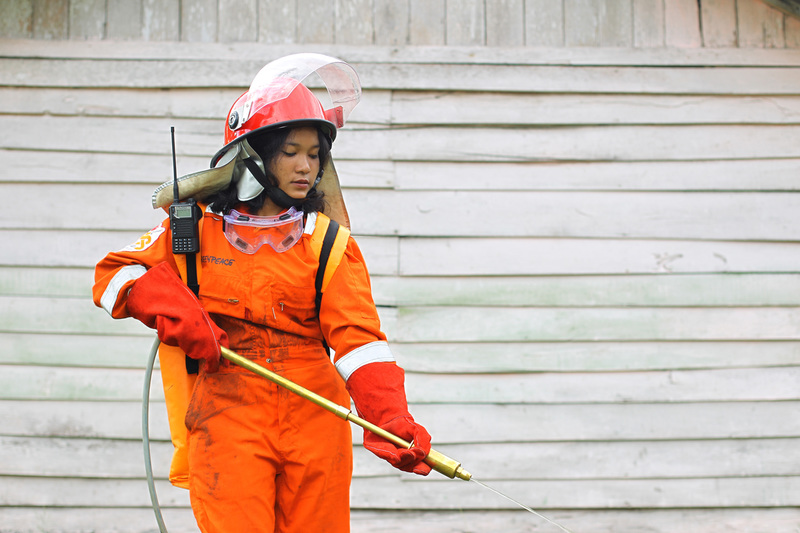 Dwi Agustya Ningrum, also known as Tya to her friends, started volunteering as a Greenpeace firefighter after the great forest fire in Riau in 2015. "The sky was filled with smoke. Visibility was only about 1 to 2 meters," remembered Tya.
"My family was my main reason to sign up. My parents had a respiratory infection caused by the haze. I had to see them use oxygen cylinders at home. Small children, who are supposed to play with friends their age outside the house, were also forced to stay at home. What is certain is that we are directly impacted by the forest and peat fires."
Now, every year, as summer rolls around, Tya gets worried because that's when most forest fires occur, either naturally or as a result of land or plantation clearing. "In my opinion, forest and land fires that most often occur in Indonesia, especially Riau, are the result of human activities of those who no longer think about clean air," she said.
"It's important for me to volunteer as it's time for us to take on any role, no matter how small or big. Because when the fire is burning and the haze is everywhere, it's a sign that we've lost but the real defeat is if we do not do anything to prevent it from happening."
Before carrying out actual tasks in the field, she had to take a volunteer firefighting course conducted by Greenpeace Indonesia and supported by the Forest Fire Prevention team from Greenpeace Russia. Along with other volunteers, she was given training on fire prevention in peatlands as well as navigation, safety and security protocols. "Peat is a highly flammable soil and difficult to extinguish. Where I live, almost 50% of the land is peat soil," said Tya.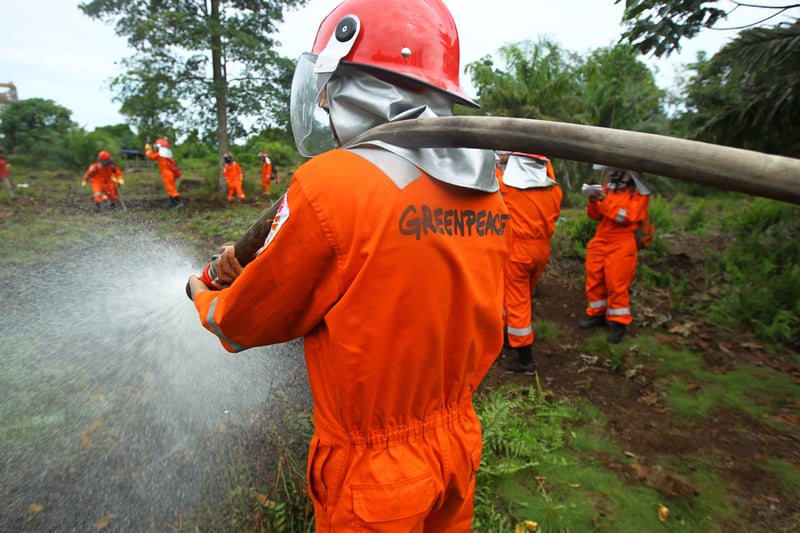 As a newly enrolled firefighter, Tya's first few duties have been to carry out awareness campaigns to talk about the dangers of forest fires, especially peat fires, to nature and to human health. In order to protect nature, she encourages the public to reduce their use of single-use plastic and also to carry portable ashtrays to hold cigarette butts. "It could be simple acts but the effect that is felt is extraordinary, especially when people around you are also slowly becoming more aware of climate issues," she said.
In 2016, Tya and her team spent two weeks extinguishing fires in the Bukit Timah area. On one of the days, a strong wind had picked up, flaming the smouldering, underground fire back up to the surface where it quickly started getting more aggressive. Back at camp, situated in the safe area, Tya and her other colleagues were worried for the safety of their teammates out in the field. Fortunately they made it back safely, but "their faces looked more tired than usual," said Tya, who had to be rushed to the hospital because of smoke inhalation. "I learnt a lot in a very short time," she said.
Despite the challenges, the courageous young woman stands ready to do what she can to protect the environment. "As a firefighting volunteer, I must be ready when called upon in the event of a fire and ready to be placed wherever I am needed."
What do you hope for with your action? I want to continue to see the sky as it is now, blue and without the haze, and we can live our lives as usual. I want the children to be able to play happily outside the house and all of us do not have to worry about the threat of respiratory infections anymore.
Healing through stories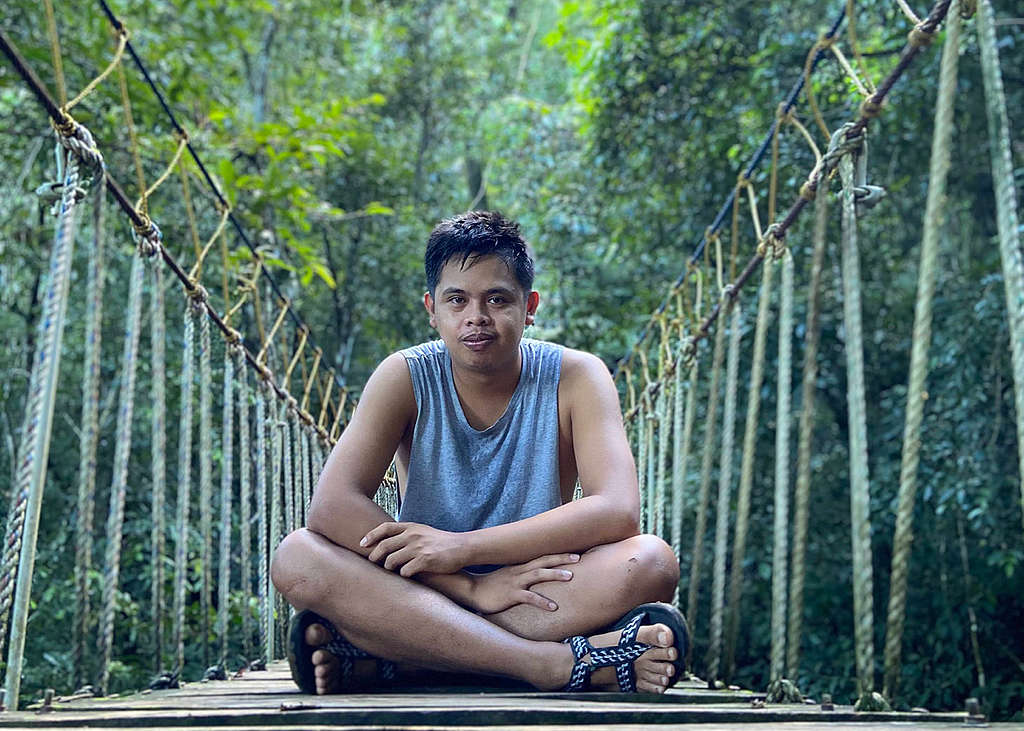 It was early November in 2013 when Ronan Renz Napoto and his family in Eastern Visayas, Philippines, heard over the news that there was a typhoon coming. "Living in the Pacific, we're used to having typhoons so we weren't very worried," he said. When Typhoon Haiyan, one of the most powerful typhoons in history, hit they were unprepared for its ferocity as it ripped through the Philippines, causing widespread devastation and loss of lives.
For years after, Ronan would have nightmares of the day, often waking up with tears running down his face. "I can still remember the sequence of everything, even right now everything keeps on flashing back to me. It's still painful to remember those events," he said.
It was on his journey to process the trauma that led Ronan down the path of climate advocacy. Already a youth community leader and trash crusader, the natural disaster drove his awareness of the urgency of the climate crisis and his need to act.
After taking part in a story sharing event organised by Greenpeace Philippines, he started to actively volunteer with Greenpeace, participating in brand audits and helping with administrative duties. When the Rainbow Warrior was anchored in Tacloban as part of the Climate Justice tour, he volunteered to be a guide. Ronan is also engaged in influencing policy makers in his community about creating effective environmental and plastic policies.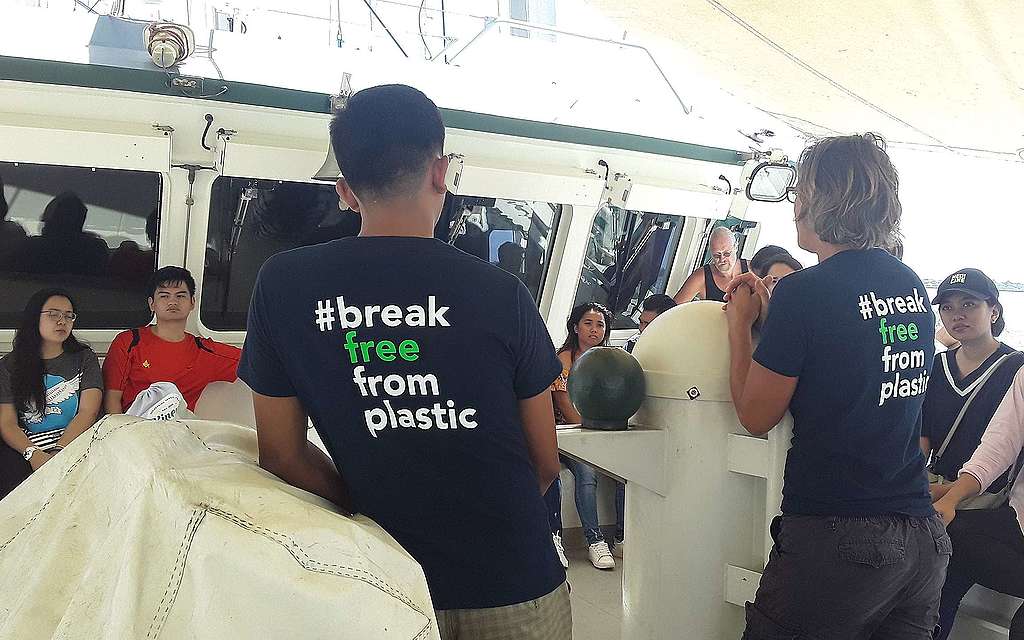 An eloquent orator and natural storyteller, he often speaks at Greenpeace events about climate justice and the science behind climate change. "I also talk about food and agriculture, the impact of agriculture on climate change, and other topics revolving around climate," he said.
His most memorable activity with Greenpeace is also the one closest to his heart, and that is collecting stories from the different communities in the yearly commemoration of Typhoon Haiyan.
"It reminds me that behind the science of climate change, there are real people with real stories," he said. "Statistics are important but we don't want to be just remembered as numbers, we want to be remembered and our stories to be remembered about who we are and how we struggled."
Ronan, who works with different organisations on research about community engagement and building resilience, is also the founder of Balud, a youth-led organisation that promotes ecological consciousness in the Visayas. "Coming from the provinces, I wanted to highlight the youth leaders from outside the big cities. We want to create more opportunities for people who are considered to be minorities or coming from vulnerable communities so that everybody acknowledges that we also have powerful stories," he said.
The process has not been easy for the young man but Ronan's determination and passion keeps him focused on his advocacy.
"We have in our local language the word Padayon, which translates as 'to keep going'. Because advocacy can be very hard and sometimes, you never know if there is going to be a light at the end of the tunnel. But it's worth it to keep on going, to keep on trying and moving forward, especially to bring your agenda forward. Nothing will happen if we just stop."
Art for change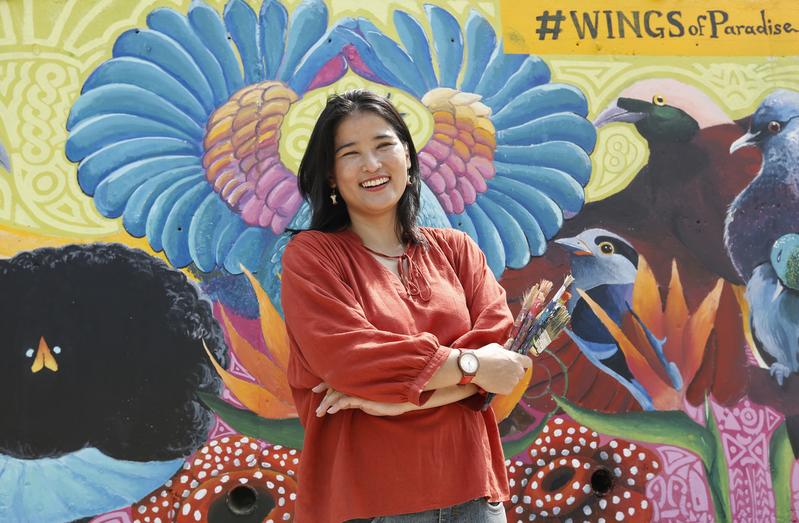 Lee Hui Ling was exposed to environmental and social issues at a young age. Born into a family of artists, her mother had a strong environmental conscience, which she had expressed through her art and imparted on her daughter. "As a child, I would worry about the ozone layer expanding, acid rain, rubbish pollution, flora and fauna going extinct. Very serious topics for a little girl!"
After graduating from the Sarah Lawrence college in New York and moving back to Malaysia, Hui Ling's concerns for the environment grew, particularly after the Fukushima nuclear crisis in 2011, her mother's hometown. "Greenpeace was very active in investigating the extent of the pollution at that time and I was very impressed by how transparent they were with the information, as opposed to a lot of cover ups," she said.
Hui Ling responded by setting up a Greenpeace Malaysia online community on various social media platforms. This was instrumental in the eventual setting up of the Malaysian office in 2017
A committed volunteer and a natural leader, Hui Ling was involved from the very beginning. She helped to organise and lead at meet-ups in cafes and community halls, as well as run workshops, training and retreats. Taking direct action, she has participated in various campaigns such as Radioactive Ruse, Stop The Haze, and Break Free From Plastic.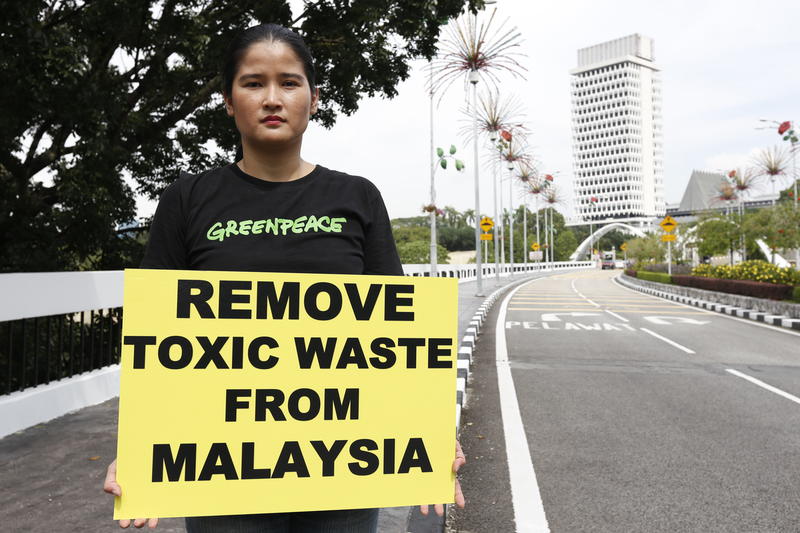 "Environmental activism has taught me that doing good is not a sprint, but a marathon, and we need to develop the endurance and resilience to make it through the difficult times," she said. "I think activism has been normalised, and with that kind of normalisation, it brings a level of safety. It becomes a very effective way to speak about social issues and affect change.
An artist and educator, Hui Ling organised participatory art projects in line with Greenpeace Malaysia campaigns on deforestation, plastic pollution and consumerism. One of them was the Wings of Paradise project, where she led a team of 30 youth volunteers in creating a 64-meter long mural as part of a global street art campaign against deforestation in Papua.
"We see the inequalities between the Global North and Global South exacerbated through climate change. This is a climate emergency," said Hui Ling. "However, there is a beacon of hope in the youth activism of the last few years. The youths of today are well organised, articulate and passionate in expressing their desire for positive change and a green and sustainable future for all."
What change would you most like to see in the world?
As a whole, I would like society to be more kind, generous and inclusive. I would also like to see a more proactive sharing economy and sustainable models of entrepreneurship, production and consumption.
What does it mean to be a Greenpeace volunteer? I think, first and foremost, one comes with the idea of wanting to effect change. It comes from a place of empathy and being passionate about environmental issues in a very deep and involved way. Greenpeace volunteers are different in a sense that they're more involved in environmental issues, it's not just greenwashing or a PR thing. I think that's what sets Greenpeace volunteers apart, that there's more direct action.
Passionate about the plastic issue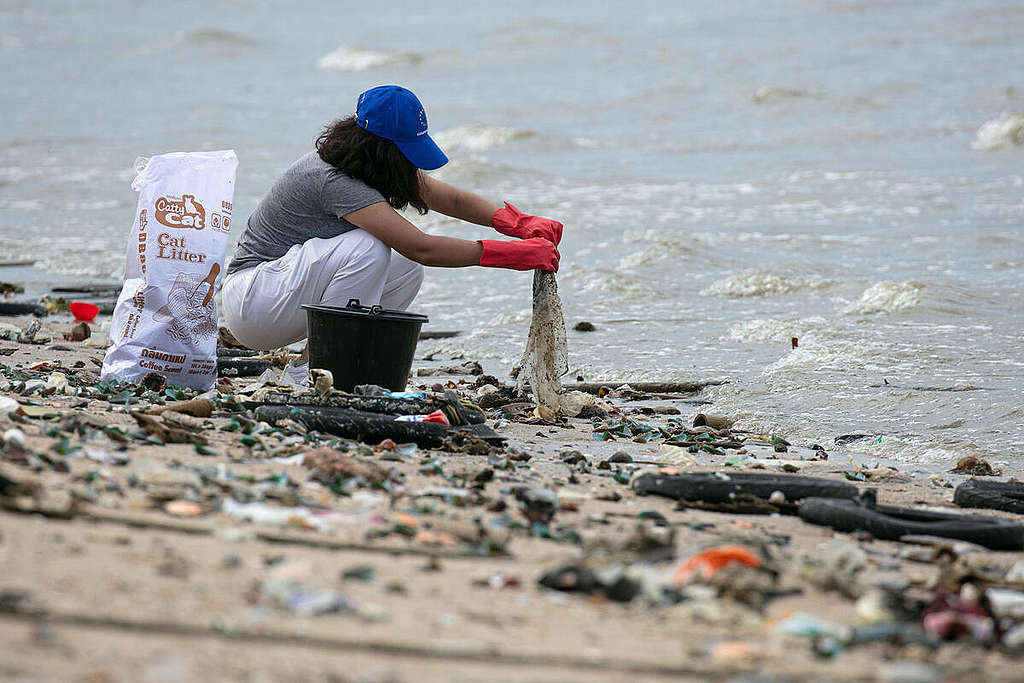 Amika Jamjansri was a first year student at Mahidol University, Thailand, when enticed by the promise of diving lessons, she signed up for a beach clean up activity where the volunteers had to collect, separate and group all the plastic on the beach. As Amika set to work, she was shocked by the magnitude of the plastic problem. "This trash that we collected is only just a small amount of the plastic, what about the rest of it that's out there in the ocean?"
That exposure to the plastic waste problem signalled the start of Mika's environmental crusade, and she started adopting plastic-free habits. In her passion to take action, she joined Greenpeace Thailand as a volunteer in 2020. She was working on the Solar Generation campaign when the pandemic hit and the country went into lockdown.
Despite the lack of mobility and activities being confided online, Mika continued volunteering with Greenpeace, joining the meat and dairy campaign where she helped to conduct online surveys. When restrictions for in-person activities were lifted, she participated in brand audits for the plastic campaign and was an emcee for a Facebook Live event.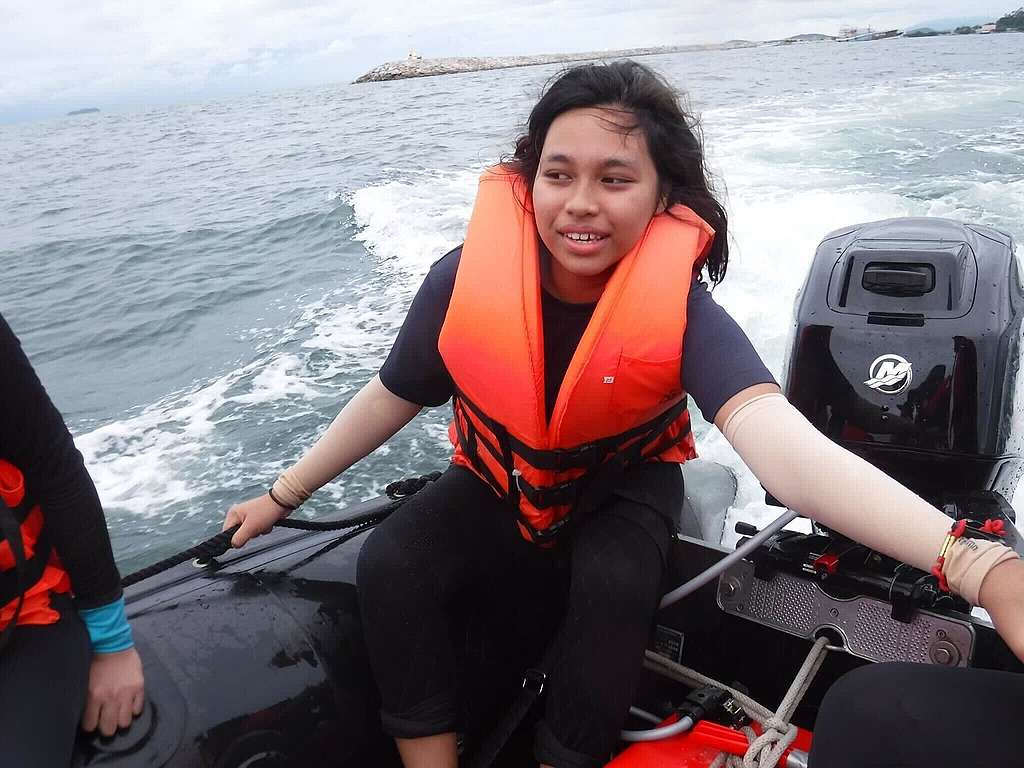 Her favourite experience was training with the boat team and the camaraderie she experienced with other like-minded volunteers. "It was so fun! I've never done anything like this before and I learnt a lot about driving boats by the end of it," she said.
Besides being passionate about going plastic free, Amika is most concerned about the impact of climate change on humanity and wildlife, and the loss of biodiversity. "There are so many incidents now of flooding and fires, and it sets off a chain reaction. To tackle the problem, it comes down to law and implementation. Those in power are not serious enough despite the big conferences. There is just not enough real action."
What one change would you most like to see?
I would like to see international law being changed in favour of solving environmental issues more effectively and that businesses are made to take responsibility for their actions.
Digital advocacy
Minseop Kim's awakening to the climate emergency came early this year when his home in Seoul, the capital city of South Korea and home to 10 million, was flooded after abnormally heavy rains.
"Lots of single-person households in their 20s in South Korea live in places that are very vulnerable to extreme weather like floods, storms, and rainfall. Climate crisis is happening to people like me, who migrated to Seoul with less economic power to buy a house resilient to floods. Based on the current situation with global warming, we're going to experience extreme weather more frequently and more severely," he said.
"I was scared whenever I heard of heavy rainfalls in the news. But the fear doesn't change anything. If I move from here to another place, someone will go through a similar situation as mine. So I decided to find something I can do to make a difference."
Minseop joined Greenpeace as a volunteer, using his skills as a web designer to design effective, powerful visuals for Greenpeace Korea's Climate Suffrage campaign. The campaign is aimed at changing climate policy in South Korea, including the Korean government's carbon neutral policy, the national law and the presidential candidates' commitment to climate action.
He also participated in the 'Green New Deal Civic Action', where he monitored the legislative action of congress members and made calls to the office of congress members to relate his personal experience regarding climate change and to urge them to take more ambitious climate action.
"I got inspired by volunteers abroad who called the local politicians demanding stronger climate action as a citizen lobbyist. I feel empowered taking real climate action, more than voting," he said.
"Volunteering is important because people who are concerned about similar issues are connected and act together. We can learn from each other, from their different perspectives on one issue. For me, I've learned from my peer volunteer, who has hearing loss, that the climate crisis is very connected to the human rights issue as well."
What one change would you most like to see?
I'd like to see more people talking about climate change, discuss and act upon it. Individual action matters itself, but I believe that collective civic action can change a giant's action. The government and corporations are the two giants we have to change in order to respond to the climate crisis.
As citizens, we need to monitor and pressure the government and businesses. Today's five phone calls from people can change the meeting agenda for the next morning. Why don't you call congress members to do the right thing? Why don't you call the company and say that there will be more chances in the green economy transition? A single phone call can make more of a difference than just being a voter.
If you believe something is important, start volunteering and start making a change in your society.
Managing waste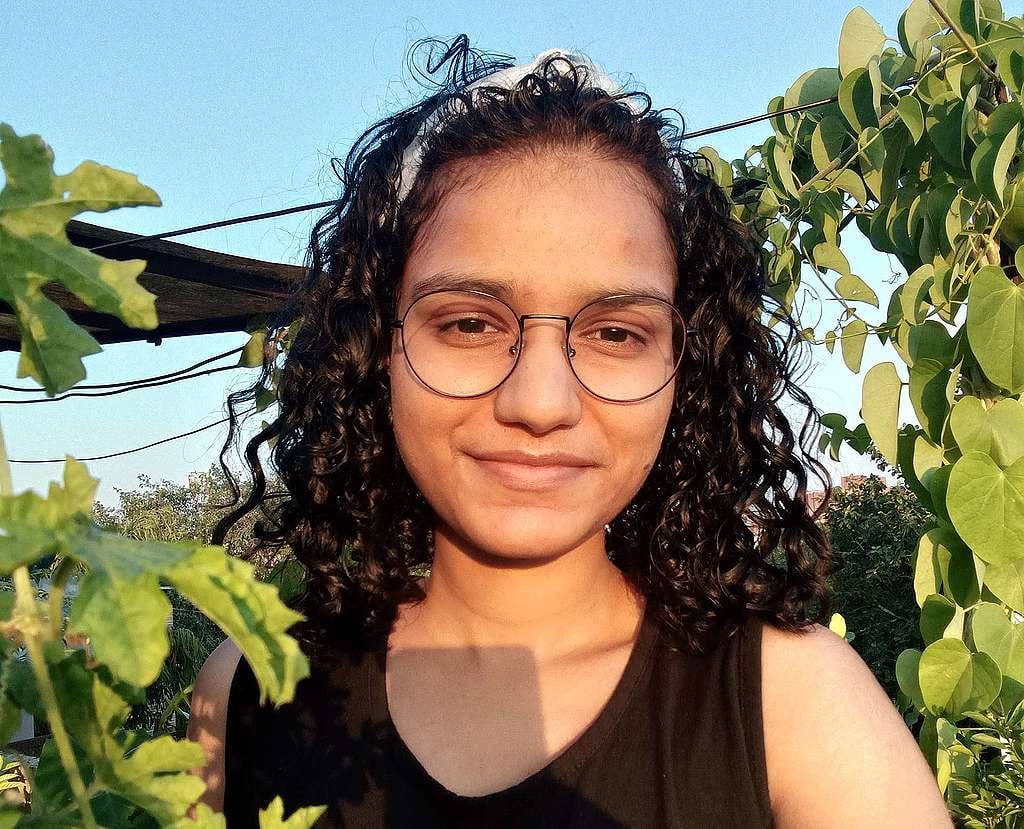 It was while Neha Gupta was researching ways to lead a more sustainable lifestyle and to manage waste that led her to Greenpeace. During last year's lockdown when schools were closed, the teacher of environmental science and English took the opportunity to sign up as a volunteer with Greenpeace India. "I wanted to join and come up with solutions from a community and organizational level, instead of just as an individual," she said.
In her short time with Greenpeace, Neha has proven to be a dedicated and valuable member of the organisation. One of her first activities was to lead a webinar on home composting. Neha had been experimenting with various ways to compost at home and was able to share her experience and learnings with over 100 attendees from around India. "I was nervous but had good support from the team in terms of how to run the webinar. It was a challenging but memorable experience for me," she said.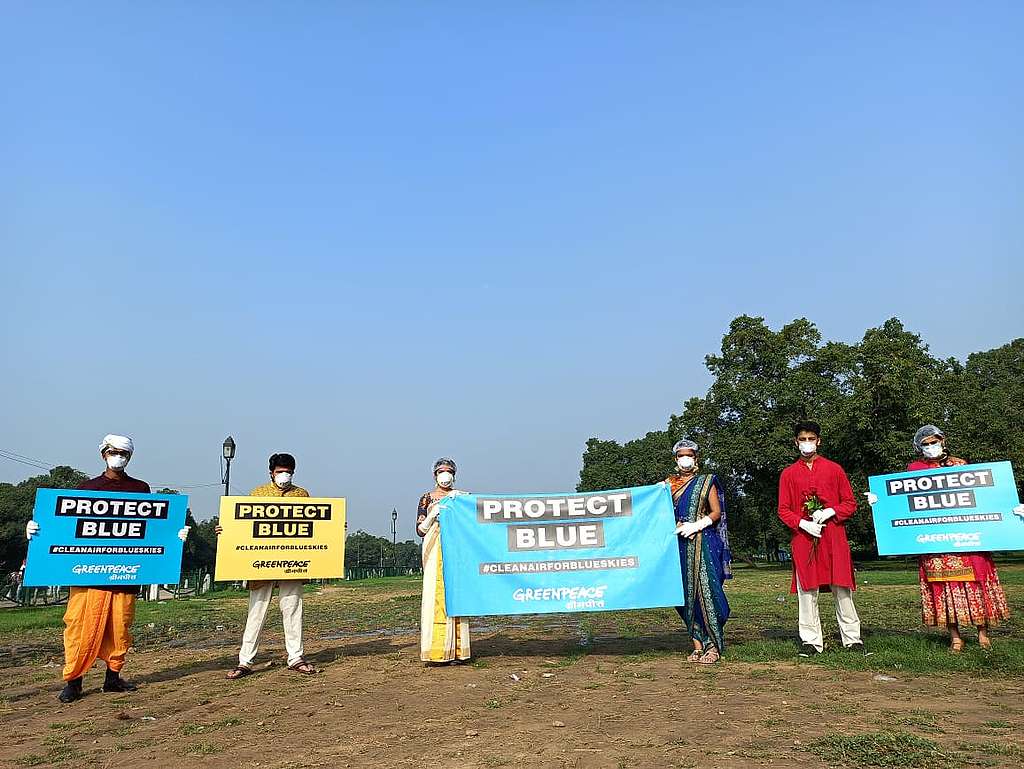 She took part in the Clean Air for Blue Skies campaign to address Delhi's air pollution. Dressed in ethnic wear, she campaigned for clean air at Connaught Place, speaking to the public about air pollution. Neha also participated in the Power the Pedal campaign, empowering low-wage women labourers to use the bicycle as a safe, sustainable and fun mode of transport.
"Greenpeace gives you the opportunity to interact with like-minded people but also gives you a sense of community," she said. "The organisation has taught me how to work in a community, how to ideate together, plant together, act together and at the same time, have fun together while fighting for a cause."
/Public Release. This material from the originating organization/author(s) may be of a point-in-time nature, edited for clarity, style and length. The views and opinions expressed are those of the author(s).View in full
here
.