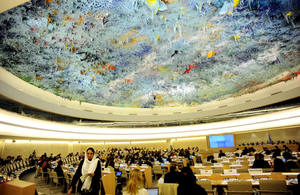 Thank you, Madam Vice-President,
For a number of years, the UK has led the charge against conflict related sexual violence. The London 2014 Global Summit to End Sexual Violence in Conflict told the world that it was Time to Act. This November, we will host a further International Conference called Time for Justice: Putting Survivors First – to celebrate progress, address remaining challenges and galvanise further action.
It is essential to strengthen justice for survivors, tackle stigma, and prevent sexual violence in conflict. We all must agree concrete actions to this end and ensure that the needs of survivors are paramount. This is why we announced a PSVI Survivor Champion on the International Day for the Elimination of Sexual Violence in Conflict: perpetrators must be held to account if survivors and communities are to truly heal.
Madam Vice-President,
The UK is proud of our long-standing support for sexual and reproductive health and rights. Every individual should be able to make their own informed decisions on matters related to their sexuality and fertility.
In 2017, the UK committed to spend an average of £225m per year globally on family planning over five years. We are the world's largest donor to the UN's Sexual and Reproductive Health and Rights agency, UNFPA, helping them carry out their lifesaving work around the globe. Furthermore, we support the rollout of the Minimum Initial Service Package for Reproductive Health in Crises, which includes the provision of safe abortion care to the fullest extent of the law.
Through UK Aid and our diplomacy, the UK will continue to advance gender equality, protect sexual and reproductive health and rights, and stand with the most marginalised women and girls to ensure that no one is left behind.
Finally, Madam Vice-President,
Providing opportunities for 12 years of quality education for all girls remains a priority for the UK. We intend to champion this issue with partners at the Human Rights Council.
Thank you, Madam Vice-President.
/Public Release. View in full
here
.