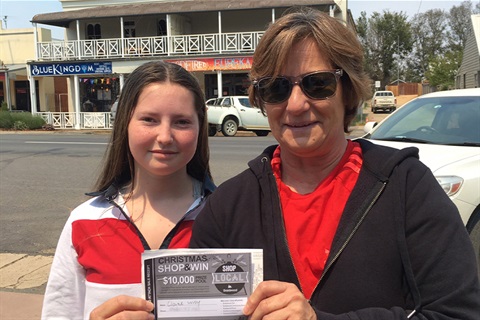 At a time when Braidwood and surrounds has faced threatening bushfires, Queanbeyan-Palerang Regional Council's 2019 Christmas Shop & Win campaign has brought joy to six lucky major prize winners.
The Shop & Win campaign ran throughout October and November. To be eligible, customers simply needed to spend a minimum of $20 at any of the participating businesses in Braidwood and Bungendore to receive an entry ticket into the $10,000 prize pool.
On Tuesday 3 December the major prizes for Braidwood were drawn. The draw took place in a low key public event on Wallace Street while most of the community's thoughts remained focused on the threat of the fires.
The $5,000 first prize was won by local Braidwood resident Claire Way. Lydia Sheridan won the $2,000 second prize and Cheryl Constable picked up the $1,000 third prize.
Claire, a single mum, burst into tears when she was phoned to let her know she had won.
"This is an amazing Christmas present. It will help so much with a few things I have been saving a long time for," Claire said.
Claire has chosen to spend her winnings across 10 businesses in Braidwood, meaning the winnings stay local and help contribute to economic activity as the town faces a long recovery when the fires eventually subside.
In Bungendore, the draw was held as part of late night shopping on Thursday 5 December. All three winners of the major prizes were rural residents who shopped in Bungendore. Lewi Crothers from the Gidleigh area won the $5,000. Christine Logan from Mt Fairy won the $2,000 and Alison FFrench from Wamboin won $1,000.
Lewi was very excited but had other things on his mind when he was informed of his win.
"I'm going to sit down and have a beer after I get the sheep in and put out a fire," Lewi said in response to his win.
Lewi has decided to spread his winnings across 16 businesses in Bungendore.
Throughout this year's campaign there were also eight lucky winners of $500 fortnightly prizes, bringing the total prize pool to $10,000.
The campaign partnered with the Bungendore Chamber of Commerce and Industry, the Bungendore Community Bank and the Braidwood Community Bank.
/Public Release. View in full
here
.