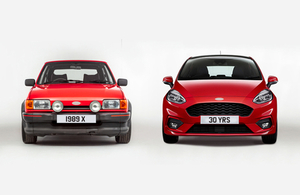 The agency, which celebrates 3 decades of personalised registration sales this year, has published the 12 most expensive registrations it has sold, ahead of a 3-day live auction.
| Registration | Price | Date |
| --- | --- | --- |
| 25 O | £400,000 | November 2014 |
| 1 D | £285,000 | March 2009 |
| 51 NGH | £201,000 | April 2006 |
| 1 RH | £196,000 | November 2008 |
| K1 NGS | £185,000 | December 1993 |
| KR15 HNA | £180,000 | May 2015 |
| 1 O | £170,000 | January 2009 |
| 1 A | £160,000 | December 1989 |
| 1 OO | £156,000 | April 2006 |
| 2 O | £115,000 | March 2009 |
| 6B | £101,700 | September 2008 |
| 250L | £100,500 | November 2014 |
The agency holds several live auctions across the UK each year, and has almost 60 million registrations for sale on its website.
Personalised registrations have proven a big hit with motorists, with 5.9 million sold since the agency first started selling them in 1989.
The first ever auction in 1989 saw just 74 lots offered for sale at Christie's London, with the first lot offered for sale by DVLA, 99 MG, selling for £8,000. The highest price that day was for 1 A, which sold for £160,000.
Last year the sale of personalised registrations by DVLA brought in £116 million for the Treasury, most of which came from the thousands of more affordable registrations which are priced from £250.
DVLA Chief Executive Julie Lennard said:
DVLA's sale of personalised registrations began in the days when the only way to place a bid at the live auction was to attend in person.

We now live-stream every auction, giving bidders the opportunity to bid for their dream registration online from our live auctions, as well as the many millions we have for sale on our website.
6 facts about personalised registrations
DVLA sold 658 registrations in the 1989/90 financial year, increasing to 26,161 the following year. In the 2018/19 financial year almost 404,000 registrations were sold.
The average price for registration marks sold at a timed auction currently stands at £877 and £3,225 for those sold at live auctions, while the average price for those sold direct through the DVLA website is £342.
A recent DVLA survey showed that 69% of respondents would buy a private registration because of a personal connection, a name or initial, 6% for their business, while 17% said they saw them as an investment.
Research by DVLA shows that 28% of UK motorists have named their car, with 'Doris', 'Dave', 'Henry', 'Betsy' and 'Bumble' all popular. Of those, 87% said they had bought a personalised registration to match the name they give to their car.
With the vast majority of two-letter, one single number registrations already issued or sold, 'IG 1' is certain to draw the attention of those looking to purchase a rare find at the auction in the Vale Resort in Hensol, Vale of Glamorgan.
Auctions have been held at venues including Legoland, Old Trafford, home of Manchester United, the Heritage Motor Museum, Granada Film Studios, the Imperial War Museum and Williams F1 Conference Centre and Museum.
Notes
The first auction was held at Christie's in South Kensington, London, in December 1989.

The 30th anniversary sale will see 1,250 lots go under the hammer at the next live auction on 16, 17 and 18 July at the Vale Resort in Hensol, Vale of Glamorgan.

Registrations for sale at the Vale include 311 A (reserve £2,500), 2019 A (£2,500), AN15 TON (£700), AN66 ELA (£400), BYE 805S (£250), B41 KER (£250), C47 THY (£250), DAN 2E (£350), DRE 5W (£350), ELV 21S (£300), E114 NOR (£250), FL16 HTS (£700), FR11 ANK (£400), F110 OYD (£250), GA11 RRY (£400), 919 GS (£2,200), HUG 60S (£300), IG 1 (£2,400), JA66 UAR (£400).

Auction bidders can do so in person, over the phone, online, by post and by text.

The personalised registrations website allows motorists to see how their new plate will look on their car. More than 60 million registrations are available on the website with combinations to suit all tastes and budgets.

DVLA will hold more auctions this year – at Wychwood Park, Weston Crewe, Cheshire, 18 to 20 September; a timed auction, 14 to 23 October; and Stratford Manor, Warwick Road, Stratford-upon-Avon, 20 to 22 November.

Auction reserve prices, where bidding will start, range from £250 to £2,500.

The £1.95 billion revenue from the sale of personalised registrations is the 'hammer' price and does not include any varying VAT or auction fees that would have applied over the past 30 years. The revenue raised is passed to HM Treasury.
/Public Release. View in full
here
.