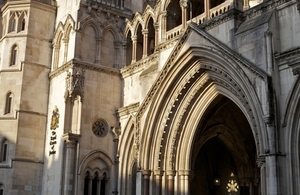 New statistics
2018 Unduly Lenient Sentence statistics (MS Excel Spreadsheet, 24.1KB)
released by the Attorney General's Office show that in 2018, 99 offenders had their sentences increased after they were challenged by the Attorney General and Solicitor General (also known as the Law Officers). 23 people were imprisoned immediately after avoiding jail time at their original sentencing.
The sentences increased were for crimes including murder, rape, robbery and sexual abuse of children.
The ULS scheme allows victims of crime, members of the public and the CPS to ask for sentences that fall within it to be reviewed. If deemed too low ('unduly lenient') by either the Attorney General or the Solicitor General, the Court of Appeal is asked to review the sentence with the view to increasing it. A fifth of the cases referred to the Attorney General and Solicitor General which fell within the Scheme were referred to the Court of Appeal. 71% of these resulted in an increased sentence.
It must be remembered that in the majority of cases the right sentence is delivered. 70,000 sentences were handed down at Crown Courts in England and Wales in this same year, and only around 0.1% of these were found to be unduly lenient, showing that in the vast majority of cases judges get it right.
Of the 140 offenders who were referred to the Court of Appeal, these related to crimes in the following categories:
• Rape and serious sexual offences (48)
• Homicide and related (13)
• Theft-related offences (such as robbery, burglary, theft and fraud) (23)
• Serious assault offences (27)
• Firearm-related (4)
• Drug-related (14)
• Death by driving (4)
• Making a threat to kill (2)
• Perverting the course of justice/perjury (2)
• Arson related (2)
• Modern slavery (1)
The Solicitor General, Lucy Frazer QC MP, said:
"The ULS scheme allows prosecutors, victims of crime, their family and the public to ask for a review of certain sentences they believe to be too low. Only one application is required for a case to be considered and it is important for us to receive this as early as possible in order to properly consider a case before the 28 day deadline."
"A sentencing exercise is not an exact science and in the vast majority of cases, judges get it right. The scheme is available to ensure that the Court of Appeal can review cases where there may have been a gross error in the sentencing decision."
/Public Release. View in full
here
.