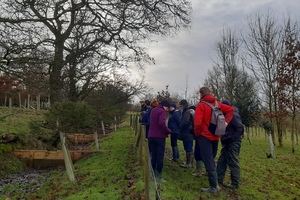 A trial to help test how nature based solutions such as creating wetlands can be used to help reduce the risk of flooding has been successfully completed at Marlfield Farm, in Earby.
This is one of a series of pilot projects which are part of Leeds Flood Alleviation Scheme using natural flood management (NFM) techniques to help protect the people of Leeds and those living near the River Aire from the risk of flooding.
Evidence from these projects is being gathered to fully understand the benefits of NFM and develop how best to work with landowners, tenants and key partners in the future.
A team from the Environment Agency has been working with the River Stewardship Company and landowners at Marlfield Farm, which is on the border of Yorkshire and Lancashire, since last September to slow the flow of rainwater and provide better habitat for local wildlife. Works have included wetland creation, hedge and tree planting, leaky barrier installation and fencing off corners of fields from grazing so that more vegetation can grow which helps to store and slow the flow of water across land.
The Earby project will be the first of many NFM schemes in the area. The Yorkshire Dales National Park recently organised a tour of the site for farmers who were interested in installing NFM measures on their own land so they could see the works in action and learn from the project. A video to show the success of the NFM measures during Storm Ciara in February has been produced by the owners Marlfield Farm which can be viewed below
Any landowners interested in using natural flood management techniques on their land can contact the NFM project team by emailing:
/Public Release. View in full
here
.