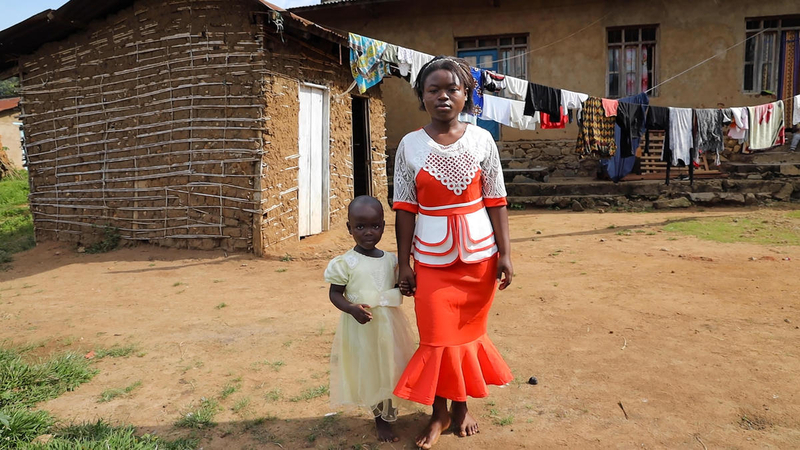 THOUSANDS of children orphaned by Ebola or separated from their families are emerging as the hidden toll of a crisis that is set to scar them long after the deadly virus is contained.
A new World Vision report has revealed the devastating impact on children of the world's second-worst Ebola outbreak, with orphans overwhelmingly feeling abandoned, isolated and fearful, and plunged deeper into poverty.
More than 2400 children have lost parents to Ebola and 4079 have been separated from their families after the outbreak erupted in the violence-plagued DR Congo in August last year.
A worrying number of children have ended up living alone on the streets due to ongoing conflict, while others have been taken in by in foster families or sent to relatives to protect them from Ebola, the report says.
The report, Fear and Isolation, found children were being robbed of their childhoods and education, unable to play games or do homework with friends due to fears of contracting the deadly virus, and enduring sporadic school closures.
"We're very sad because we lost our mother and father's love," said Ghislene, 17, whose parents died on the same day from Ebola.
"Our friends are afraid of us, because there are people who died of Ebola at our home."
Another young boy in Beni said: "With Ebola, we don't have access to several games because parents have forbidden us to play, for fear of being infected.
"At school we do not follow the lessons and we are afraid to sit on the same bench, to touch. Many people are afraid to approach children who have recovered from Ebola and those whose homes have been touched by Ebola."
Over half of adults surveyed in the community knew of children who had been abandoned and needed long-term supports to cope. Of the 2199 deaths from Ebola as at 24 November 2019, 28 per cent were children.
The release of the report comes as eastern DR Congo reels from another eruption of violence that killed Ebola health workers, forcing aid agencies to suspend work and relocate staff.
Despite the decline in cases since August, humanitarian agencies are now concerned the outbreak could worsen. New cases are now being found in areas that are more difficult to reach, suffer from higher levels of insecurity and where there are highly concentrated populations.
Anne-Marie Connor, World Vision's National Director for DR Congo, warned: "Children affected by Ebola and violence have clearly told us they are fearful, suffering and worried about how to survive after their parents died. Just when we were thinking we could defeat Ebola, the spike in violence proves that things could actually get worse for children.
"I am deeply concerned by what is happening in eastern DR Congo because children are suffering a multiplicity of challenges like measles and retaliatory killings by armed groups, which have already claimed many more lives than Ebola has. The children are telling us they need help.
"To assure child survival, protection and development we need to invest long-term to address systemic problems that have left 12.8 million people in need of humanitarian assistance."
She said defeating Ebola was extremely difficult in what was essentially a war zone where insecurity, attacks on health services and misinformation were rife.
It was unlikely that hopes to reach zero cases by the New Year would be realised, she said.
World Vision interviewed 139 children and 129 adults in six health zones in the DR Congo's North Kivu area, the Ebola epicentre. Of child survivors, 70 per cent feel ostracised by friends and 33 per cent by family.
The report makes four key recommendations including to increase funding to fight Ebola, care for children and address deep-rooted barriers to development, and provide more psycho-social support for boys and girls affected by Ebola.
World Vision is working with partners on the ground to offer psycho-social support, water sanitation and hygiene, food security and livelihood assistance to nearly 700,000 people in communities affected by Ebola and perpetual conflict.
/Public Release. The material in this public release comes from the originating organization and may be of a point-in-time nature, edited for clarity, style and length. View in full
here
.