MUA Just Transition Update: Decommissioning March 2023
This is our second update to you regarding just transition opportunities that are in the works for our membership.
This month's newsletter deep dives on the issue of decommissioning the offshore oil and gas sector and offshore wind.
Please make sure you read through the update and discuss it at your onboard meetings.
Missed our last just transition decommissioning update? You can find it here.
Adrian Evans: Fighting for MUA jobs of the future!
MUA members built the offshore Oil and Gas industry over many years and as the world shifts away from fossil fuels it is critical that MUA members are engaged to fully decommission those disused offshore O&G assets and then transition our maritime skillsets into to the new energy powerhouse that is offshore wind and in doing so ensure the future of our seafaring membership is secure for generations to come.
There has been a mountain of work going on in the background around decommissioning and the development of the emerging offshore wind industry. I would like to take the opportunity to thank Emma Cain who has produced high quality research and submissions for our decommissioning scope over the past 12 months and I also acknowledge the ongoing pivotal work that Penny Howard does in the renewables space.
This detailed update contains just a snippet of the work that has occurred since the first Just Transition quarterly update was sent in November but I hope it gives members an idea of the opportunity that lies ahead. We know there is around 52 billion worth of work in the decommissioning scope and some of it has already started. The renewables boom will be even bigger.
In January we met with several key worldwide offshore wind developers in Copenhagen facilitated by the ITF and while we were there, we met with the Danish Energy Agency who informed us that for every 1GW of offshore wind around 9,500 jobs are created many of which relate to wharfies, diving, towage, dredging, Port Workers with nearly 1500 seafarers jobs created throughout the life cycle of each 1GW of offshore wind.
To demonstrate the significance of the upcoming Offshore Wind boom, there has been over 50GW of projects that have been announced so far around the country, with new announcements occurring regularly. Not all of those projects will be developed due to the competitive bidding process but it is clear there is a shitload of work for our members in this new industry which is why we focus so much time campaigning for local content, local jobs and meeting with developers and State and Federal Government to ensure a Just Transition for our members!
Santos ruling clears up consultation requirements for future decommissioning projects
Late last year the Federal court ruled that oil and gas operators must fulfil requirements to make "genuine and rigorous efforts" to consult with First Nations people as part of the consultation process which is required prior to projects commencing.
We applaud our First Nations brothers and sisters for their efforts on this ground breaking decision.
We support consultation for traditional owners on all oil and gas projects, including decommissioning.
Since this ruling, there has been some improvement for the union and our members. After writing several letters to offshore operators and engagement with the regulator seeking consultation prior to decommissioning work kicking off, we have now been contacted by Woodside for comment on 3 projects prior to commencing. This has allowed us to argue on the scope of project activities to come, as well as the safest and most environmentally friendly way to decommission jobs. We expect
more genuine consultation from operators to flow from this ruling.
Off the back of this decision, NOPSEMA is seeking guidance on its creation of new guidelines that will be used by the oil and gas industry for environment plans, and the MUA has made a submission focusing on strengthening the following areas:
1. Relevant Person recognition
NOPSEMA has left the decision of stakeholder relevancy up to the title holder, and the union is concerned that certain groups will be left out of the consultation process because these groups are deemed irrelevant.
On several occasions, title holders have ignored the union's request for genuine consultation regarding proposed offshore oil and gas activities, even though this is a title holder obligation.
NOPSEMA must ensure that title holders adhere to these obligations.
2. Transparency of information
NOPSEMA has left the decision of whether information is provided up to the title holder. We argue that when title holders request to deviate from legislative obligations, all information must be provided to relevant persons before an EP is lodged.
NOPSEMA must strengthen consultation guidelines that allow for all information to be requested and considered by parties during discussions.
3. 'Reasonable period' time frame
The term 'reasonable' has been left to the title holder to decide. The union argues that there must be a more concrete timeline in place to ensure genuine dialogue between parties can occur. Therefore, the MUA proposes a minimum consultation period of three months. This three-month period will allow authentic discussion between parties and time for relevant persons to properly research and respond to proposed activities.
4. First Nations people
We recognise that guidelines created by NOPSEMA regarding the consultation process of offshore oil and gas projects will affect Traditional Owners within Australia. Therefore, the Regulator and industry title holders must thoroughly consult First Nations people while developing regulations, guidelines, and environmental plans.
We hope to hear NOPSEMA takes these considerations onboard.
Our members built these projects. We laid the pipes and subsea equipment, we towed the platforms and facilities to site, and we have maintained much of this oil and gas infrastructure to Australian standards for decades. We have made it very clear that our members have the skill and experience to decommission this work safely and effectively and we will continue to campaign for FULL decommissioning of disused O&G assets.
You can read the Resource Minister, Madeline King's response to consultation requirements
here
.
Woodside's Nganhurra RTM disaster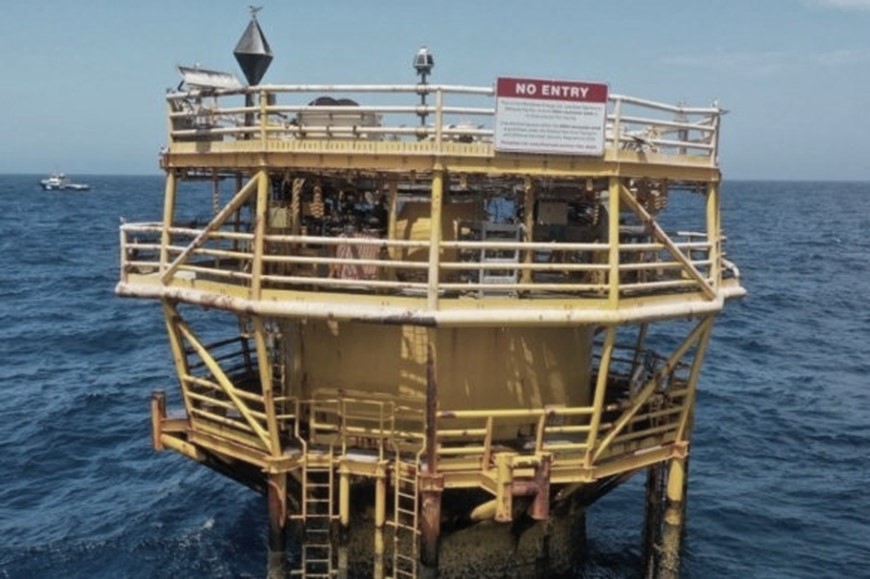 Our first stakeholder consultation information sheet came from Woodside this month, recognising the MUA as a relevant person and seeking feedback on its proposal to decommission and remove the RTM that was once attached to the Nganhurra FPSO.
Our members are well aware that this 2,500 tonne and 83 metre long sinking structure is a disaster waiting to happen. You can read about this on the
Offshore Alliance facebook page
.
We have taken this consultation as an opportunity to remind Woodside that their track record on responsibilities for cleaning up after themselves has been the worst in the industry and that we expect all platforms, facilities, and associated infrastructure to be removed following relevant legislation. You can
read our response to Woodside here.
We are pleased to announce that since lodging our complaint to Woodside, they have advised that the RTM will be decommissioned and removed properly. This is a big win for our union membership and the initial work is scheduled for the second half of 2023 (subject to EP acceptance) with removal of the remaining subsea infrastructure above the mudline including manifolds, manifold foundations, flowlines, and umbilical's, to occur by end 2024.
A range of vessels will be required to complete this project's decommissioning work, including a multi-purpose offshore support vessel for inspection, a heavy lift vessel for preparation and lifting of the structure and anchor handlers for mooring disconnection and towage. In addition, a barge or heavy lift vessel will be used for transporting the RTM to shore. Woodside has yet to provide details of the operator, but we will pass this on to our members when we know.
Upcoming work: Woodside's Griffin & Stybarrow Fields
Woodside's Stybarrow Field
As mentioned, Woodside has consulted the MUA on two other decommissioning projects. Both projects were previously operated by BHP.
These are:
Griffin Field Decommissioning Project (North West WA)
This decommissioning project involves removing a vast amount of subsea infrastructure that was once connected to the Griffin Venture FPSO.
Woodside expects to need between two to six vessels to complete decommissioning and removal work (Multi-purpose, Heavy Lift, and Support vessels) and has noted that some of this work has been contracted to Technip's Deep Orient and is expected to commence at the end of 2023 for six to eight months.
Stybarrow Field Decommissioning Project (Exmouth)
Activities for this project include plugging ten production wells and removing subsea equipment that was once connected to the on site FPSO.
A semi-submersible mobile offshore drilling unit (MODU) will be required to plug wellheads supported by 2-3 vessels. Other work will need either a Heavy Lift or Construction vessel and anchor handlers for towage. Woodside still needs to nominate the operator for work completion.
However, we can assume the same vessels will be used for this project as the nearby Griffin Field decommissioning project. The earliest commencement of this project is set for late 2023 and will take approximately 13 months.
These projects alone highlight the scope of decommissioning work to come. Once consultation of these projects is complete with all relevant persons, Woodside will lodge these environment plans with NOPSEMA. We will report back on the outcome of these assessments in future meetings.
Esso, Gippsland decommissioning project Phase 1
After lodging our submission last year against Esso's decommissioning campaign based offshore from Gippsland, Victoria, comrades Adrian Evans, Penny Howard, Emma Cain, David Ball, and Rob Lumsden met with Esso's decommissioning team to discuss its environment plan due to be lodged with NOPSEMA in April. The MUA team reinforced our position for Esso's Gippsland decommissioning project.
All steel pile jackets must be cut at the sea floor and removed for recycling purposes as per the OPGGS Act. Esso must be transparent with information relied upon in its environment plan about leaving structures in place.
Decommissioning and removal of Esso's expired infrastructure must not impede accessibility for new renewable energy zone projects.
Our next step is to contact Chris Bowen and Madeline King prior to this environment plan being lodged about our concerns regarding the overlap of decommissioning and offshore wind construction. NOPSEMA should require that the deadline for removal of this disused offshore oil and gas infrastructure be brought forward so that it is complete by 2025. This is essential to allowing new offshore renewable energy projects such as Gippsland offshore wind to be constructed.
The environment plan for Project 1 is due to be lodged with the regulator in April. We will report back the outcomes of NOPSEMA's decision in our newsletter.
Planning for WA's first dismantling facility
This month, Penny Howard and Emma Cain met with the Centre of Decommissioning Australia (CODA) to get a briefing on their plans for WA's new decommissioning facility after the State government boosted funding for further research on this subject mid-last year. Here are the answers to some of our questions:
1. Where are we expecting the dismantling facility to be located?
We expect the exact location of the decommissioning facility to be announced in the coming months. At this point, our assumptions are for the northwest of WA, as this area sits in the greater proximity of where most of the aging oil and gas facilities and associating infrastructure will be recovered.
2. What will the WA dismantling facility look like?
Decommissioned offshore oil and gas materials contain more than just steel and concrete. There is also a great number of harmful materials found in these structures including plastics, naturally occurring radioactive materials (NORMS) and ferrous (rusting) metals. WA's decommissioning facility will be first of its kind in Australia, purpose built with the entire surface membrane protected to prevent any leakage or spills into the soil.
CODA has spent time researching and visiting other decommissioning yards around the world to gather information on how to best establish a domestic facility with capabilities for the scale of decommissioning work to come. Some of the best establishments include:
Norway AF Gruppen: has the largest hub, 7 hectares of membrane-protected land (to avoid spills). They employ around 170
workers (including office staff, environmentalists etc).
Denmark MARS: has a facility space of 28 hectares. They employ 130 workers plus sub-contractors.
Scotland, Cesscon: Is a 20 hectare facility employing the same amount of staff as MARS.
These facilities are also considered to hold industry best practices on environmental standards, the safety of the workforce, and equipment technologies. All three facilities can dismantle 200 000 tons of metal annually.
3. What will the dismantling facility do?
At this stage, CODA is focusing on a dismantling facility that will complete stages 1 & 2 of the decommissioning project scope, summarised in the report they released last year – 'Understanding Opportunities for Local Disposal and Recycling Pathways'. These are:
– Dismantling of equipment
– Processing of materials
Stage 3 – (Recycling/disposal of materials) will be by shipped to various locations depending on the material category. EG: Steel may go to Port Kembla or Whyalla.
A purpose built facility like this has enormous potential for our members, both on the wharves and seafaring. Esso have been calling for a decommissioning facility to be located in Victoria as well which we support as it could also serve as a future offshore wind construction and decommissioning yard in the region. The Port of Darwin is also interested in building a disposal yard. It wouldn't have the spill protection membrane that the WA facility will have, but they expect to be able to dismantle/dispose equipment that doesn't have toxic waste. We look forward to updating you on further on this matter in future report backs.
Shaping decommissioning policy
There are several areas we are working on in relation to the MUA decommissioning campaign, including engagement with members of parliament, NOPSEMA, CODA, union allies, environmental groups and the community.
We have engaged with Environment Minister, Tanya Plibersek and Resources Minister Madeline King about developing a domestic decommissioning industry.
Key asks:
A revamp of the current Sea Dumping Act used by title holders to sink oil and gas infrastructure.
Provisions include:
Ongoing monitoring of equipment remaining in situ.
A revision of dumping applications including who may apply for the permit.
Access to studies relied upon by operators who request to dump oil and gas property.
Good union EBA's for our members on decommissioning jobs
Vessels available to transport dismantled equipment, and recycled materials.
A decommissioning facility able to deal with work to come and a fully trained workforce.
Strong decommissioning deadlines for operators dealing with aging offshore infrastructure.
Financial assurance for future decommissioning projects
Independent inspections of title licences that are due to be handed back to public hands.
An introduction of a decommissioning licence with provisions to ensure all contractors are fit to carry out the work.
Ongoing monitoring of equipment that remains in situ.
Public access and further consultation of documents lodged by operators for decommissioning projects.
Scale of investment for offshore wind projects and job opportunities
Federal Labor plans expect that by 2030 more than 80% of Australia's energy will be accounted for by renewable energy. We expect this goal has been a major driver into the industry boom we have seen in such a short period of time. What does this mean for our members?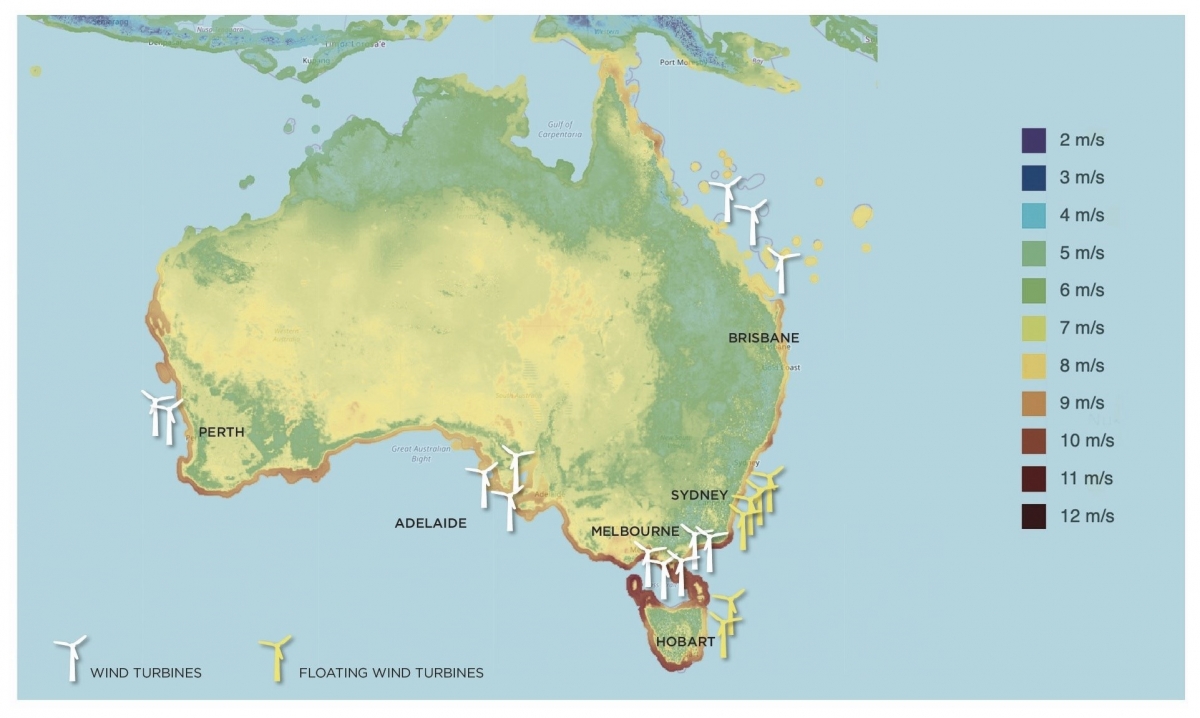 How much work offshore wind work is there?
What we know so far:
1. Star of the South off Gippsland, Victoria. 2.2 GW. $8.7 billion. Construction could begin in 2025 and last five years. Exploration licence was approved in March 2019 which has allowed the project to begin. It is funded by Copenhagen Infrastructure Partners.
2. Energy Estate Hunter Coast, NSW.
3. BlueFloat Energy are developing three large projects: Wollongong, NSWGreater Gippsland, VicSouthern Winds, Portland/South Australia. Other sites in Victoria, South Australia and Tasmania are under assessment
4. Oceanex NSW offshore wind. Starting with 1.8 GW off Newcastle, with a significant port construction hub, then expanding with further locations off Wollongong, Ulladulla and Eden, potentially up to 7.5 GW. $31 billion with construction starting about 2027. Oceanex is lead by Andy Evans from Star of the South and also backed by European/Japanese investors Green Tower and Daiwa.
5. Newcastle Offshore Wind. Project lead by Green Energy Partners and Richard Findlay-Jones. Applied for a licence from DISER in Jan 2020. This was refused pending the new legislation.
6. Illawarra Offshore Wind. Lead by Green Energy Partners, who applied for a licence from DISER in Jan 2020. This was refused pending the new legislation. This project would use Port Kembla as a construction hub.
7. Bass Offshore Wind Energy off Burnie, being developed by Brookvale Energy. Initially 360 MW, possibly up to 2GW in size.
8. Oceanex WA offshore wind. 2GW project off West Australia.
Research has identified a number of sites potentially suitable for offshore wind in Queensland near Bundaberg, Gladstone, Rockhampton, and Mackay. Queensland's transmission system runs
along the coast.
When are projects likely to kick off?
There is a flurry of activity around feasibility studies and development license applications in the offshore wind zones that have already been announced off the coast of Victoria, Tasmania and NSW. The most advanced project being Start of the South with construction expected to
commence in 2025. We expect government to announce additional offshore wind zones around the country in the coming months.
Developer Licenses
In 2022, the union managed to secure an amendment to the new offshore renewable energy regulations, so that when handing out licences to developers, the Minister will consider 'the project's impact on, and contribution to, the Australian economy and local communities, including in relation
to regional development, job creation, Australian industries and the use of Australian goods and services' (Offshore Electricity Infrastructure Regulations 2022, s.26(4)(a)).
The MUA and ETU are now engaged in discussions with the Ministers office on how to ensure this is implemented in a proper and robust way, starting with the applications for licenses in the Gippsland offshore renewable energy area. It is expected there will be more than 10 applications for
four or five license areas in this zone, due at the end of April, so the Minister will have plenty of scope to demand the best possible outcome from developers.
Newcastle offshore wind zones consultation starts
Energy Minister Chris Bowen travelled to Newcastle this month to announce the opening of community consultation on an offshore renewable energy zone that will run from Port Stephens
south to Norah Head on the Central Coast. Newcastle Branch Secretary and MUA Vice-President Glen Williams was able to attend the press conference.
The Minister says that they expect to grant licences for 8 GW of offshore wind in this area, which is four times the amount of the large Liddell coal-fired power station (expected to close in April 2023), likely as 4 or 5 large projects.
Most of the zone is quite far offshore, due to a 25 nautical mile exclusion zone around the RAF Williamtown base. The two closest parts of the zone are 10km offshore, from Norah Head and Fingal Island off Port Stephens. From the Newcastle heads, the closest part of the proposed zone is
32km to the south, 40km straight offshore, and 52km to the north. The outer edges of the zone are 95-120km from Newcastle.
The government held community consultation sessions in Newcastle on the week of March 6-9 which were attended by MUA officials and members.
The branch will also be encouraging all members to get involved in showing support for this important new development for the Port of Newcastle, as will the union at a national level.
As the consultation progresses, we may see One Nation, elements of the Liberals and Nationals, and the Murdoch media run cynical campaigns against offshore renewable energy, on the basis of its environmental impact. Please contact your branch if you see this taking hold and we will do our best to provide reliable scientific information and materials. Whatever the local impacts will be, they are negligible when compared to the impacts of climate change on the ocean- for example, even if we manage to keep global heating to 1.5°C, it is expected that 70-99% of the world's coral reefs, including the Great Barrier Reef and Ningaloo Reef, will not be able to survive.
The consultation period for the offshore renewable energy zone runs until the end of April, and it is expected that the zone will be declared later this year. After the declaration is made individual developers can apply for a licence within the declared area, and we expect this will happen by the
end of the year.
Port of Hastings set for expansion
This month, the Victorian government has identified the Port of Hastings as a key asset to the states clean energy future.
The project will require expansion of 35 hectares of reclaimed land, and include new berths and facilities. On completion the terminal will be large enough to cater for the governments ambitious targets of 2GW of offshore generation by 2032, 4GW of offshore wind capacity by 2035 and 9GW
by 2040.
Gippsland Offshore Renewable Energy Zone
On the 19th of December 2022, the Federal Labor Government announced the creation of an offshore renewable energy zone in the Bass Strait.
MUA Victoria Deputy Branch Secretary was able to attend the announcement in Seaspray alongside Energy Minister Chris Bowen, Industry Minister Ed Husic, and Victorian Energy Minister Lily D'Ambrosio, and offshore wind developers.
The declared area off Gippsland covers approximately 15,000 square kilometers and runs from offshore of Lakes Entrance in the east, to south of Wilsons Promontory in the west. The wind turbine installations will all be a minimum of 10 kilometers offshore.
The next step is for offshore wind developers to apply to the government for feasibility licences for their projects, due at the end of April. After pressure from the MUA and other unions, when looking at licence applications the government is required to consider 'the project's impact on, and
contribution to, the Australian economy and local communities, including in relation to regional development, job creation, Australian industries and the use of Australian goods and services'.
The MUA will be working with the rest of the union movement to ensure this requirement is properly implemented through a coordinated national plan.
ITF offshore wind delegation to Denmark
On the second week of January the MUA participated in a union delegation to Denmark to meet with unions, companies and government agencies in offshore wind.
The delegation was organised by the ITF's new Offshore Wind Task Force, which has been established to ensure good jobs for seafarers and dockworkers in offshore wind around the world. Assistant National Secretary Adrian Evans is a member of the Taskforce.
Onshore wind turbines were pioneered in Denmark after the 1970s energy crisis, as the country did not want to build nuclear power stations. The first offshore wind turbines were built in Denmark in the 1990s. The government-owned Danish Oil and Natural Gas company changed its name to Orsted and is now one of the largest offshore wind developers in the world. The industry is fully unionised with excellent wages and conditions, and strong government planning.
The delegation was organised to resolve issues that have arisen with wharfies' work in new offshore wind port terminals being established on the US East Coast. The ITF and MUA are supporting the International Longshoremen's Association (ILA) to ensure that wharfies jurisdiction is preserved and good union agreements are signed. The ILWU, MUA, ILA, Danish and Norwegian unions committed to support each other to ensure this is the case around the world.
Danish unions Dansk Metal and 3F organised meetings for us with the management of Copenhagen Investment Partners, owners of Star of the South in Gippsland, and Orsted, who are also developing a project in Gippsland, Victoria. Meeting these companies at their headquarters in Denmark, together with Danish, Norwegian and US unions along with ITF representatives, sends a strong message and we know this will go a long way to securing good union agreements for Australian renewable energy projects.
Danish unions briefed us on how their union agreements work, and the measures that have ensured a just transition for the workforce as the country is phasing out oil and gas production and coal fired power stations.
The Danish Energy Agency outlined how Denmark is already running on 60% renewable energy, with no nuclear power. They have legislated a target to reach 100% renewable energy by 2030 and net zero emissions by 2045. They explained their planning and regulatory system and collaborations they have with Australian governments.
 We also visited the port of Esbjerg on the west coast of Denmark, which is the largest renewable energy port in the world, loading exports of onshore and offshore wind turbine components from Vestas and other companies, including to Australia. The port has hosted the construction of 80% of
European offshore wind farms. Esbjerg is also a base for local wind turbine maintenance vessels.
Esbjerg is a 100% union port with dockworkers employed by the port authority and dispatched to work at different jobs in the port through two morning pick-ups at a union-controlled hiring hall. 250 dockworkers work in the port as well as hundreds of storage facility workers who are also members of the union.
The union delegation was hosted in the port of Esbjerg by the 3F Esbjerg Transport branch. We were able to see the massive new port expansion full of wind turbine blades, towers, nacelles, and hubs waiting to be loaded on vessels, some with their 308 tonne mobile harbour cranes, and some by ships' cranes. Also in port was a vessel that transported wind towers between ports and a specialised jack-up wind turbine installation vessel with a 1,100-tonne crane, which they said was too small to handle the large new offshore turbines.
The port also includes a coal import terminal, which will be closing in April 2023 when the Esbjerg coal-fired power station closes, supply vessels for offshore oil and gas platforms, ro-ro car imports, ro-ro vessels trading to the UK, and cargo vessels trading through Europe and the Mediterranean.
Work in Esbjerg is set to expand significantly as the Danish government is planning to expand its offshore wind capacity from the current 2.3 GW (about the same as Star of the South project) to 15 GW by 2030 and potentially add another 35 GW by 2050.
We also visited the Vestas wind turbine nacelle and hub assembly factory in Ringkobing and were hosted by the Dansk Metal shop steward. We saw how large and complex the nacelle of a wind turbine is – like a ship's engine room. Ringkobing is one of several wind turbine factories that export components through Esbjerg, and the roads between Esbjerg and these factories have all been specially modified to carry these huge components.
The MUA will continue to campaign for local content on all renewable projects and work to ensure that we secure good union jobs in new decarbonised industries in Australia, and that the ITF has structures in place to ensure that renewable energy is unionised around the world.
Please support NSW offshore wind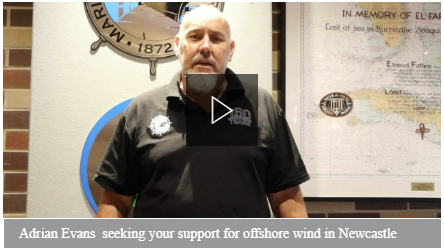 The consultation process has opened to support offshore wind off of Newcastle.
Please contribute by writing to the Department of Climate Change, Energy, the Environment and Water with the following points:
I support the Declaration of a Hunter Offshore Electricity Area, and the need to build renewable energy to tackle climate change. We ask that the Minister require that all renewable energy projects in the Area provide:
Secure and quality jobs for maritime workers and all other workers
Minimum apprenticeships ratios and transition opportunities for energy workers
Maximise local manufacturing of wind turbine components
Provide benefits for First Nations
Require the use of Regulated Australian Vessels with Navigation Act qualifications
I also ask the Minister to extend the Area the south to increase the available area less than 200m deep to reduce construction costs and the impact on our electricity bills.
We urge all members to get behind this opportunity.
The MUA will continue to lead the way on fighting for future clean energy jobs for our members
/Public Release. This material from the originating organization/author(s) might be of the point-in-time nature, and edited for clarity, style and length. Mirage.News does not take institutional positions or sides, and all views, positions, and conclusions expressed herein are solely those of the author(s).View in full
here
.