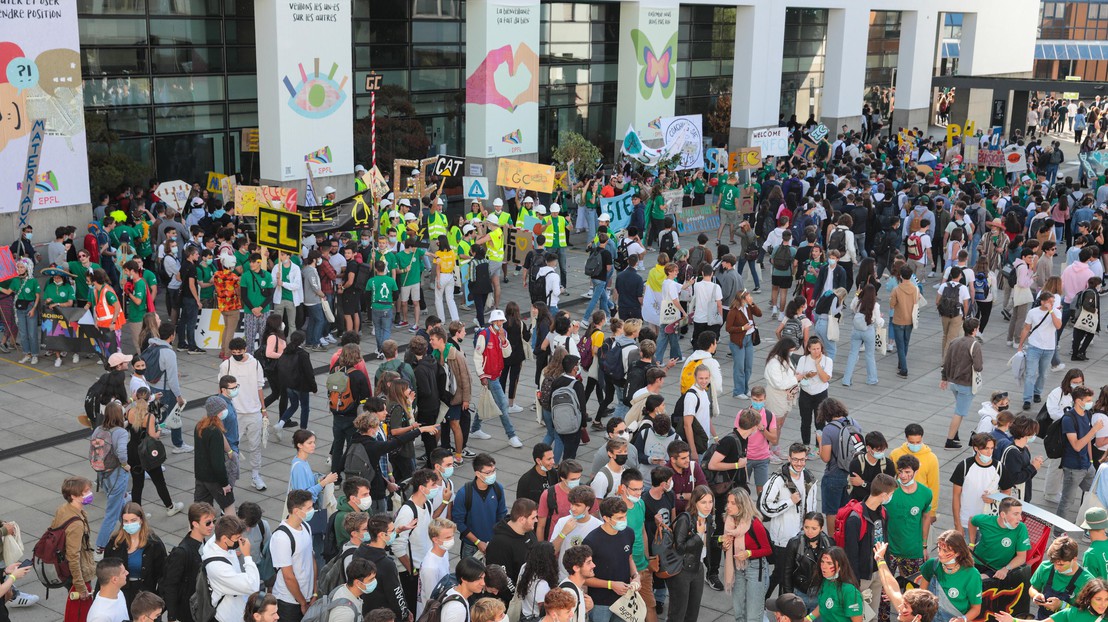 EPFL students are back in the classroom today, either in person or remotely, thanks to Switzerland's new public-health measures and greater flexibility in the way classes are run.
EPFL's traditional Welcome Day took place last Friday, and today students are back in the lecture halls and classrooms. After 18 tumultuous months of the pandemic, the start to the 2021-2022 school year is pretty close to normal. Although a number of public-health restrictions remain, students and teachers alike are delighted at the prospect of seeing each other in class once again. Another welcome change is the return of cultural, scientific and social activities on the EPFL campus.
Let's kick off with a few figures. As of 10 September, there were 2,117 new Bachelor's students, up 4% (or 72) from last year. The number of new Master's students grew by 19% (or 88), to 548. It's too soon to release the figure for the entire student body and compare it with last year, since the 2020 exam session was held later than the one in 2021.
At EPFL (and all Swiss universities), students are able to come back to campus at full capacity thanks to the Federal Council's decision to implement COVID certificates. EPFL decided to make these certificates mandatory so that classes and exercise sessions can all take place in person. Rather than closing things down, the School is now keen to open things back up – in a way that's as safe as possible for everyone. "What our students and faculty members have missed the most is campus life," says Pierre Dillenbourg, EPFL's Associate Vice President for Education.
Students will have to show COVID certificates to attend classes and exercise sessions, although their classes will also be available online and streamed live whenever possible. And this arrangement looks set to continue. "Thanks to digital technology we were able to keep holding classes during the pandemic," says Dillenbourg. "Once it's over, we plan to maintain the in-person and online combination in order to allow for greater flexibility in how classes are run." For AGEPoly, EPFL's general student association, ensuring that hybrid classes offer the same high-quality teaching will be a major concern this semester. As will be the issue of paying for COVID-19 tests; for now they will be free until the end of September. It's worth pointing out that anyone can get vaccinated free of charge on the EPFL campus regardless of whether they're affiliated with the School. The vaccination campaign will take place on 21, 22, 27, 28 and 29 September, with no appointment needed.
I really missed the face-to-face contact with students. I can't wait to see them again!
Three lessons from the pandemic
"This new school year will be one of renewal and reunion for me, even if the public-health situation won't be completely back to normal," says Kathryn Hess, a professor at EPFL's Laboratory for Topology and Neuroscience and the School's Vice President for Student Affairs and Outreach. "I really missed the face-to-face contact with students. I can't wait to see them again!" Prof. Hess says she has three takeaways from the pandemic-stricken semesters. "First, I really admired the students' resilience – their exam grades were in line with normal years despite the very challenging learning conditions and social environment. Second, I was impressed by my colleagues' ability to adapt and successfully manage the transition to online classes, with valuable support from CAPE and CEDE. And third, on a more personal level, the pandemic gave me an opportunity to try out the flipped classroom approach. I'd been thinking about it for years but always hesitated due to the considerable time investment needed to prepare these classes. The pandemic forced me to take the plunge – and I'm glad I did! I plan to keep teaching this way, even when the pandemic is nothing more than a memory."
A plethora of events
COVID certificates won't only let students return to lecture halls and classrooms, they'll also allow us to bring back the array of cultural, scientific and social events that enrich campus life. Among the various activities lined up, we would point to: AGEPoly's 70th anniversary celebration, which will run for a full week and conclude with Polynite on 24 September; the Deep Fakes: Art and Its Double exhibition, which just opened at EPFL Pavilions; the Carnaval des Planètes, an astronomy-inspired concert that will be held as part of Lausanne's Museum Night on 25 September; the Erna Hamburger awards ceremony on 18 October; a photo exhibition at the Rolex Learning Center in association with the RLC's 10th anniversary (until 31 October); Scientastic, EPFL's science fair for the general public (30-31 October); and a series of campus lectures by leading figures from science and the arts.
Life is on track to get back to normal for the EPFL community. But the pandemic still looms over the new school year. "If everything goes well, we hope to be able to remove the remaining public-health restrictions," says Dillenbourg, bearing in mind that "we can only do what's authorized by the cantonal and federal authorities."
Promoting respect on campus
The pillars outside the BM building, the windows on the SV building and the walkway across Avenue Piccard have been freshly decked out for the start of the semester. They now bear the giant posters of an awareness campaign that, despite its light-hearted cut-and-paste images, address a very serious subject. The campaign promotes respect on campus through six fundamental values: equality, diversity, dialogue, responsibility, tolerance and inclusion.
In the wake of #Payetonepfl, EPFL's new Vice Presidency for Responsible Transformation (VPT) is promoting those fundamental values – which should govern everything we do on campus – through the campaign posters and a video that was shown to new students during Welcome Day. The VPT is also behind a longer-term effort that will include setting up new support programs, creating new online learning videos (currently under way), adopting more inclusive language, and publishing the results of the harassment survey. All these initiatives are being spearheaded by EPFL's Harassment Task Force.
/Public Release. This material comes from the originating organization/author(s)and may be of a point-in-time nature, edited for clarity, style and length. The views and opinions expressed are those of the author(s).View in full
here
.