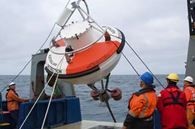 Today (5 November) marks World Tsunami Awareness Day and experts from the Joint Australian Tsunami Warning Centre are reminding those living near coastal areas to recognise the natural warning signs for tsunami and to know how to respond.
The ever-present risk of a destructive tsunami impacting Australia was highlighted on 14 July this year after a magnitude 6.6 earthquake shook the Kimberley Coast including Broome, causing some communities to self-evacuate.
Any undersea earthquake of such magnitude has the potential to generate a localised tsunami, but thankfully no major impact occurred on this occasion due to the nature of earthquake rupture.
A review into the incident was developed by Department of Fire and Emergency Services in Western Australia in consultation with the Joint Australian Tsunami Warning Centre – operated by Geoscience Australia and the Bureau of Meteorology. The review found that many community members reacted appropriately to the possible threat by self-evacuating when they first felt the strong earthquake.
Bureau of Meteorology National Operations Centre manager Michael Logan said while the findings of the review were encouraging, there was still work to be done to educate more Australians about understanding the appropriate tsunami response.
"The recent response from communities near Broome was really positive and showed that many of those who felt the earthquake made the quick decision to self-evacuate in case it generated a tsunami wave," he said.
"While Australia has not been significantly impacted by tsunami in recent decades, this does not mean that we're immune from their devastating impacts.
"Many of our neighboring countries have experienced this devastation firsthand, as recently as December 2018 in Indonesia. It's critical that Australians know what to do if the situation eventuated closer to home."
Adrienne Moseley, Director of the National Earthquake Alerts Centre at Geoscience Australia said there are a few steps the public should take if they are located in or nearby the coast when an earthquake strikes.
"If you are experiencing a long or strong earthquake in your region and you are located near the coast, as soon as shaking reduces enough for you to stand, move quickly to high ground or inland, as a tsunami may arrive soon," she said.
"Don't wait for officials to issue a warning. And if possible, it's better to move on foot, rather than drive, to avoid traffic, debris, and other hazards."
Tsunamis are rare but can be extremely deadly. Between 1992 and 2019, 295 confirmed tsunamis were observed worldwide and 35 of these resulted in loss of life.
The highest number of deaths in that period was in the Indian Ocean tsunami of December 2004. It caused an estimated 227,000 fatalities in 14 countries, with Indonesia, Sri Lanka, India and Thailand hardest-hit.
The Joint Australian Tsunami Warning Centre is operated by the Bureau of Meteorology and Geoscience Australia. Based in Melbourne and Canberra, the Centre was established so that Australia has an independent capability to detect, monitor, verify and warn the community of the existence of tsunamis in our region and possible threats to Australian coastal locations and offshore territories. It also provides the tsunami information service to all countries in the Indian Ocean.
/Bureau of Meteorology Public Release. The material in this public release comes from the originating organization and may be of a point-in-time nature, edited for clarity, style and length. View in full
here
.