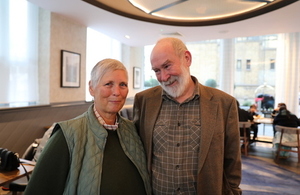 Thousands of people set to have opposite-sex civil partnerships following Government change to law.
Today is the first day most couples have been able to have a civil partnership.
Couples able to access the same tax benefits, pensions and inheritance as similar benefits, rights and entitlements to those available to married couples.
Earlier this month, as new regulations introduced by the Government came into force, couples were able to register their intent to get a civil partnership, giving the required 28 days notice to do so. That means that ceremonies will be taking place across England and Wales from today.
One such couple is Julie and Keith from West Yorkshire, the couple met more than 30 years ago on New Year's Eve and will now be able to enjoy the security and legal certainty that others enjoy through marriage.
The couple told the GEO:
"We are so thrilled to be able to finally have a civil partnership. After more than three decades together, we can't think of a better way to solidify our union.
"Now, we can celebrate our love with the same legal and financial security as other couples, in a new, modern and inclusive way, making our anniversary extra special."
Opposite-sex civil partnerships offer couples similar rights and entitlements to married couples, such as marriage allowance tax relief, exemption from Inheritance Tax and joint parental responsibility for children born to civil partners.
Minister for Women and Equalities, Liz Truss, said:
"Congratulations to all the couples who are having their civil partnerships today.
"I am proud that we have helped give thousands across the country the option to have a civil partnership and celebrate their union in a way that works for them."
Civil partnerships are not intended to compete with marriage but rather to provide an alternative option for those couples who do not wish to marry but want legal certainty and stability for their families. Earlier this year the government consulted on proposals to extend civil partnerships to opposite-sex couples.
Notes:
The Government Equalities Office worked with Equal Civil Partnerships – a campaigning group for mixed-sex Civil Partnerships.

F
/Public Release. View in full
here
.