Residents prefer Star Wars over Star Trek by double digits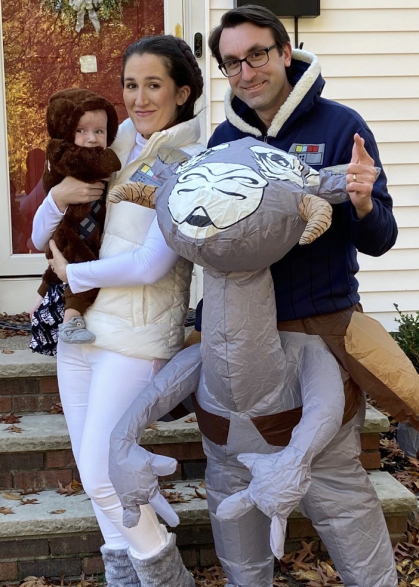 In the wake of last night's critical NJ.com debate on which science fiction universe rules the galaxy, New Jerseyans embrace the "Light Side" and lightsabers by a double-digit margin over the Vulcan salute and the final frontier, according to the latest Rutgers-Eagleton Poll. 36 percent say they prefer Star Wars, 24 prefer Star Trek, 4 say both and 29 say neither; 7 are unsure.
"What starry-eyed child hasn't hummed lightsaber noises and dreamt of a galaxy far, far away? What little boy or girl hasn't yearned to be a Jedi Master or the iconic feminist princess-turned-general, or get behind the wheel of the fastest hunk of junk in the galaxy and attempt the Kessel Run in less than twelve parsecs?" argued Ashley Koning, an assistant research professor and director of the Eagleton Center for Public Interest Polling (ECPIP) at Rutgers University-New Brunswick, who participated in the NJ.com debate. "Star Wars has so deeply permeated our society, our culture, our politics and our everyday life. It is a reflection of our biggest triumphs and worst failures, its beating heart the timeless theme of family against the backdrop of an epic battle between good versus evil, played out by classic archetypes through which we can so clearly see ourselves – albeit in a galaxy far, far, away. It is both an all-too-real reminder of the horrors of tyranny, war and the insidiously cyclical nature of history, while simultaneously serving as an otherworldly escape that shows there is always good and that there is always … a new hope. Star Trek shows us a final destination, but Star Wars teaches us the saga never ends."
Star Wars is light years ahead of Star Trek among younger and middle-aged New Jerseyans – 41 percent versus 16 percent among those 18 to 34 years old and 42 percent versus 18 percent among those 35 to 49 years old.
According to the survey, older residents' lack of faith in the galaxy far, far away is disturbing, to say the least.
"The two universes are nearly tied (not to be confused with TIE fighters) among 50 to 64-year-olds; 29 percent prefer Star Wars, while 31 percent prefer underdog Star Trek," said Koning. "Senior citizens embrace the "Dark Side" by choosing Star Trek, 33 percent to 29 percent."
Beyond age, New Jerseyans have otherwise formed a clear alliance supporting Star Wars across the board. Partisans of all stripes, both men and women, residents in every region of the state, and those across every level of income and education strongly feel the force.
Results are from a statewide poll of 1,008 adults contacted by live interviewers on landlines and cell phones from Oct. 21-27. The full sample has a margin of error of +/- 3.2 percentage points.
View the questions and tables here.
/Public Release. This material from the originating organization/author(s) may be of a point-in-time nature, edited for clarity, style and length. The views and opinions expressed are those of the author(s).View in full
here
.