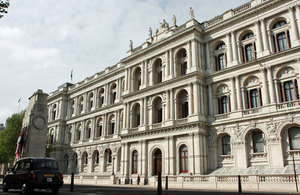 Thank you, Mr President. And can I start by thanking you for organising this debate and congratulating you on your assumption of the presidency in the open chamber. And I'd also like to join colleagues in welcoming Ambassador de Riviere to the Council – Bienvenue – and also in bidding a fond farewell to Ambassador Zhaoxu. Like others, we hadn't realised that it was to be your last appearance at the Council today, but I know my Ambassador would want me to wish on behalf of Her Majesty's Government our appreciation for your partnership and your contribution to the work of this Council.
The UK believes, Mr President that the most important element of the link between organised crime and terrorism lies not in the groups themselves, but in the response from governments. Though we do see links between the terrorist groups and criminals, this varies by region and the relationships can span a broad range, from tactical to strategic, requiring individual responses in each situation.
The UK views terrorism primarily as a criminal enterprise necessitating a civilian policing response. It therefore follows that this response must closely resemble the same means we use to tackle organised crime. That is why this debate is so important and the further research that we are calling for is very much needed. States and the international community must tackle terrorism and an end organised crime through focusing on strengthening policing and investigative responses, upholding the rule of law and international human rights law and tackling the conditions which allow terrorism and organised crime to flourish.
As I mentioned just before, we agree with South Africa, as just as articulated by our colleague, that the link between organised crime and terrorism is context specific. But we do know that criminality can create an enabling environment for terrorist groups to secure the recruits and the resources they need for their operations, as many have mentioned today, including the very worrying example of terrorist recruitment in our prisons. Moreover, when criminal organisations seek to undermine governments, they can affect the resources available to address terrorism and violent extremism. At the same time, criminal groups can profit from the instability and insecurity generated by terrorism and conflict, creating strong vested interests in fuelling these dynamics and perpetuating the suffering in these contexts.
On prevention, we believe that a broad approach is necessary – one that can stop the problem at its source by identifying and supporting those at risk of engaging in criminality, building the highest levels of defence and resilience in vulnerable people, communities businesses and systems. Addressing the socio-economic and governance related drivers of criminality are just as vital as relentlessly tackling the organised criminal networks.
In relation to terrorism, we have also stressed many times in this Council the importance of a broad preventative approach and one that strengthens the capacities to ensure legal and criminal justice responses are in full compliance with international law and human rights obligations. One way of doing this has been to support the national P/CVE National Action Plans that foster a coordinated response to terrorist crimes and which the Office of Counter-Terrorism and many others have been closely involved in supporting Member States in creating.
Our approach in the UK is guided by annual strategic threat assessments of the threat serious organised crime produces poses to our security and prosperity. Last year, the UK also published a serious organised crime strategy that emphasised the importance of enhancing our approach across a number of pillars – not only law enforcement but also in the upstream prevention space that many have talked about today. Governments alone cannot tackle these challenges. Public-private partnerships, bringing together the private sector, civil society, government actors are critical to ensuring that all relevant parties are aware of the threats and can access the necessary resources in order to counter them. As the Russian and Chinese Ambassadors have both said very strongly, the international community must pool efforts at an international level in order to maximise our advantage. Just as criminals can learn from each other, so too must we learn from the criminal networks and share our understanding together. The United Nations can play a vital role in this endeavour, bringing together the expertise and those of us in the international community who are like-minded in order to tackle this approach. We must do so in full respect for all of the international agreements and Security Council resolutions that have passed in this body, including those which fully implement the relevant human rights standards. But we do encourage greater coordination in responding to transnational threats. We recall that this is a central mandate of the Office of Counter-Terrorism, something the United Kingdom was very pleased to play a strong role in supporting the creation of. And we continue to wish that office well as it strengthens its ability to provide concrete and meaningful capacity-building initiatives and provide further research and support to the Council in tackling this problem.
Thank you, Mr President.
/Public Release. This material comes from the originating organization and may be of a point-in-time nature, edited for clarity, style and length. View in full
here
.