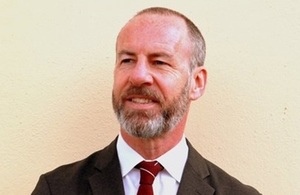 Dear UK nationals resident in Belgium,
I am writing to introduce myself as the successor to Alison Rose as British Ambassador to Belgium. I wanted to let you know a bit about my background and also give you a heads-up on what the Embassy is planning for the autumn on citizens' rights and Brexit.
I am a career diplomat. I've worked in various places around the world representing the United Kingdom, most recently in New York as part of the UK Mission to the United Nations but also in Japan, Nigeria and Uganda. I have spent quite a lot of time in Brussels in the course of my career at EU and NATO meetings, but this is my first time experiencing Belgium as a resident rather than a Eurostar commuter. I am delighted to be here and am looking forward to getting to know the country and also to meeting as many of you as possible during my time here. My mission is to strengthen the links between the UK and Belgium, which I know are already deep and wide across so many fields and exemplified by your presence here as British residents of Belgium.
I see the British community in Belgium as an important partner of the Embassy and I intend to continue the Embassy's outreach programme on citizens' rights and Brexit to ensure we are in touch with as many of you as possible. We are currently planning a series of events this autumn in cities across Wallonia and Flanders and in different parts of Brussels. We will publicise places and dates shortly once the details are fixed and I hope that many of you will be able to join us. Please watch this space.
The Embassy has been using this time during the extension of Article 50 to take stock of Belgium's plans for a deal and no deal. Although not perfect, Belgium's approach to UK nationals is positive, including its plans to write out to all UK nationals registered as residents in the country. Not all Member States will be taking this approach. Even in a no deal, Belgium is keen to make an offer that closely mirrors what we plan to deliver for EU nationals resident in the UK, and we continue to engage with them on any outstanding points of their legislation. Please do make sure to keep your residency cards up to date, including those of your children.
Please follow us on social media and sign up to our Living in Belgium Guide as this is where we will share the latest information on citizens' rights. If you are on Twitter, you can also follow me
/Public Release. View in full
here
.