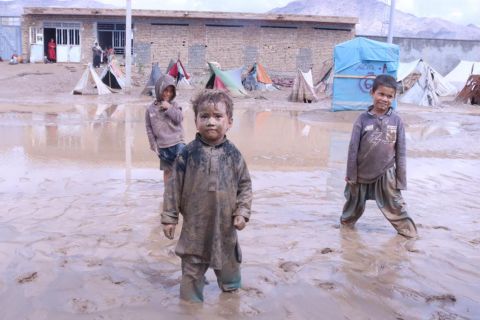 "Parts of the region have been ravaged by severe flash-flooding causing widespread destruction affecting tens of thousands of people," said World Vision Afghanistan's Response and Operations Director, Dwain Hindriksen.
The extreme weather follows a year of drought, which has seen hundreds of thousands of families abandon their homes and livelihoods, and left 1.6 million children suffering acute malnutrition.
Rain and flooding began just after midnight local time on Friday (29 March). World Vision responded immediately, working with local governments, partners and communities to identify needs and launch a targeted response in Herat and Badghis Provinces. Staff in those areas say homes have been completely swept away, along with crops and livestock.
Before the floods, Badghis was only one step away from meeting the threshold for famine.
"My house is about to collapse. I am living with my children under a tent," says 55-year-old resident, Najmedin.
"The water was so horrifying. I was shouting for help, but everyone was trying to rescue their families. No one could hear my scream. The water was up to our waists."
The drought and flooding are a tangible reminder of how already vulnerable children and families are affected by global events such as climate change.
"I had stored all my food supplies here," said Najmedin.
"There was rice, wheat and flour. All of them are gone. I had planted wheat and they had newly sprouted, but the flood washed them away."
Afghanistan remains one of the largest and most underfunded, protracted crises globally.
"The Afghan people have had to deal with so much over the past four decades – conflict, displacement and extreme weather events. They're resilient, but children and communities are right now in dire need of humanitarian assistance," said Hindriksen.
World Vision says further help is needed in the form of water treatment and hygiene kits, food packages, blankets, essential medicines and basic survival items.
/Public Release. View in full
here
.