Ecologist Michael Dietze knows firsthand how unpredictable and ravaging Australia's bushfires can be. Fifteen years ago, Dietze traveled to an area just east of Melbourne to study forests in the country's Great Dividing Range. He and fellow researchers were there to learn how the forests shifted and changed over time.
"In that system, you would have these long ridges and hill slopes with these enormous trees with tufts of eucalyptus foliage at the very top, 80 to 90 meters up, and then 70 meters below of absolutely nothing. Not a single branch on the trees, until a shrub layer at the very bottom. It looks nothing like anything I've seen in North America," says Dietze, now a Boston University College of Arts & Sciences associate professor of earth and environment.
But before Dietze and his colleagues could continue their work, the whole forest system burned down. A quick end to a study that never began, snuffed out by the type of wildfire that has long been common during Australia's dry season.
But that was in 2005, before temperatures soared to record-breaking highs like they did this summer. Combined with a particularly persistent period of drought and high winds, conditions have been devastatingly ideal for the worst fire season in recent memory. Since September 2019, Victoria, New South Wales, Queensland, and Western Australia have been ravaged by bushfires that have so far taken the lives of 27 people and an estimated billion animals. The blazes now encompass an area equivalent to the size of Denmark and Belgium combined, and have destroyed nearly 2,000 homes, leading to massive evacuations of residents and tourists.
"Australia has always had a fire season, but what we're seeing now is more severe with bigger fires happening more often," says Dietze.
---

The normal path to ecosystem recovery doesn't really apply if temperatures keep going up and Australian droughts keep getting worse.

---
Dietze says the fires in Australia represent crises of climate, ecology, and biodiversity. But that raises the question: if there has always been a fire season, why are the blazes suddenly so catastrophic?
"There is no one way fire acts in ecological systems," Dietze explains. Human-caused forest fires are typically accidental, or created under controlled environments where there are no people. "[Fires'] role in an ecosystem varies, depending on where it is, and on the historical adaptation patterns of the area in which it occurs," he says.
Different environments are adapted to different levels of severity and frequencies of fire. Some species of vegetation prefer none at all, but some have evolved to need fire in order to reproduce. The Western white pine for example, a tree commonly found in the Sierra Nevada and Rocky Mountains in the US, holds its pine cones tightly shut with a layer of wax. Once heated by low-intensity fire, the wax melts and the cone can open.
Likewise, in Australia, different eucalyptus tree species live in abundance throughout the continent, some of which "are pretty much designed to blow themselves up," says Dietze. Instead of waxy pine cones, they have disc-shaped pods, which look like deformed ice cream cones, hiding in their shrubby understory. The pods rely on the heat of a fire to open up and drop their seeds. Before the 2005 fires destroyed the forests he planned to study, Dietze remembers walking among enormous eucalyptus trees, with sheets of tree bark peeling off them like large swaths of paper. That bark, he says, is extremely flammable.
"The very thin bark promotes [the trees'] own destruction in a sense," explains Dietze. What's more, the trees contain eucalyptus oil, which is not only flammable, but also releases volatile organic compounds when burned.
Under stable conditions, these features help the fire move up the tree trunks, but fires this year have been far worse than in the past. The flammability of the eucalyptus trees are now working in conjunction with a much larger fire amplifier: climate change. Temperature records confirm that 2019 was Australia's hottest and driest year on record, as well as the planet's second-hottest year ever, coming in second to 2016.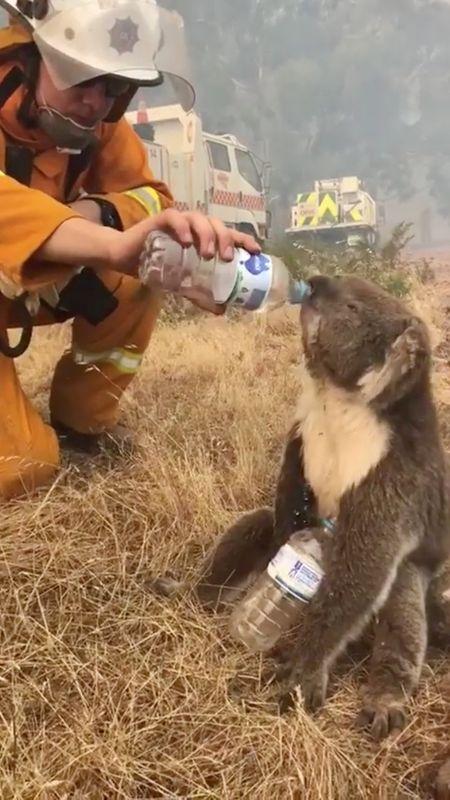 "The normal path to ecosystem recovery doesn't really apply if temperatures keep going up and Australian droughts keep getting worse," says Dietze. The speed at which the climate is changing is unprecedented, he says, putting species at risk of not being able to adapt quickly enough to survive in their current habitat.
Animals like the koala-perhaps the eucalyptus tree's most endearing inhabitant and one of the few species that relies on the tree as a food source-have been devastated by this year's fires, with an estimated one-third of koalas already killed. Still, Dietze says the species is likely to recover if the burned areas are able to regrow into a suitable habitat for the animals to flourish again. But unusually intense fires such as these, he says, can delay the recovery of the system. Experts will not be able to examine the full extent of the damage, and the fallout related to the devastation of the animals who made these forests their homes, until the fires stop.
This fire season might be a bellwether of what's to come if new and effective climate policies are not put in place, and soon. Australia's Prime Minister Scott Morrison has been criticized for his handling of the bushfires, as well as his ties to the country's coal industry-a major contributor to Australia's greenhouse gas emissions. Earlier this week he announced that 3 billion Australian dollars will be allocated to rebuild destroyed infrastructure, volunteer firefighters who have been battling the blazes will receive compensation, and a government inquiry will be launched regarding response to the crisis. Some climate activists have raised the point that relief funding should be contributed by coal, gas, and oil companies, rather than by taxpayers.
"I like to remind people that what we're experiencing today is not a new normal," says Dietze. "What we're experiencing is a continuing change in the climate that's shifting to something far more severe."
Local communities, who still have more than a month of fire season to endure, have received an outpouring of international support, aided in part by celebrity efforts to raise widespread alarm about the current bushfires and their link to climate change. Millions of dollars have been raised, including by Australian comedian Celeste Barber and Leonardo DiCaprio's environmental organization Earth Alliance, to aid the impacted communities. If you'd like to contribute, a number of organizations aiding in relief efforts are accepting donations, including the Australian Red Cross, NSW Rural Fire Service, and wildlife rescue efforts.
/Public Release. This material comes from the originating organization and may be of a point-in-time nature, edited for clarity, style and length. View in full
here
.