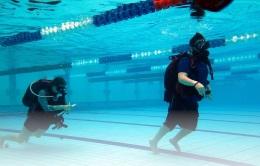 There is something magical about watching someone who usually requires the use of a wheelchair, set free underwater and held there safe, breathing underwater on SCUBA and able to move in ways that gravity confines on dry land.
This is the premise of the world first, multi-award-winning service of Immersion Therapy , developed by Determined2, an Adelaide enterprise that uses SCUBA equipment in the underwater environment of a pool, to offer freedom of movement to people living with a wide array of illnesses, injuries and disabilities.
And while the proof of the pudding is always in the satisfaction of the participants, UniSA is working in partnership with Determined2 to find hard evidence for the benefits of this already popular therapy, come activity.
UniSA senior lecturer in human movement and clinical exercise physiology, Dr Kade Davison says participant enthusiasm for the experience is high and anecdotally many participants report an improved range of movement, improved coordination, increased energy and a heightened happiness after a session.
In a partnered project with Determined2 and supported by a Future Industry Accelerator R&D voucher, UniSA researchers are working to capture the anecdotal benefits in a rigorous research framework.
UniSA research Master's student and Clinical Exercise Physiologist, Karlee Naumann has completed the first stage of the research and is now assisting with setting up a cohort trial to test the benefits of Immersion Therapy on a range of outcomes.
Dr Davison says the innovative immersion therapy service is hoping to expand its operations to make the service available interstate and internationally.
"We know people are already flying in from interstate to take part in the underwater exercise experience," he says.
"Determined2 has been recognised as much for the quality of its service model in actively engaging people living with a wide range of disabilities, as for the innovative service it provides. We hope our research will lend support to their ambitions, by providing the evidence base for health and fitness benefits.
"Early testing – measured with gas analysis in the same way we test elite athletes in our sports labs but instead attaching our measuring instrument to the SCUBA gear – show increased energy use during sessions.
"We are also using sports analysis video recording methods to analyse movement underwater during the sessions."
The project is a collaboration between UniSA's experts in exercise physiology, exercise psychology and occupational therapy and a specialist in hypobaric and rehabilitation medicine.
Managing director at Determined2 and founder of Immersion Therapy, Peter Wilson says the service and the support it has attracted has been a humbling experience.
"With the funding support of fantastic organisations such as the Lifetime Support Authority, we have been linked in to some incredible, like those involved in this research project," Wilson says
"The Future Industry Accelerator R&D Grant provided by the South Australian Government and undertaken at UniSA is invaluable.
"It is opportunities like these that can help small South Australian businesses doing awesome and innovative things, to grow and make our state proud.
"This research is going to put our service and our State on the map.
"And it is not only because the service itself is so unique. The person-centred approach to service delivery is something we believe will support social change across the industry because it is not just what you do, but the way you do it that counts."
The Determined2 immersion therapy service is usually funded through the NDIS, Return to Work, Lifetime Support Authority or other similar insurance schemes, however, Determined2 offers the opportunity for anyone who feels they may benefit, to access the service whether or not they have access to funding.
/University Release. View in full
here
.