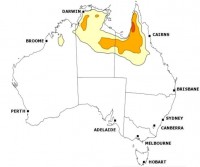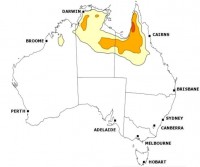 With a burst of heat forecast for several states this week the Bureau of Meteorology has activated an upgraded Heatwave Service.
This service identifies and maps heatwave conditions throughout Australia, giving authorities and the public the best chance of planning for extreme conditions before they arrive.
The Bureau's Acting General Manager, Public Safety Services, Jeff Perkins, said a heatwave is defined as three or more days of high maximum and minimum temperatures that are unusual for a given location.
"Severe and extreme heat events have claimed more lives than any other natural hazard in Australia since European settlement," Mr Perkins said.
"This service provides a more advanced indicator than temperature alone in anticipating the impact of heat stress," he said.
"We assess the build-up of heat over a period of time, taking into account the long-term climate of a location and recent variability in minimum and maximum temperatures to measure the build-up of 'excess' heat over a three-day period.
"As well as producing maps that are available to the public, the Bureau provides its data as a WMS service to emergency management agencies, which feeds directly into their decision support and situational awareness systems."
With high temperatures set to hit several states in the coming days it is an appropriate time to discuss the effects of extended hot conditions and how people can make plans to deal with them.
Adelaide and Melbourne are forecast to have temperatures well into the 30's on Thursday, but won't necessarily be classified as experiencing a heatwave. On the other hand, parts of the Northern territory and northern Queensland and sections of New South Wales will.
The Heatwave Service is available on the Bureau's website at: www.bom.gov.au/australia/heatwave It provides a series of seven maps, each map showing heatwave location and severity for a three-day period. A video explaining heatwaves is also available on the BOM website.
The service has the potential to not only reduce the human impact of heatwaves, but also mitigate their economic impact by better informing Australians and allowing them to plan ahead.
"Improvements this year include the move from a 25km grid to a 5km grid resolution for heatwave maps, giving them much greater resolution and, making them much more precise and taking local features into account with better accuracy," said Mr Perkins.
Severe and extreme heat events or heatwaves pose significant risks to human health and safety. In addition to the human impact, heatwaves have a range of economic and planning impacts across a broad range of sectors, namely:
Healthcare, in particular for the aged or infirm;
Energy, infrastructure and transport;
Agriculture, in particular horticulture and livestock management and transport;
Emergency services, including fire agencies.
/Bureau of Meteorology Public Release. View in full
here
.