Lamb and mutton over-the-hook (OTH) indicators have seen notable increases across the eastern states this week, despite slaughter numbers holding steady.
Lamb OTH
In NSW, the medium trade weight lamb OTH indicator increased 13¢ for the week to 747¢/kg carcase weight (cwt) and was the strongest reported price across all the eastern states. The NSW medium trade weight lamb OTH indicator has increased 40¢ from where it opened 2019.
Victorian lamb OTH saw the largest improvement week-on-week, up 24¢ to 740¢/kg cwt. Victorian lamb OTH opened 2019 at 708¢/kg cwt and has since lifted 32¢. SA lamb OTH also recorded a price lift this week, up 20¢ to 743¢/kg cwt. SA has seen the largest improvement for the year-to-date, up 43¢ since January.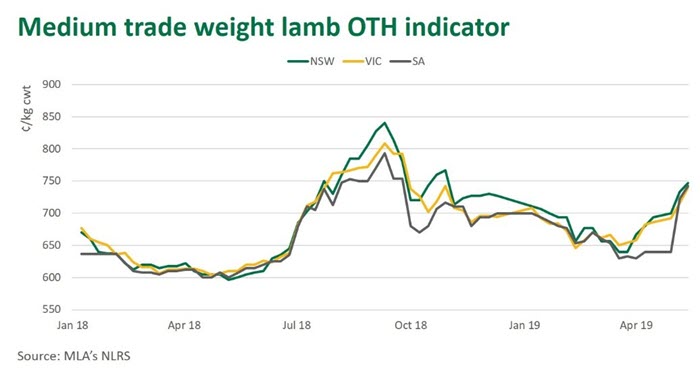 The supply of old season lambs entering the market, discussed in last week's article, will have helped processors maintain short-term supply, however a lift in grids likely reflects their intent to sure up supplies for winter. NSW heavy lamb OTH indicators reported an increase of 14¢ to 747¢/kg cwt from last week. Victoria also saw improvements for heavy lamb OTH prices, up 24¢ to 740¢/kg, with SA prices lifting 20¢ to 743¢/kg cwt.
Mutton OTH
The national medium mutton indicator has been a stand-out this year, increasing 132¢, currently reported at 553¢/kg cwt. The increase has been sustained despite elevated sheep slaughter at the beginning of the year, albeit the pace of slaughter has slowed recently and last week's eastern states sheep slaughter remained relatively steady, up 1% on the week prior to 110,708 head. Robust international demand, as evidenced by higher first-quarter mutton exports up 20% on last year, has supported mutton OTH prices.
NSW mutton OTH eased 5¢ this week to 493¢, while Victorian OTH prices saw an increase of 24¢ to 508¢/kg cwt. SA mutton OTH also saw an improvement, lifting 16¢ to break through 500¢/kg for the first time since June 2017.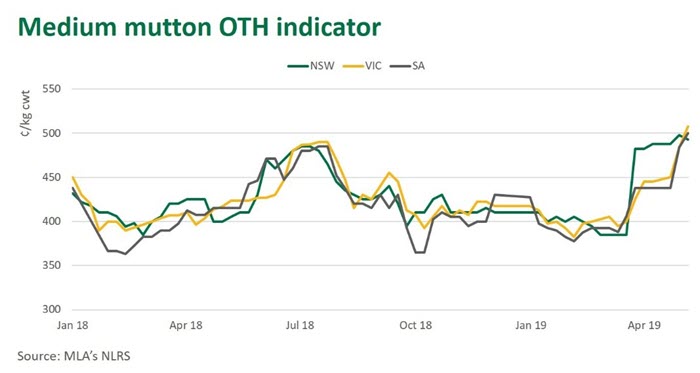 Want market reports and prices tailored to you?
Check out MLA's interactive market information tool.
/Public Release. View in full
here
.