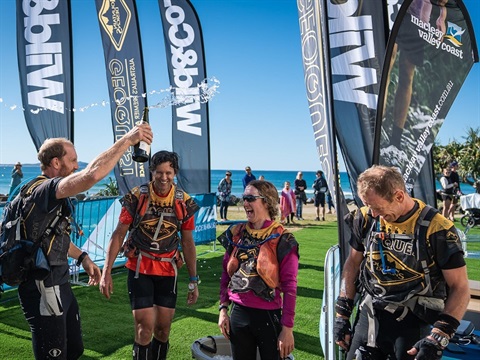 The Mountain Designs Geoquest adventure race has been at the heart of Australian adventure racing for almost 20 years now, inspiring many to take up the sport, and some to organise their own races. Chris Dixon and his team from Wild & Co. have a long history, great expectations and high standards to maintain, and they delivered last weekend, with a stunning race based at Crescent Head on the Macleay Valley Coast of NSW.
There was a reduced entry due to Covid restrictions and bad weather stopping teams travelling, but 17 teams made their way to the start for the Full course and another 20 for the Half course. They came for 48 hours of challenge and adventure, and to share those experiences with friends in some great scenery. The motto for the Macleay Valley Coast, is 'Discover something new' and it offered everything a great adventure race needs; rugged coasts and headlands, bays and rivers perfect for paddling, forest and wilderness to navigate in, and some amazing trails to ride.
The race is designed to encourage everyone to have a go, so there are categories for mixed, male and female teams, with or without support crews. The Half course has the same time limit, just less distance (150km rather than the 230km for the Full), and parts of the course are optional. If you can organise a team of 4 like-minded mates, you can have a go at Adventure Racing at Geoquest!
All of the teams set off at 8.00am from Crescent Head under clear blue skies, which promised a great day ahead. It was chilly, but the most severe weather had thankfully missed the Macleay Valley Coast.
A coastal trek and beach run took the teams to the first transition and after this the Full and Half races followed different courses, but using the same areas. The first 3 stages were relatively short, mixing trekking and mountain biking, and encouraging some fast competition, after which it was time to settle into longer stages.
For the Full Course teams, stage 4 was a 22km ocean kayak, paddling out of Korogoro Creek next to Hat Head and making their way to South West Rocks, passing by the spectacular coastline of the Hat Head National Park and the Smoky Cape Lighthouse. By now the two race favourites were close together at the front, with Team Rogue trailing just behind Thunderbolt AR. (Thunderbolt were the remaining members of Thunderbolt and Alpine Avengers who were still able to travel, and had teamed up. They'd not raced together before, but all knew each other well from many past events.)
These two teams stayed close together for a trek around South West Rocks and back up to the lighthouse, a paddle along the tidal Macleay River, and a 32km ride to Tamban, with Rogue never quite able to close the narrow gap. Next was a trekking and navigation stage with teams splitting up into pairs to find checkpoints on foot, and it was here Rogue faltered and Thunderbolt opened what would prove to be a decisive lead, which they held to the finish.
There were 6 more stages to go, including a paddle along Piper's Creek, but Thunderbolt were sure in their navigation and made no big mistakes to allow Rogue to come back. They finished in 29 hours 12 minutes, with Rogue second in 30 hours 20 minutes.
Chris Delaney from Rogue summarised the race. "It was another iconic GeoQuest this year, a great course, a stunning location and the usual 'classic Geo stages', including ocean paddling, coasteering, and a beach run. Team Rogue pushed hard from the start, with the opening stages fast and furious. We swapped the lead with team Thunderbolt a few times and it was obvious both teams were chasing the win.
The early course highlight was a tough 22km ocean paddle from Hat Head, north along the coast to South West Rocks; crystal clear water, off shore breeze and dolphins. As we rounded Smokey Cape Lighthouse, the current, headwind and choppy conditions made the going tough.
Sixteen hours into the race, we arrived at Stage 8, a short foot rogaine with four checkpoints to be collected by the team split into pairs. A navigational error cost us at least an hour, another reminder that navigation training is so important.
We pushed on and kept working hard, thinking perhaps Thunderbolt might falter in the final stages? They didn't. Despite our best efforts, we couldn't close the gap, and it was a well deserved win from a great bunch of athletes."
Dave Schloss of Thunderbolt said, "We had amazing scenery, stunning views (even whales) and some sensational weather (although a little chilly). The camaraderie amongst the competitors and volunteers was high, and with no pressure on us as we'd never raced together, it was a very relaxed build up and race. Everyone worked well together and used their skill set to help with the team as a whole. It was a weekend to remember."
Among the teams behind them on the full course was Team All Talk, a female team at the other end of the AR experience scale, who finished in just over 45 hours.
Team member Lisa Matuzelis said, "As a team, and being first timers with little experience in adventure racing, I am really proud of our effort. My teammates and I only started training 17 weeks ago and had to juggle the demands of home and work life throughout this period. We had to learn new skills, specifically navigation and kayaking, which was challenging in itself. Just get to the starting line was a win for us!
"From my personal experience this event pushed me beyond limits I thought possible … like maintaining activity for two days with only 1.5hrs sleep! Even after completing such an epic course I still can't believe I actually did it!"
On the Half Course the fastest were the male team WebStudio AR, who lead the whole race and finished in 14.44.47. Norman Kobelke explained, "We are a group of friends that enjoy adventuring in the Mid-North Coast of NSW, so they couldn't miss the opportunity to race GeoQuest in our own backyard.
The race strategy was to go out "full gas" early. This resulted in a sprint up the beautiful Crescent Head beach and slightly overshooting the first checkpoint!
The experienced support crew were fantastic! Among many other things they changed bike pedals and adjusted tyre pressures to suit the terrain for each MTB leg. Having a support crew can make the event more enjoyable as you have some familiar faces and encouragement at Transitions.
Different members of the team had their moments during the race and this had us reflecting on the wisdom of our start strategy … but the final MTB leg played to our strengths and it was fun to set up a pace line on the final ride to HQ.
It was a great weekend, in a beautiful part of the world."
Not far behind them was another of the all-female teams racing, and by far the most experienced. Cowgirls Tri Adventure finished in 16.58.47 and were lead by Jan Leverton who was racing her final Geoquest.
"This was my swansong at Geoquest after competing there in the Cowgirls team since 2005." She said. "It's been a wild ride for me and I've visited so many stunning locations because of this event and had some great team-mates.
Our mission since 2005 has been to build up a network of female racers who could contribute significantly to the team during the race and not just be a token female who keeps up with the men. Our girls have subsequently become strong and capable racers who are adept in all aspects of the sport and I've always raced in an all-women's team for this reason."
Jan will continue to compete at shorter races, and will be missed at the next Geoquest . However, many of those she has inspired and trained will be there, as will elite teams looking for top class competition and AR World Series points, and they'll be competing alongside first time racers seeking a new challenge.
You can out more about the Mountain Designs Geoquest at https://www.geoquest.com.au/ and see many more photos of the weekend on the Wild & Co. Facebook page at; https://www.facebook.com/wldnco
The race was part of the Adventure Racing World Series Oceania Region and teams won points to count towards qualifying for the Oceania Championship in October.
Wild & Co organise adventure and endurance races throughout the year and the next is the Hells Bells Adventure Race on August 7/8th
/Public Release. This material from the originating organization/author(s) may be of a point-in-time nature, edited for clarity, style and length. The views and opinions expressed are those of the author(s).View in full
here
.