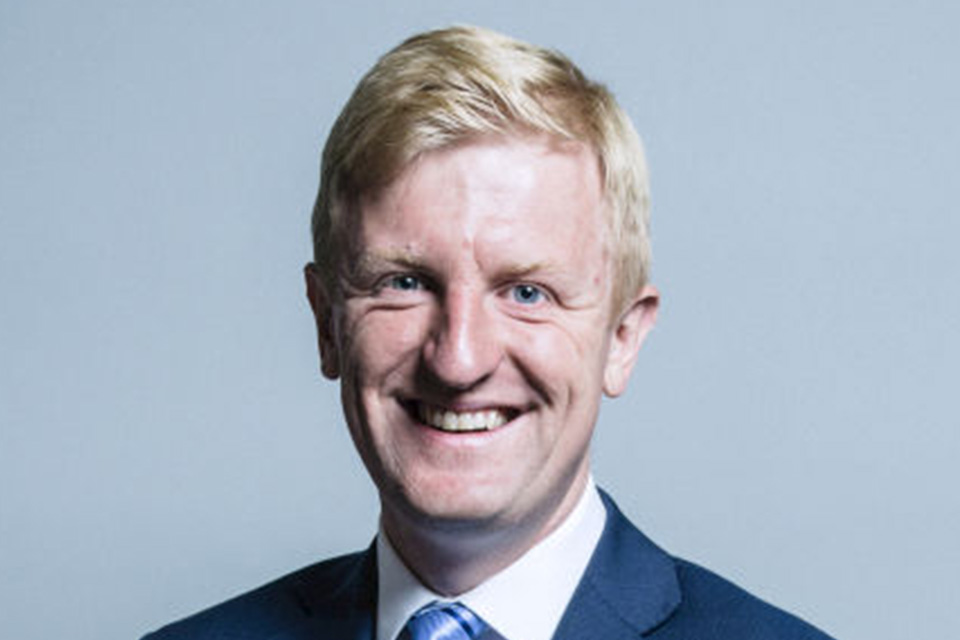 Thank you, everyone, for joining us this morning. Cyber security is genuinely a massive priority for the government and it gives me great pleasure to launch the National Cyber Security Centre's third Annual Review.
Now it took me around three seconds to say that. That's not a very long period of time.
But in cyberspace, as you all know, an awful lot can happen in those three seconds.
Two hundred thousand and more Google searches made.
Eight and a half million emails can be sent.
Incalculable sums of money – not to mention priceless data – potentially lost to cyber criminals.
And there's no reason in asking Alexa to help get it back, I'm afraid she's not going to be of any help.
But we are very fortunate that we have a stronger ally than Alexa, and that is in the National Cyber Security Centre.
The Centre was created in 2016 and has helped make the UK safer.
Securing the internet is a 24/7 challenge, 365 days a year, in a complex landscape whose contours constantly change.
And in an area where success is measured in events that don't happen – the dog that didn't bark; the crippling cyber attack that wasn't; the public trust in our digital systems that wasn't compromised – we are, demonstrably, heading in the right direction.
A fifth fewer incidents of computer misuse were experienced by adults in England and Wales last year than in the previous twelve months.
The NCSC is working. And the government's wider National Cyber Security Strategy is working too.
It is making citizens and businesses of all sizes safer.
It is making our data – an increasingly valuable asset – more secure.
And it is making our increasingly digitised government and critical national infrastructure stronger.
As Minister for the Cabinet Office, responsible for driving our 'whole government' approach to cyber security, I really am proud of what the NCSC achieves for the United Kingdom every second of every day.
And you really don't have to take my word for it. After the NCSC's first two years, the Joint Committee on the National Security Strategy praised its 'impressive impact'.
And year on, there has been even more progress.
We live in an era when society relies on the internet as never before. A world-leading digital society like the United Kingdom is good for citizens in so many ways. It offers reliable access to information and markets of all kinds, and the ability to share data quickly and easily.
Almost every individual and organisation makes an online connection every single day. Some make literally thousands. With friends and families; customers and clients; with dogs via petcams and even with internet-enabled fridges that remind us we're low on milk.
Digital and mobile expansion, and the proliferation of the 'Internet of Things' devices in homes, workplaces, schools and hospitals, is happening fast – and so fast, however, that we risk leaving security considerations behind.
Not everyone is as conscientious as they should be about using a different password for each internet site, and I should say one not fashioned around their date of birth.
It's much easier and cheaper than ever for criminals to get hold of the tools to launch high volume, low-sophistication cyber attacks.
This perfect storm requires a co-ordinated fightback. The Government launched the National Cyber Security Strategy to counter these particular threats. And to achieve the best protection for the public, to uphold trust in our systems, and underpin future national prosperity and growth. In doing so we created a world-leading cyber authority.
But we want to go even further to harness the power of tech for the benefit of citizens, the economy and our democratic processes. And today we will hear about the difference the NCSC – as part of GCHQ – has made as a critical pillar of this government's security strategy and cyber ambitions – Ciaran has more details of some stand-out moments of this year.
The common theme of the NCSC's work, whether it's protecting critical national infrastructure or strengthening the security of the Internet of Things, is that it is rooted in cyber's increasing relevance to people's day-to-day lives. And it's precisely because cyber attacks affect everyone and the things that we value that we all need to play a critical role in protecting them.
Seen by other countries as a model of its kind, the NCSC's particular strength comes in fusing the cream of our national security capabilities with cutting-edge technical knowledge, and timely, tailored intelligence.
Its national and international projects and programmes take the fight to our cyber adversaries – hostile states; reckless hacktivists; and organised gangs.
In October 2018, that meant exposing Russian military attacks on political institutions and business, media and sporting interests – the World Anti-Doping Agency in Lausanne was a target. This week, it exposed how suspected Russian-based cyber hackers had piggybacked on the illegal operations and methods of a group of Iranian-led hackers, targeting 35 countries.
/Public Release. View in full
here
.