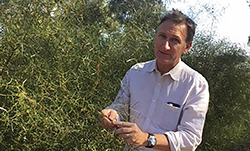 CSU Professor Geoff Gurr (pictured left) from the Graham Centre for Agricultural Innovation is part of an international team of 153 authors led by the University of California, Davis.
Their research, published overnight in the journal PNAS, found that natural habitat surrounding farm fields is not always an effective pest-control tool for farmers worldwide.
Lead author Daniel Karp, an assistant professor in the UC Davis Department of Wildlife, Fish and Conservation Biology, said, "There's a widespread assumption among ecologists that when you have more natural habitat around farm fields you get more enemies of the crop pests, and that these enemies will control the pests and provide a benefit to growers".
To test that assumption an international team of ecologists, economists, and practitioners compiled the largest pest-control data set of its kind.
It includes 132 studies from more than 6,700 sites in 31 countries worldwide — from Californian farmlands to tropical cacao plantations and Australian cotton fields.
While many of the studies showed surrounding natural habitat does indeed help farmers control pests, just as many showed negative effects on crop yields.
Professor Gurr said, "The results from this huge analysis of global data sets shows that while landscape factors, such a native vegetation, can help check pest outbreaks they are not a panacea. It illustrates that local management decisions like on-farm vegetation and insecticide use patterns are also crucial."
Professor Gurr and then-PhD student Mr David Perovic contributed data to the global study from a Cotton CRC-funded project.
/Public Release.View in full
here
.