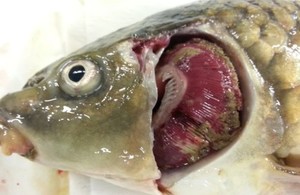 The Fish Health Inspectorate (FHI) have found Koi herpesvirus (KHV) disease in fish at the following sites in England and Wales.
KHV is a serious viral disease of fish and is a listed disease in the United Kingdom. It affects all varieties of common and ornamental carp species (Cyprinus carpio) and can result in large scale mortalities.
Fish with KHV disease may show the following signs, especially when water temperatures are between 16 to 28 °C:
necrotic (white or brown) patches on the gills
rough patches on the skin and sloughing mucous
sunken eyes
You must contact the FHI if you suspect an outbreak of KHV. This includes fish with the above signs, or deaths of carp or carp hybrids.
There is no risk to public health.
Controls lifted
Sites with KHV disease must undergo a formal monitoring programme for the duration of the calendar year immediately following the outbreak. The FHI visit these sites to look for evidence of disease and to inspect compliance with the conditions of the statutory controls in place. The controls are removed if the disease doesn't reoccur during this period.
Some sites choose to cull and disinfect their stocks, rather than undergo monitoring.
Diseases controls lifted at:
Swallow Aquatics, Rayleigh – 20 July
J & K Aquatics Ltd Wholesale unit – Black Vat system and the Retail Unit, Somerset – 13 August
Blagdon Water Gardens – Systems containing susceptible species, Somerset – 13 August
Watermarque Yeovil – Systems containing susceptible species, Somerset – 13 August
Church Lane Lake, Essex – 6 July (PDF, 416KB, 3 pages)
Newstead and Annesley Country Park, Nottingham – 6 July (PDF, 422KB, 3 pages)
Parkers Fishery Pools, West Midland – 6 July (PDF, 392KB, 3 pages)
Mawgan Porth Pools and Lake, Cornwall – 9 July (MS Word Document, 388KB)
Mill Farm Fishery, Hereford – 13 July (PDF, 403KB, 3 pages)
Holme Grange Fishery, Berkshire – 19 July (PDF, 402KB, 3 pages)
Clear Water Fisheries, Lancashire – 24 July (PDF, 632KB, 3 pages)
Trench Pool, Shropshire – 24 July (PDF, 746KB, 3 pages)
Old Hough Fishery, Cheshire – 25 July (PDF, 384KB, 3 pages)
Woodside Fishery, Hereford & Worcester – 31 July (PDF, 355KB, 3 pages)
Coopers Arms, Derby – 1 August (PDF, 443KB, 3 pages)
K Lakes, Skegness – 2 August (PDF, 368KB, 3 pages)
Martham Pits, Norfolk – 3 August (PDF, 484KB, 3 pages)
Ashland Lakes, Buckinghamshire – 7 August (PDF, 648KB, 4 pages)
Shadwell Pool, Greater London – 8 August (PDF, 707KB, 4 pages)
Locklands Lake, Lincoln – 9 August (PDF, 451KB, 4 pages)
Acton Park Lake, Wrexham – 13 August (PDF, 499KB, 4 pages)
Canvey Lake, Essex – 14 August (PDF, 834KB, 3 pages)
Stoneham Lakes, Hampshire – 17 August (PDF, 449KB, 3 pages)
Lakewood Fisheries, Scunthorpe – 29 August (PDF, 374KB, 3 pages)
Middle Pool, Shropshire – 18 September (PDF, 674KB, 4 pages)
Kippax Park, Leeds – 26 September (PDF, 456KB, 3 pages)
Gatton Waters, Norfolk – 28 September (PDF, 375KB, 3 pages)
Watmore Farm Fishery, Hampshire – 2 October (PDF, 556KB, 3 pages)
Orchard Lakes, Hampshire – 3 October (PDF, 478KB, 3 pages)
Broadlands Lake Complex, Hampshire – 5 October (PDF, 375KB, 3 pages)
/Public Release. This material comes from the originating organization and may be of a point-in-time nature, edited for clarity, style and length. View in full
here
.