Professor Rupert Ward from the University of Huddersfield will be a keynote speaker on how lessons from the coronavirus pandemic could be learned to improve online learning at an educational conference this month.
The Computing at School (CAS) autumn event will see Professor Ward discuss 'Learning Fitness' and how we can improve learning techniques in the digital age at 16:00 GMT on Tuesday, 17 November.
Professor Ward is Professor of Learning Innovation and Associate Dean (Research) in the School of Computing and Engineering, and published his book 'Personalised Learning for the Learning Person' in June 2020.
The book considered how a transformation from traditional educational techniques to more personalised learning could happen. Digital technology is integral to such a move, and the ongoing COVID-19 pandemic has provided an opportunity to assess how learning and working remotely may work in the future.
"What we saw during the UK's first lockdown was physical personal training moving online," says Professor Ward. "Joe Wicks proved to be incredibly popular in providing online sessions and guidance, and there are obvious parallels with where learning is going.
"My local gym still ran online exercise classes after the first lockdown ended – they realised there was a different way of approaching physical fitness. Similarly, there will be more online learning fitness in the future, as people think about their learning differently and better manage their own learning .
"My CAS session uses a learning fitness analogy to get us to think about and explore how we all learn. We will look at what we need to learn – our learning diet, learning exercise and ultimately our learning fitness. How can remote learning be effective now and, in the future, as we move back to a new version of 'normal'. Considering these issues now is important as it can lead to permanent changes in how we learn."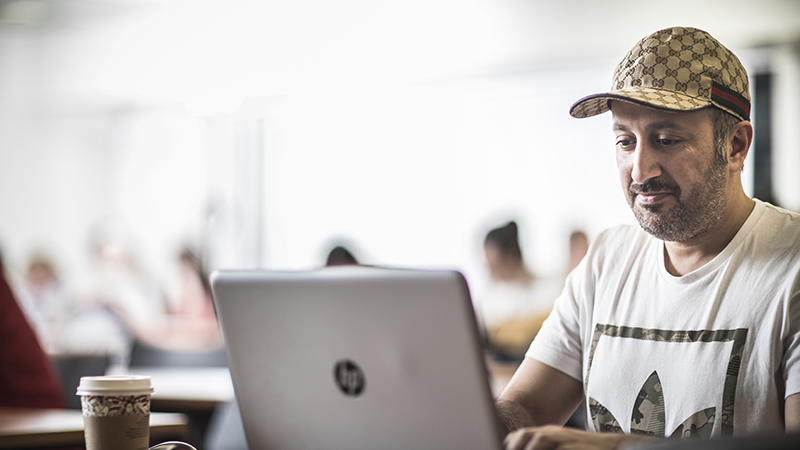 The CAS autumn event runs until 19 November, when it concludes with a keynote speech from Maggie Philbin OBE, who received an Honorary Doctorate from the University of Huddersfield in 2016 for her science broadcasting and technology education work.
iDEA project shows how online learning can work
Professor Ward has spent more than a decade at the University, including an 18-month secondment at Buckingham Palace, where he was Project Lead on iDEA – Inspiring Digital Enterprise Award. A free educational programme that develops digital, enterprise and employability skills in incremental steps, iDEA has been in great demand during the pandemic, awarding over 1.25m 'badges' – informal learning awards – since March.
"It's worth remembering we have had 50 years of the Open University," he adds. "which has been highly successful with almost entirely remote learning.
"We can tailor learning to people's lifestyles a lot more. We should be moving away from teaching the same thing in schools, colleges and universities, to a set of learning that best suits the needs of the individual.
"With physical fitness, the best approach is the personal trainer model – optimise it to each person to engage with them and motivate them. With learning we can do the same, tracking your learning through analytics and feedback, providing more choice within learning and assessment to motivate each and every learner."
/Uni Public Release. This material comes from the originating organization and may be of a point-in-time nature, edited for clarity, style and length. View in full
here
.