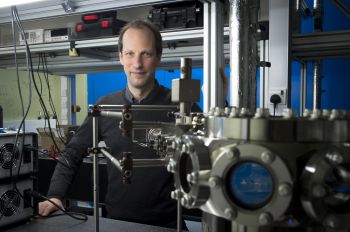 Prof Peter Kruger with the vacuum chamber in the quantum sensing lab
Physicists use quantum sensors to take a live image of the inside of a car battery from outside for first time
Breakthrough paves way for speedier development of better electric car batteries
New technology could help make electric car batteries more recyclable
Quantum physicists at the University of Sussex have, for the first time, successfully taken live images of the inside of a working electric car battery from the outside, using quantum magnetic sensing technology.
This breakthrough means electric car batteries will soon be able to be checked externally for faults, meaning that the faulty parts can be detected and replaced while the working parts of the battery can continue to be used.
Additionally, an accurate state of a battery's health and charge is readable – rather than relying on a calculated estimate as happens now – meaning that fewer electric car batteries will be discarded unnecessarily or prematurely. With this technology, it will be possible to do a quick non-invasive 'battery MOT' which is useful for anyone needing to check the state of a car or airplane battery. The case of the Boeing 787 Dreamliner, which saw disastrous fires breaking out stemming from its batteries, demonstrates the importance of being able to tell whether batteries are operating safely.
The breakthrough will also speed the design of new batteries, with scientists being able to check the health of the batteries they're developing, in real time.
Professor Peter Kruger who runs the quantum sensing laboratory at the University of Sussex says:
"For the first time, we've been able to measure the electric behaviour inside a car battery from the outside to see how well the battery is working, and to identify its state of health. Until now, the only way to see inside such a battery is to open it up.
"We achieved this by developing quantum sensing technology. Once applied to the battery, our sensors create an image which shows the health and state of charge of the battery.
"Our breakthrough will speed up the development of new electric car batteries because researchers will be able to identify what's working well within their batteries, and what isn't, in a much more efficient way.
"What we've done will also mean that electric car batteries are more recyclable. The working parts of the battery pack can be retained, while any faulty parts can be decommissioned or replaced. This means fewer batteries will need to be discarded unnecessarily.
"Currently electric car batteries account for a large proportion of the cost and weight of the car. This shows how urgent it is that better electric car batteries are developed quickly, so that the UK can achieve its aim of moving from fossil fuel to electric cars within decades. We hope this breakthrough represents a transformative moment in the race to make electric cars mainstream.
"This is also poised to be the first commercial application of quantum magnetic sensing."
Professor Kruger is director of the Sussex Quantum Research Programme and runs the Quantum Systems and Devices laboratory at the University of Sussex. The development was made possible thanks to funding from Innovate UK, and was achieved in conjunction with CDO2, an industrial partner based at the Sussex Innovation Centre at the University of Sussex.
This development is possible for the first time because the sensitivity of sensors has increased as quantum sensors have been developed.
With the sale of new fossil fuel-powered cars banned from 2040, this Sussex breakthrough is an important step towards making electric car batteries more sustainable and cost efficient. The Paris Climate Agreement led to important targets for a reduction in fossil fuel use and the development of electric cars. This development could help the UK to meet those targets.
The challenges ahead include the need to reduce price, weight and volume of batteries as well as increasing the recyclability of used batteries from currently not much more than 10% to 95% by 2040. And given that the race to develop new technologies is global – including strong competition from China – this is a great step forward for UK industry as a well as UK science.
/Public Release. View in full
here
.