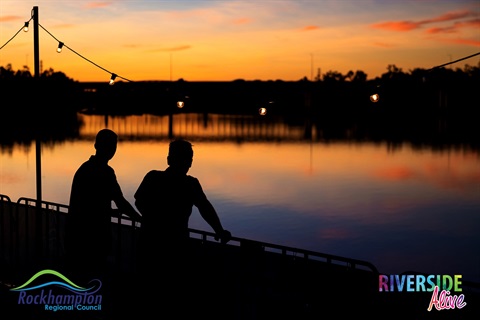 Things are heating up at the Riverside Precinct, with another blistering Riverside Alive line up this November.
Rockhampton Region Mayor Margaret Strelow said the program will deliver music, food, markets and entertainment, as well as an opportunity for kids to learn some valuable lessons about staying safe in a Central Queensland summer.
"This November, the Riverside will continue to come alive with all of the great events that residents have come to expect from this program," said Mayor Strelow.
"There will also be two fantastic Moonlight Movie nights.
"On Friday 1 November we'll continue the fun of Halloween with a screening of Hotel Transylvania 3 from 6.30pm. This event is being hosted by Optus and will include a fundraiser BBQ for Brothers Kangaroos AFC, and there will also be stalls selling popcorn and Gelatissimo gelato.
"On Friday 15 November, take some time out from exploring Rivernites and pull up a beanbag under the boathouse to catch a screening of Inside Out at 6.45pm. The movie is being presented by the Australian Psychological Society as part of Mental Health Week.
"This weekend Little Aussie Encounters will also be bringing their fun and free Bites and Stings Show to the Riverside Precinct to help equip kids with the information they need to stay safe this summer.
"As the temperature rises, more critters and creatures will be coming out of hiding. This show is a great opportunity for kids to get up close and personal with scorpions, centipedes, spiders and snakes in a safe environment, and to learn what to do if they encounter one at home or at the park."
Peter Grabasch from Little Aussie Encounters said not all creatures capable of bites and stings were to be feared, but being aware they exist in our backyards and knowing how to respond to the unlikely event of a bite or sting was important for everyone.
"Our Bites and Stings Show educates people of all ages about these fascinating creatures, their behaviours, how to avoid harm and apply first response treatment until professional help arrives," said Mr Grabasch.
"Our message is to be respectful of nature and stay safe this summer."
For more info and to find out what's happening visit https://www.advancerockhampton.com.au/Events
/Public Release. View in full
here
.