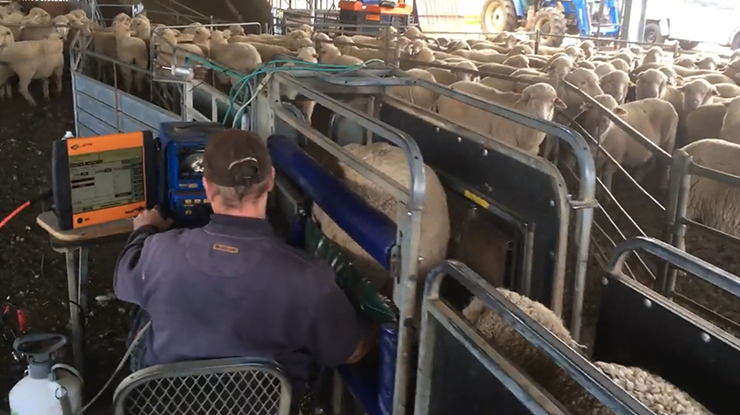 Pregnancy scanning with eID at the University of Melbourne's Dookie campus earlier this year. Image: Agriculture Victoria
For producers looking to record their ewes' pregnancy status and make more informed flock-management decisions, eID can be a powerful tool.
According to Agriculture Victoria technical specialists, Grace Calder and Kirstie Anderson, using eID at pregnancy scanning enables producers to:
record reproductive efficiency data for individual ewes
implement targeted management strategies that optimise lamb survival.
Grace and Kirstie both work on the MLA Donor Company (MDC) project 'eID Enabled' – co-funded by Agriculture Victoria – and are investigating opportunities to incorporate eID on-farm and within the lamb supply chain.
Here, they outline three key benefits the technology offers producers and how to best prepare for scanning to ensure it's carried out accurately and efficiently.
1. Records for life
eID technology allows producers to efficiently collect, analyse and track performance traits throughout the production cycle, which can inform management decisions and monitor individual animal performance against breeding objectives.
"Using eID means you can track the impact of your decisions and how these have translated into pregnancy scanning results," Grace said.
"All decisions throughout the production cycle – from pre-joining through to scanning and lambing – can be tracked, and these can be analysed to determine how they've impacted individual animal productivity."
By combining this reproductive efficiency data across several years to build lifetime records for individual ewes, producers can refine their management practices to maximise ewe performance and even improve lamb survival (see benefit two below).
2. Reduced drafting and boxing dramas
Using eID can improve labour efficiency by removing the need for temporary sprays and raddles.
"Although boxing is something we always try to avoid, mistakes do happen," Kirstie said.
"If raddles have worn off, it's impossible to identify ewes scanned as dry, singles or multiples. By having this electronic data on hand, re-drafting becomes an easier task, as you're not trying to spot faded raddle or visual marks."
Drafting ewes according to their pregnancy status by scanning for multiples will assist producers to better meet individual energy requirements for each mob and therefore improve lamb survival rates.
3. Accuracy and efficiency of data collection
Several traits can be recorded simultaneously with eID technology, such as the number of foetuses and foetal age, aiding in more efficient scanning while reducing time and labour costs.
"To ensure accuracy of data collection, producers may choose to collect data during scanning or immediately after. This is dependent on a producer's set-up such as yard configuration, labour availability and the scanner's capacity to record individual animal data," Grace said.
"Inaccurate data collection can be avoided by ensuring ear tags are read in sequence, animals are correctly tagged and that there's good crate functionality and yard design."
Getting prepared
Producers can also collect accurate and efficient eID-enabled pregnancy scanning data by:
booking a scanning contractor early, such as when rams come out, so the ideal scanning date can be secured
discussing with the contractor what data you want to collect and who will supply the required eID equipment
making sure eID equipment is fully charged, and backup power is available on the day of scanning
ensuring an individual ewe's scanning result is recorded before the next ewe's eID tag is read.
/Public Release. This material from the originating organization/author(s) might be of the point-in-time nature, and edited for clarity, style and length. Mirage.News does not take institutional positions or sides, and all views, positions, and conclusions expressed herein are solely those of the author(s).View in full
here
.