The Student Life Coach Consultation Office, a component of the Student Success Support Section at Tokyo Tech's Student Support Center, held a number of orientation sessions for new students in late March and early April 2023. Designed to help newcomers acclimate to university life and begin independent studies at the Institute, the sessions covered topics such as the education system of Tokyo Tech and the basics of course registration at different levels of study. This spring, 1,091 bachelor's program students, 1,907 master's and doctoral students, and 32 transfer students commenced their Tokyo Tech journeys.
Orientation for new bachelor's program students
The 90-minute orientation for bachelor's program students was held 14 times on April 6, 8, and 9 at Hisao & Hiroko Taki Plaza (Taki Plaza) on Ookayama Campus. A total of 1,010 students joined one of the sessions to learn more about life at the Institute so they can begin planning their academic lives.
Orientation sessions were held for student units by Tokyo Tech alumni and current students working as Peer Life Coaches. The student unit is an important building block of the bachelor's degree program at Tokyo Tech. When students begin their studies, they join a unit that consists of approximately 14 students from different Tokyo Tech Schools. Unit members take required courses in the first year and the Liberal Arts Final Report course in the third year together, encouraging the formation of interdisciplinary communities throughout their bachelor-level studies.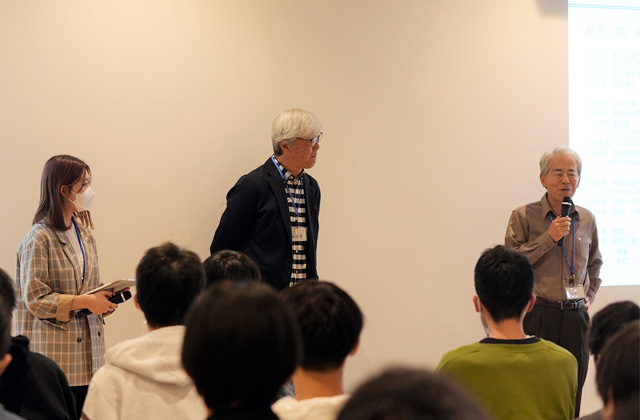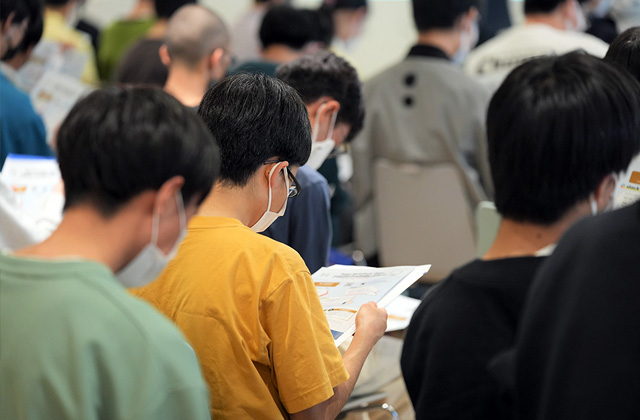 Orientation session speakers talked about the history and achievements of Tokyo Tech. They also shared their own experiences at the Institute, advice on living a fulfilling university life, and know-how on effective learning. While being interviewed by a current student, alums shared how they decided on a career path and research field. They also shared their views on the link between university studies and society, and offered tips on how students can envision their future while engaging in their studies.
During each orientation session, new students also had the chance to speaking directly with Tokyo Tech President Kazuya Masu during a quick-fire Q&A session. The questions covered a broad range of topics including campus life, approaches to learning, and societal issues surrounding the pursuit of the science and engineering fields.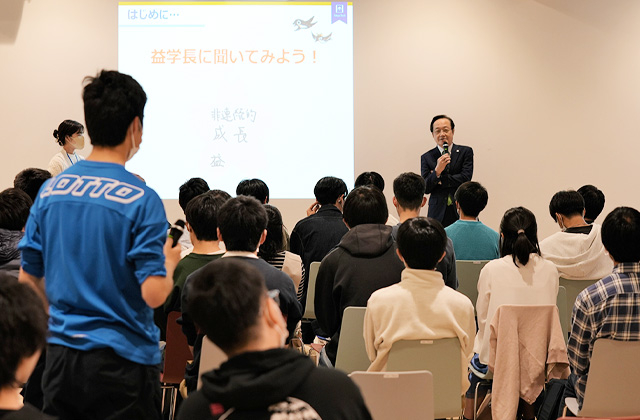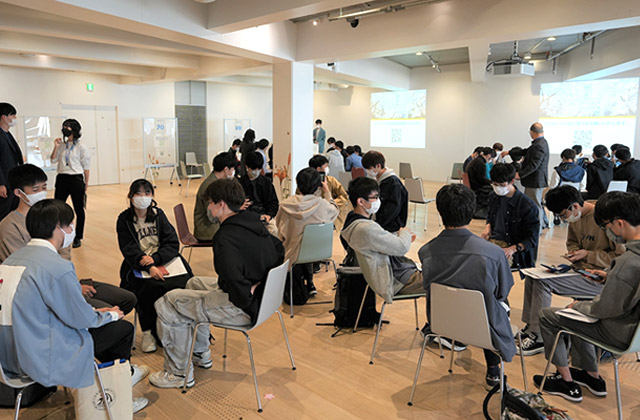 A 25-minute slot in the latter half of each session was reserved for deepening ties between members of each student unit. Unit members introduced themselves to each other, discussed their experiences during their first week at the Institute, and strengthened friendships through discussions about future plans. Students wrote their goals and aspirations on small sticky notes, which together formed a large cherry blossom tree on the wall of Taki Plaza's event space.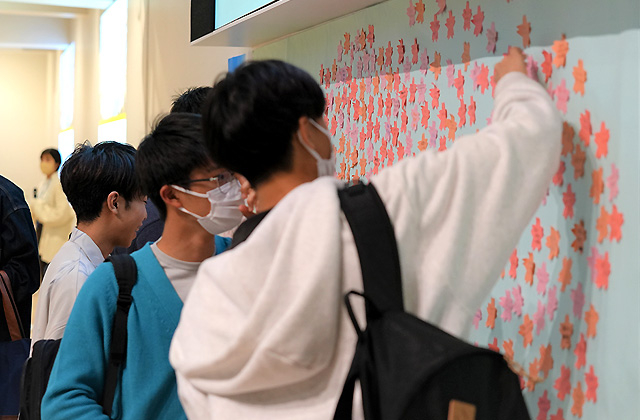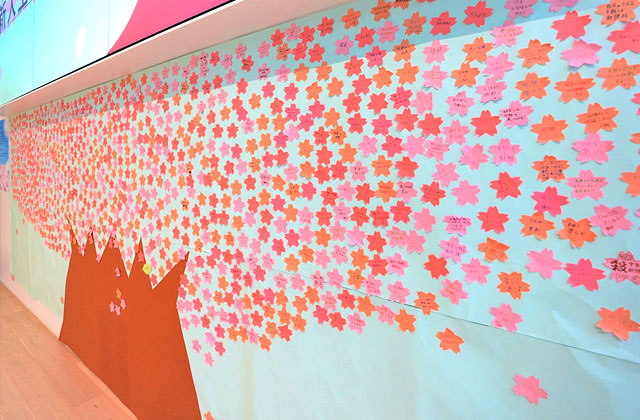 New bachelor's program students shared their thoughts after their orientation session.
I heard many valuable stories, and this was a great experience.
Thank you for organizing this exchange event involving student units. I now know the people with whom I will be studying, and I feel more secure regarding my university life.
I appreciate the thoughtful and detailed answers to students' questions.
Orientation for new master's and doctoral students
On March 30 and April 1, online guidance sessions for master's and doctoral students were held four times — twice in Japanese and twice in English. A total of 510 students participated in the Japanese sessions, while 76 students joined the English briefings. Overall, students from 12 countries and regions joined these orientations.
These sessions were hosted jointly by the Student Success Support Section's Student Life Coaches and Career Support Services. In the first half, the new cohorts learned about the curriculum and the structure of courses common to all graduate-level students, and acquired comprehensive information about specific programs, studying abroad, financial support, and the activities of various support offices at Tokyo Tech.
In the second half, advisors provided career support guidance in both English and Japanese, sharing information on potential career paths and job-hunting practices in the country, including specific job placement and job-hunting timelines for graduates.
During the session held in Japanese, current graduate-level students and Peer Life Coaches shared their views on academic and research life, the importance of participating in academic conferences, good ways to achieve changes of pace, and other topics based on past experiences.
These orientation sessions also kicked off with a brief Q&A session between President Masu and the new students. Students were interested in learning about the expected outcomes of the merger with Tokyo Medical and Dental University (TMDU). They also quizzed the president on his favorite spots on Suzukakedai Campus.
Master's and doctoral students provided their feedback online after their orientation session.
The explanation on degree completion requirements was clear and informative.
The stories of current graduate-level students gave me a clearer image of what to expect.
I gained a better understanding of awareness regarding internships.
It would be helpful if these sessions were made available on YouTube or other channels so that people can watch them whenever they want.
I would like separate orientation sessions for master's and doctoral program participants.
These sessions would be easier to attend if they were held during evening hours.
Orientation for new transfer students in bachelor's degree program
On April 1, a three-hour orientation session was held at Taki Plaza for 32 transfer students who joined Tokyo Tech from technical and other colleges in the spring of 2023.
This event also began with a Q&A session with President Masu, who himself has experienced the challenges of being a transfer student. Masu spoke about his time as a student, his career path and research, his reasons for becoming president, and the decision to integrate with TMDU.
Student Life Coaches also shared a welcome message and, with the help of video clips, introduced activities being conducted by students who joined Tokyo Tech as transfer students.
Transfer students join the Institute in their second or third year of the bachelor's degree program, and they need to learn quickly how Tokyo Tech's courses are compatible with those completed at technical colleges, how they can apply for the Independent Research Project, and what they can do to adjust to the new environment and plan their life as Tokyo Tech students. With these unique circumstances in mind, senior students from the association of transfer students prepared and shared materials based on advice from the Student Division and leading professors at Tokyo Tech's various departments. Topics included basic matters common to all students, points of caution specific to transfer students, and approaches to studying department-specific undergraduate courses.
Supportive role of Student Life Coaches, Peer Life Coaches
Tokyo Tech's Student Life Coaches, part of the Student Success Support Section of the Student Support Center, have been providing new students with guidance every April since academic year 2016. This spring, Tokyo Tech's Peer Life Coaches, all current students who are also affiliated with the Student Support Center, worked together with the Tokyo Tech Alumni Association to prepare for the support sessions by conducting a student needs survey and compiling useful content.
/Public Release. This material from the originating organization/author(s) might be of the point-in-time nature, and edited for clarity, style and length. Mirage.News does not take institutional positions or sides, and all views, positions, and conclusions expressed herein are solely those of the author(s).View in full
here
.