Containment feeding can be a useful strategy during dry times. However, once sufficient rainfall has been received to initiate pasture growth, managing the transition from containment areas to pasture must be done carefully to minimise the risk of any animal health issues, particularly for pregnant ewes, as well as ensuring that wool quality is not affected.
Depending on the seasonal timing of a break, paddock conditions can rapidly change (or not) and therefore assessments of the paddock should be reviewed regularly throughout the transition from containment to pasture. Key considerations of paddock conditions to consider should include feed on offer (FOO), pasture growth rate and pasture quality.
Key animal health issues to be considered when assessing whether sheep should be released from containment include the current condition score of sheep, their nutritional requirements and the stage of production within the farm operation. It is also critical to consider any farm operations that might limit the management of releasing stock from containment, such as time of lambing or labour shortages due to other activities.
The decision support tree below should assist in the key decision-making processes regarding whether stock should be released or continue to be containment fed.
Decision tree for key considerations of when to release stock from containment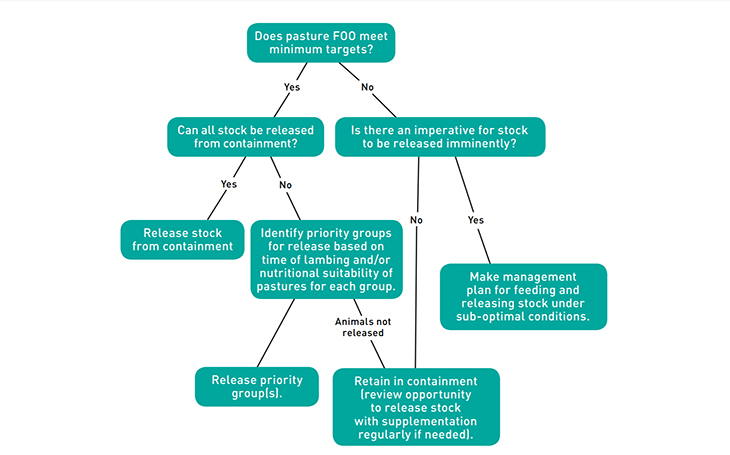 Once a decision has been made that stock are going to be released from containment, the next key consideration is planning the release to manage the health and productivity of stock.
The main considerations are to ensure that the diet transition from a containment ration to green feed is done as smoothly as possible and that animal health issues such as pulpy kidney, pregnancy toxaemia and hypocalcaemia are avoided.
Before the move
Sudden changes in feed quality, particularly where sheep move rapidly from dry to fresh, green pasture, can increase the risk of pulpy kidney. If stock have not been vaccinated in the three months prior to release, vaccination at least 10 days prior to release is advisable.
To minimise gorging of pasture when stock are first introduced to the paddock, ensure that sheep have ad lib access to good quality, palatable hay for 24-48 hours prior to release from containment to ensure stock are not hungry when they move onto the pasture.
If stock are moving onto calcium deficient pastures (requiring calcium supplementation), then the provision of the calcium supplement prior to release for familiarity for stock may be recommended (seek advice if other supplements are also being provided).
Release
To minimise gorging of pasture when stock are first introduced to the paddock, feed animals in the morning in the containment pens then release animals from containment onto pasture late in the day when they are not hungry.
Particularly for pregnant ewes, wherever possible minimise any stress involved in the move from mustering, handling, etc.
Some producers have found that moving stock onto pastures for short periods of time initially and increasing the time each day, can assist the transition from containment. Where this can be easily achieved, it may provide good results. However, it is often an impractical strategy and can result in more disturbance of the animals through increased handling if stock must be moved long distances.
After the move
Supplementation in the new paddock with the containment ration should be continued for a minimum of a week after releasing stock from containment to assist the nutritional transition. The containment ration should be provided in the paddock immediately for stock to ensure consistency of feeding.
Particularly where grain is fed, this is important to minimise the risk of acidosis. Ensure that all stock have access to any supplementary feed. Where FOO or the nutritional quality of the pasture warrants supplementing stock with feed beyond the first week after release, this should be continued in a consistent manner to ensure animal health and productivity.
Where sheep are released onto calcium deficient pastures, such as cereal crops and occasionally grass-dominant pastures, supplementation with a high calcium and magnesium content supplement should be provided.
Other nutritional imbalances should be assessed given the pasture to be grazed and any deficiencies managed appropriately.
/Public Release. The material in this public release comes from the originating organization and may be of a point-in-time nature, edited for clarity, style and length. View in full
here
.