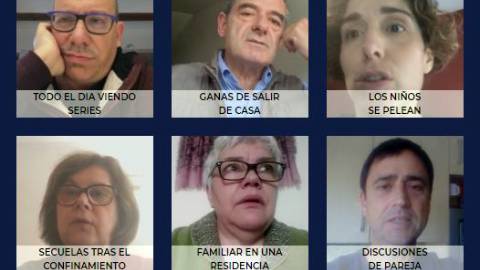 PsicoFight is a portal created by a multidisciplinary team of experts from different universities and coordinated by the UAB. It aims to offer strategies and resources to help in the most frequent conflicts arising in a prolonged state of self-isolation.
The videos offer psychological support in situations being encountered during self-isolation, such as losing a loved one, fights among siblings, the desire to go outside, difficulties in helping children with homework, etc.
The project, which is coordinated by the Department of Basic, Developmental and Educational Psychology's Chair Professor Carles Monereo, includes the collaboration of psychologists, healthcare personnel, engineers and designers of the Universitat Autònoma de Barcelona (UAB) and the Universitat Politècnica de Catalunya (UPC), and with the support of the Ramon Llull University (URL), the Mental Health Cluster and the CORE in Mental Health of the UAB.
The PsicoFight portal was created to provide strategies and resources to the population so that they can face the most frequent challenges appearing during this prolonged state of confinement we are currently experiencing.
According to UAB Chair Professor Carles Monereo, "the objective of the questionnaire is not to examine participants, but to help them learn from how they experience their own emotions: how to identify, anticipate, regulate and use them in a way that benefits them and their community; in other words, PsicoFight aims to be an aid in good decision-making".
El contingut està format per dotze vídeos interactius, que l'usuari pot anar triant segons els seus interessos. Són vídeos curts sobre el que els experts consideren casos de conflicte freqüents durant el confinament, com perdre un ésser estimat, les baralles dels nens, les ganes de sortir de casa o la impossibilitat d'ajudar els fills amb els deures, entre d'altres.
Primer apareix un vídeo on es dramatitza un conflicte, després unes preguntes sobre el cas i, seguidament, un altre vídeo on un expert ofereix orientacions. L'estil de les orientacions de la persona experta és col·loquial i evitant els tecnicismes, però mantenint el rigor científic dels consells oferts.
At the moment, the website is available in Spanish. The UAB Faculty of Translation and Interpreting is currently working on its translation into English.
PORTAL PsicoFight
/UAB Public Release. The material in this public release comes from the originating organization and may be of a point-in-time nature, edited for clarity, style and length. View in full
here
.