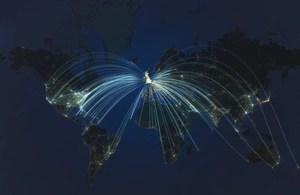 A beverage ingredient company based in Bristol has just secured a new international contract with an importer in the Middle East which is set to increase its turnover in the region by 5%.
Founded in 1997, Beyond the Bean makes its own flavoured syrups in Bristol under its Sweetbird brand and develops and co-manufactures smoothies, frappes, purees, hot chocolate, chai, sauces and toppings, and flavoured powders from a diverse supply base in the UK and Europe.
The new deal will see the company's complete range of products stocked in The Alchemist Coffee House in Jordan through importer Tree of Life, and other high profiles cafes across the region. The contract is estimated to be worth around £50,000 over the next 12 months, reaching up to £100,000 over the next two years.
The Department for International Trade (DIT) has supported Beyond the Bean over the last decade by offering export advice and providing access to funding to help the company to attend trade missions and trade shows. Last year, DIT also helped the company to secure a £68,000 export win with a new distributer in Oman further increasing its sales in the Middle East.
Gary McGann, Sales & Marketing Director at Beyond the Bean said:
This new deal in Jordan builds on previous success in the Middle East which is one of our fast-growing markets.
We have been exporting for over 15 years and although it has come with some challenges such as registration and labelling difficulties, we were able to overcome these with advice and support from DIT.
I would encourage other businesses that are considering exporting to just take that first step – whether it is investigating the target market or finding the right local partner with support from DIT. The benefits of exporting for your business are invaluable, and if we can find success overseas so can other UK companies.
Beyond the Bean, which employs 35 members of staff at its Bristol HQ, initially met its Jordanian partner in 2018 at Gulfood – the world's largest annual food, beverage and hospitality exhibition. The business started working with the buyer earlier this year by accompanying them to a trade show in Jordan and providing them with in market beverage development training.
The company's range of products are already being used by cafés and coffee shops in over 55 countries including Insomnia Coffee Company in Ireland and the UK, Vero Coffee in Lithuania and Joe Van Gogh in the United States.
Exporting currently accounts for just over 30% of Beyond the Bean's annual turnover of £9 million, with its largest export market being South Korea where the company sells its syrups and smoothies in large quantities and has done so successfully for the past eight years.
Paul Shand, DIT's Head of Trade in the South West, said:
Beyond the Bean is a great example of a business in the South West that has been able to tap into the demand for high-quality British products overseas, with their international success showcasing the vast opportunities that are out there for other UK businesses to capitalise on.
We are looking forward to seeing what the future holds for Beyond the Bean as they look to central America as their next target market and plan to continue their expansion in the Middle East.
I would encourage any other business considering overseas trade for the first time, or looking to increase its international footprint, to
/Public Release. View in full
here
.