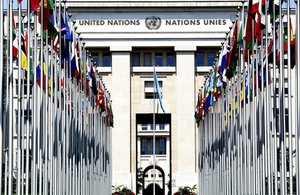 The United Kingdom thanks the Commissioners for their work and welcomes the report. We strongly support the renewal of the Commission's mandate for another year, especially during this crucial pre-electoral period.
It is clear that there has been no progress in preventing serious human rights violations. We urge the Government of Burundi to fufil their obligation to protect human rights, and to hold perpetrators to account. We encourage the government to engage with the Office of the United Nations High Commissioner for Human Rights, which could help find a way for Burundi to set a course towards human rights protection and to pave the way towards peaceful elections in 2020.
We are concerned by trends and risks which could signal possible atrocity crimes linked to the 2020 elections. It is vital that the international community, and UN mechanisms, including the UN Security Council, remain focused and committed to resolve this crisis.
We also want to see Burundian refugees able to return home and live in safety and dignity, without the risk of further displacement in the future. To this end, UK aid supports refugees in neighbouring countries, voluntary returnees to Burundi, and the communities to which they are returning. However, we are clear that any returns must remain informed and voluntary. We would also encourage the Governments of Tanzania and Burundi to further work on issues of refugee management through the established Tripartite Process.
Mr. President,
We would welcome the Commissioners' views on what can be done by the international community to support the Government of Burundi in the implementation of the report's recommendations.
/Public Release. View in full
here
.