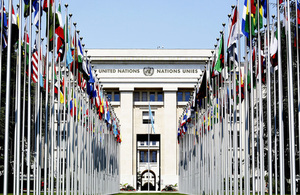 The UK reiterates its support for the important work of the UN Commission of Inquiry on Syria. We are grateful for the latest update and share the Commission's deep concern about the human rights situation, particularly in Idlib, where 1000 civilians have been killed and 600,000 displaced as a result of the military offensive by the Asad regime and its backers.
The UK welcomes the UN Secretary General's Board of Inquiry to investigate the appalling attacks, including those on medical facilities. Hostilities have had a particularly devastating impact on children, who make up over half of Idlib's three million civilians. During the current offensive, 304 children have been killed and 55 schools have been struck. We join the Commission's call for all sides to abide by their obligations under international humanitarian law and to protect civilians.
We welcome the UN's efforts to negotiate sustained humanitarian access to Rukban camp. Any movement of camp residents should be safe, voluntary, and informed, in line with International Humanitarian Law. We are concerned by reports of violations, including arbitrary detention, against those who have relocated, and support a role for the UN in monitoring the relocation process.
Mr Pinheiro,
Given the continued reports of violations against former residents of the Rukban IDP camp, will the Commission consider investigating this further?
/Public Release. View in full
here
.