June 13 2019
The University of South Australia will be working with Balaklava High School to develop a new integrated learning program that will see staff and students at the school build a solar car to compete in the Bridgestone World Solar Challenge.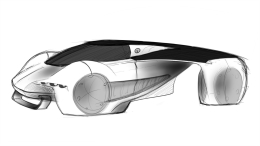 In a partnership agreed this week, staff and students from UniSA's schools of Art Architecture & Design, Engineering, and Information Technology & Mathematical Science, will provide design and construction guidance for Balaklava students, with the aim of having a car ready for the 2023 event.
UniSA's Associate Professor Peter Pudney has a long association with the World Solar Challenge, and commends the ambition shown by the school.
"The World Solar Challenge is unashamedly difficult, but the journey of getting a car to the starting line, let alone the finishing line, is incredibly rewarding, so we look forward to being able to help Balaklava High School experience that journey," Assoc Prof Pudney says.
"There is certainly a lot to consider with developing one of these cars, but other schools have done it, and Balaklava students will learn an incredible amount from the process."
Assoc Prof Pudney will join a team of UniSA academics, led by Professor Peter Majewski, who will collaborate with Balaklava High's design and technology co-ordinator, Richard Thomas, and Maths/STEM co-ordinator, David Szular, to develop a program of integrated education around the World Solar Challenge.
"There is a lot of official talk these days about the need to teach STEM skills in an integrated way, but there is very little practical guidance to how that can be achieved," Thomas says.
"We believe building a solar car is the perfect way to bring so many disciplines and ideas together into one project, to give our students a hands-on, and above all, enjoyable learning experience."
"We also feel," adds Szular, "this taps into the general enthusiasm and interest in renewable energy within the local community, and we hope the whole town will get behind the program."
As a first step, students from Balaklava High have been invited to observe this year's Bridgestone World Solar Challenge, which will see UniSA compete as part of a team from the Australian Technology Network of Universities (ATN), a collective including UniSA, Queensland University of Technology, University of Technology Sydney, RMIT University, and Curtin University.
The ATN team, led by Prof Majewski, is competing in the cruiser class category, which features sedan-like cars designed for practicality as well as efficiency.
UniSA academics have project-managed work on the team's vehicle, in addition to designing the solar collector and energy management system and contributing to the overall design of the car.
The 2019 Bridgestone World Solar Challenge kicks off in Darwin on 13 October, and travels through central Australia, before finishing in Adelaide a week later.