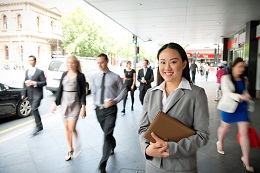 We all know the complexities of life can get in the way of taking care of some of the fundamentals – like taxes – but getting distracted from looking after your tax and financial responsibilities can have serious consequences.
Now, after a successful three-month pilot, the University of South Australia is officially opening its Tax Clinic to help individuals and small businesses struggling to navigate their tax requirements.
Targeting unrepresented small businesses, individuals, not-for-profit organisations and charities, the clinic will provide free, professional and confidential tax advice and services, including representation with respect to tax return lodgments and tax debts, education to help taxation compliance, as well as advocacy for those who need it most.
Funded by the Australian Treasury, the initiative is part of a Federal Government commitment announced by Prime Minister, Scott Morrison in November 2018, to reduce the regulatory burden on organisations.
The UniSA Tax Clinic is one of ten free tax clinics across Australia supported under the initiative, which together have already assisted over 140 individuals and small businesses.
The new clinic will launched by UniSA Vice Chancellor Professor David Lloyd, the ATO's Second Commissioner, Law Design and Practice, Andrew Mills, at 11am on September 11 in the Yungondi Atrium at the University's City West campus.
Pro Vice Chancellor (Business and Law), UniSA Business School, Prof Marie Wilson says the UniSA Tax Clinics will fill a recognised gap in the market.
"There's no doubt that tax time can be challenging, but for individuals, not-for-profits and small businesses that may not be able to afford proper advice and representation from a registered tax agent, it can be overwhelming," Prof Wilson says.
"The UniSA Tax Clinic aims to alleviate this need, by providing a range of free and accessible tax services, advocacy, and education which will not only improve customers' knowledge and understanding of the tax system, but also their interactions with the ATO.
"The clinic will operate in the same way as our highly successful Legal Advice Clinic – providing services for people who cannot afford to pay – ultimately, this is about helping people who may otherwise fall through the cracks."
ATO's Second Commissioner, Law Design and Practice, Andrew Mills says the trial complements the ATO's existing range of help and support services for unrepresented taxpayers, such as the ATO's long-running Tax Help community volunteer program and the Dispute Assist service.
Clinic founder and manager, Dr Rob Whait says the clinic also plays an important role in equipping students with the business skills and knowledge required for professional tax practice.
"This hands-on experience is crucial for students as they can gain opportunities in dealing with clients in a real-life setting," Dr Whait says.
"This is key to ensuring our students will be job-ready by the time they have completed their qualification.
"In this way, the clinic is not only providing a vital service to the community, but also an opportunity for business students to use their tax knowledge and develop professional skills."
Run by UniSA students under the supervision of qualified tax professionals, the UniSA Tax Clinic is located at UniSA's City West Campus and operates an outreach service from the Hackham West Community Centre. Appointments are essential.
The pilot program is set to be completed by June 2020.
/University Release. View in full
here
.