Students and employees of the University of Wyoming are playing a key role in Albany County's COVID-19 vaccination efforts, ranging from scheduling appointments via telephone to providing facilities to actually administering the vaccine shots.
The multidisciplinary efforts are part of a partnership involving UW, Albany County Public Health (ACPH), Ivinson Memorial Hospital (IMH) and local pharmacies that has provided the vaccine to 4,330 county residents so far. The work is expected to ramp up as more vaccine doses become available, extending well into the summer and possibly involving sending UW vaccination teams to other parts of the state.
"Getting the vaccine to members of our community is our best hope to end this pandemic, and we're happy to use the university's resources and expertise to help make it happen," says College of Health Sciences Dean David Jones, who oversees sample collection for UW's COVID-19 testing program at the same time he helps organize vaccine clinics. "We feel very fortunate to work alongside our partners with Albany County Public Health, IMH, local pharmacies and others. For UW, it's not only a way for us to fulfill our mission of service to our community and the state — it's also the best path forward to allow the university and the broader community to return to pre-pandemic conditions as quickly as possible."
Since the start of the calendar year, UW employees and student volunteers have been working with ACPH and IMH professionals to conduct vaccination clinics at the former Mountain View Medical Park building, which was purchased by UW in late 2020 using federal CARES Act funding allocated by Gov. Mark Gordon. Some 20 students and clinical faculty members in UW's School of Pharmacy have been part of the effort, led by faculty member Melissa Hunter and Dean Kem Krueger.
"The clinic is a great interprofessional activity," Krueger says. "This public health initiative has added to the students' education, and they have been vital to the vaccination efforts."
Students and clinical faculty from the Fay W. Whitney School of Nursing and Wyoming-WWAMI Medical Education Program have joined their pharmacy colleagues in vaccine administration, which this week will be expanded to a second facility — Laramie's former National Guard Armory, also owned by UW. The vaccines for the expanded operation have been secured by Laramie's Pole Mountain Pharmacy, one of several pharmacies in the state receiving allocations alongside county public health agencies.
Dr. Brant Schumaker, a veterinary epidemiologist and an associate professor in UW's College of Agriculture and Natural Resources, is organizing students and other volunteers for the expanded operation, which also involves checking in people when they arrive for their vaccinations; monitoring them after they receive their shots; and recording the vaccinations for the Wyoming Immunization Registry.
Marcela Gramcko, a third-year pharmacy student from Caracas, Venezuela, who has been among those administering the vaccine, says she's glad to be part of the effort. She describes vaccinations as "a step in the right direction to win this fight against COVID-19."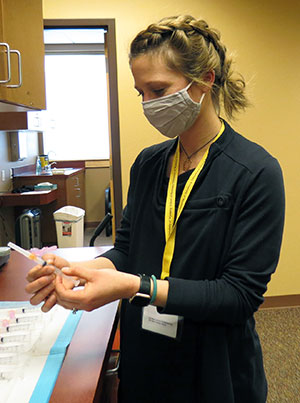 Fourth-year pharmacy student Kristyn McKnight, of Dallas, Texas, prepares vaccine for administration. (UW Photo)
Fourth-year pharmacy student Kristyn McKnight, of Dallas, Texas, says vaccinations not only will help protect the health of the individuals receiving them, but also will reduce the spread and overall burden of the disease.
"I sincerely hope that widespread COVID vaccinations in the UW community, paired with continued mask wearing and social distancing, will eventually lead to a return to normalcy," McKnight says.
Connecting People with the Vaccine
Meanwhile, UW's Wyoming Center on Aging (WyCOA) has provided staff to support the work of the Albany County COVID-19 vaccine call center. The team of 16 staff members from WyCOA and its subunit, the Dementia Support Center, as well as some staff from the UW Psychology Clinic, have answered thousands of phone calls and scheduled over 4,300 vaccination appointments for members of the community.
"Hosting a call center was a quick way to create equitable access to the vaccine for all eligible residents of Albany County," says Christine McKibbin, a professor of psychology and WyCOA's director. "Just creating and launching the call center has been an incredible interagency partnership, and we are pleased to do our part to create equitable access to the vaccine for older residents of Albany County and all other eligible groups."
The mission of WyCOA — a grant- and contract-supported organization within the Department of Psychology and the College of Arts and Sciences — is to optimize the health and well-being of Wyoming's older residents and their caregivers through interagency partnerships, basic and applied research, community education, and clinical training and services.
McKibbin says she appreciates the strong support from IMH to create a scheduling platform; from UW Telecommunications and Information Technology (IT) to provide a telephone platform; from ACPH and UW veterinary sciences faculty who have provided guidance regarding vaccine priorities; and UW's College of Health Sciences and School of Pharmacy, and public health staff who have planned for and administer the vaccine. Brett Williams, UW IT's director of applications and customer relationships, has been at the center of the work, and UW Wyoming Survey and Analysis Center Senior Research Scientist Brian Harnisch developed an intake form for Albany County employers.
"The last few weeks, while working in the COVID vaccine call center, have been incredibly rewarding and energizing to me," says Sabine Schenck, a senior project coordinator with WyCOA. "It is such meaningful work to personalize the vaccine appointment experience for older Albany County residents. Most of our callers have been socially isolated during the past year and are grateful and relieved that they will soon be able to get back to life. They appreciated talking to a person rather than having to set up an appointment electronically."
Just Getting Started
The university is preparing to extend its COVID-19 efforts beyond Albany County. Initial discussion with the Wyoming Department of Health has explored the possibility of UW faculty members and students being deployed as "strike teams" to assist with vaccine administration in counties where help is needed, as the number of available doses increases.
So far, vaccination efforts in Albany County and other counties have focused on Phase 1a and Phase 1b of the Wyoming Department of Health priority tiers, including people age 65 and older as well as those in high-risk jobs or with high-risk medical conditions. As more vaccines and doses become available, the program will expand to broader populations, with the expectation that everyone may have access to vaccines by late summer or early fall.
Albany County Health Officer Dr. Jean Allais says the collaborative vaccination program is a practical, effective approach to help the community eventually achieve herd immunity against COVID-19.
"Collaboration with the university, IMH and local pharmacies allows us to get more vaccines in more people more quickly," Allais says. "The collaboration also lets each agency utilize their resources to provide customized services, locations and communications to their target audiences."
/Public Release. This material from the originating organization/author(s) may be of a point-in-time nature, edited for clarity, style and length. The views and opinions expressed are those of the author(s).View in full
here
.