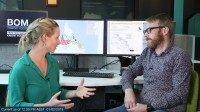 Hello from the Bureau of Meteorology, where we continue to monitor this historic rain and flooding event across northern Queensland.
I'm joined by senior hydrologist Chris Leahy, and Chris we've seen some extraordinary rainfall over the last week and some locations have even experienced over a metre of rain in just three days. Not surprisingly that's leading to major flooding across the region so where's the major concerns now? Yeah, thanks Andrea, so yeah the major concerns for us, so you see you have major flooding which is what the red triangles are showing in the Haughton River here. Down at Giru down here we're getting some of the highest floods I've ever seen on record as well. We also have major flooding in these sort of flashier catchments here. These are ones where they'll go up and down quite quickly just as the rainfall in response to the rainfall that occurs. In the Ross River at Townsville we're seeing again the highest flooding in at least 20 years they've seen there.
At the moment it's only moderate flooding, but we're expecting that to increase to major flooding during the weekend. Also from the Herbert here at the moment not seeing much flooding here which is what the blue and the green triangles are showing, but as we move into the weekend and the rainfall continues and water keeps moving downstream we'll start seeing some moderate to major flooding throughout that area as well. Yeah and so we are seeing a combination of flash flooding and riverine flooding. So how long do we expect it to continue and where does all the water go once it stops raining? Yeah so a lot of the flash flooding that will fill these quite rapidly once the rainfall eases. So you can see these small red catchments here—most of those are primarily very flashy catchments where the water will go down quite rapidly once the rainfall eases out. Also these larger green catchments these also drain towards the Coral Sea.
Most of these, it will take several days from when the rainfall stops until the river levels really ease there. We also have these sort of red and green catchments here. These ones here are ones that drain out to the Gulf of Carpentaria. They're much flatter catchments and will take several days until the water gets several weeks until the water gets through those catchments. And finally we have these blue ones here. These are catchments that all drain down to Lake Eyre and it takes quite a few weeks until the water really gets out down to Lake Eyre.
And we are obviously expecting the rain to continue across the weekend. So where can people in the community go to get
/Bureau of Meteorology Public Release. This material comes from the originating organization and may be of a point-in-time nature, edited for clarity, style and length. View in full
here
.