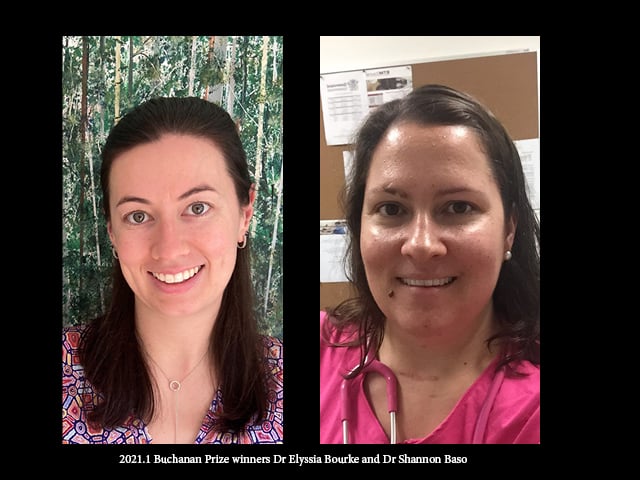 Since 1986, the Buchanan Prize has been awarded to the highest scoring candidate in a cohort of the Fellowship Examination (Clinical), the 'OSCE', on their first attempt at the examination. 154 candidates sat the 2021.1 OSCE in March 2021.
Like many Buchanan Prize winners, Elyssia and Shannon didn't believe they would win the Buchanan Prize – or necessarily even pass their exam. Shannon said, 'The eight weeks waiting for the results were a thing of stress.'
She was at her GP when she found out she had won. 'I read the title of the email and thought initially, "Why am I getting another exam email?! What has happened? Are they going to take it away or something?" then I read the email and started laughing. I called my husband immediately in disbelief and he was ecstatic – he's my greatest cheerleader! Next I called my study buddies.'
Elyssia was at work, on a busy shift, when she found out. 'I work in a great department, where everyone is really supportive, so it was nice to be at work as everyone I work with was very excited.' Her ED director, FACEM Pauline 'Chappy' Chapman was particularly thrilled. 'She said, "No one from Ballarat has ever won before!"'
Elyssia had actually believed that one of her five study-group friends would win it. She laughed, 'So when I won, I took a screenshot and put it into the text chat for the group, and one of the other members of the study group jokingly replied, "Are you sure your name hasn't accidentally been replaced with theirs?!"'
Elyssia and Shannon emphasised the huge importance of having a study group. Elyssia said, 'You can't do it without a study group, both for emotional support – as it is a tough process – and to give you sensible and honest feedback so you can improve,'
Elyssia also systemically went through every old OSCE exam report to glean what overall topics would be covered and made a list of what to study. She and her study-mates also wrote test OSCEs for each other.
She said, 'We practiced everything that could come up. That way you can go in knowing you have given it your best, and if something unusual comes up you have to just try to make a sensible and safe response like what we would do every day on the floor.'
Shannon was initially drawn to emergency medicine for practical reasons. 'I have two small children and wanted flexible working hours and emergency was the only speciality who would accommodate me. It suits my personality because I have a short attention span so I like to do different things all the time.'
She thinks emergency medicine is a family friendly specialty and perfect for mothers due to all the multi-tasking.
'It's a bit gushy but I just love emergency medicine,' she said. 'We are the best specialty. There are too many good things about it. The only bad thing is night shift!' Moving forward, Shannon wants to secure a consultant position anywhere in Queensland but says that 'long-term I would like to spend more time out of the city, helping more vulnerable people groups.'
Elyssia sees herself a 'generalist person'. She said, 'I like being able to do a bit of everything and in regional places, like Ballarat, we see everything – paeds, trauma, toxicology, O&G, mental health. I just love that variety, and I love doing procedures, and ED is the place to do lots of interesting procedures.'
Currently finishing off her final months of ED training, and undertaking a PhD in paediatric behavioural disturbance management, Elyssia ultimately aims to complete toxicology training and then work as an emergency physician and toxicologist in Ballarat.
She credits the OSCE for furthering her skills.
'ACEM exams are structured in a really good way. There were things we do every day in the ED – there was a non-accidental injury, a domestic violence station – we do that every day and I am so glad they are testing that. The exam has made me a better communicator and a better teacher on the floor. It has been a really valuable process.'
/Public Release. This material comes from the originating organization/author(s)and may be of a point-in-time nature, edited for clarity, style and length. The views and opinions expressed are those of the author(s).View in full
here
.